Video PlayerClose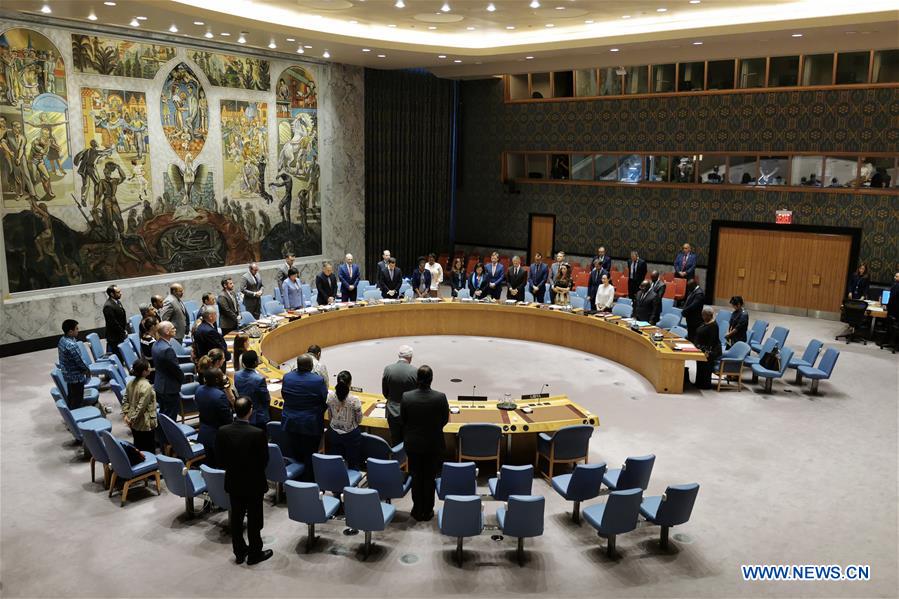 The United Nations Security Council observes a minute of silence to the three UN staff members killed in the Benghazi car bomb attack at the UN headquarters in New York, Aug. 10, 2019. United Nations Secretary-General Antonio Guterres on Saturday condemned the car bomb attack in Benghazi, Libya, in which three UN staff members were killed. (Xinhua/Li Muzi)
UNITED NATIONS, Aug. 10 (Xinhua) -- United Nations Security Council on Saturday strongly condemned the car bomb attack in Benghazi, Libya, in which three UN staff members were killed and several others injured.
At an urgent meeting on the situation in Libya requested to be held by France, Joanna Wronecka, Polish UN ambassador and Council president for August, read out a statement of the Council members to express their strong condemnation on the attack.
"On behalf of the members of the Security Council, I would like to condemn in the strongest terms the outrageous, deadly and totally unacceptable attack on United Nations that occurred today in Benghazi, Libya," she said.
"The members of the Security Council convey their deepest condolences to the families of the victims," she said, adding that those brave workers were operating under a mandate given by the Council "in order to provide a more secure future for the people of Libya."
The Council members commemorate their "ultimate sacrifice" for the sake of peace, she added.
Wronecka asked Council members and others attending the meeting to observe a moment of silence for those killed.
1 2 3 4 5 6 7 Next 1 2 3 4 5 6 7 Next
Video PlayerClose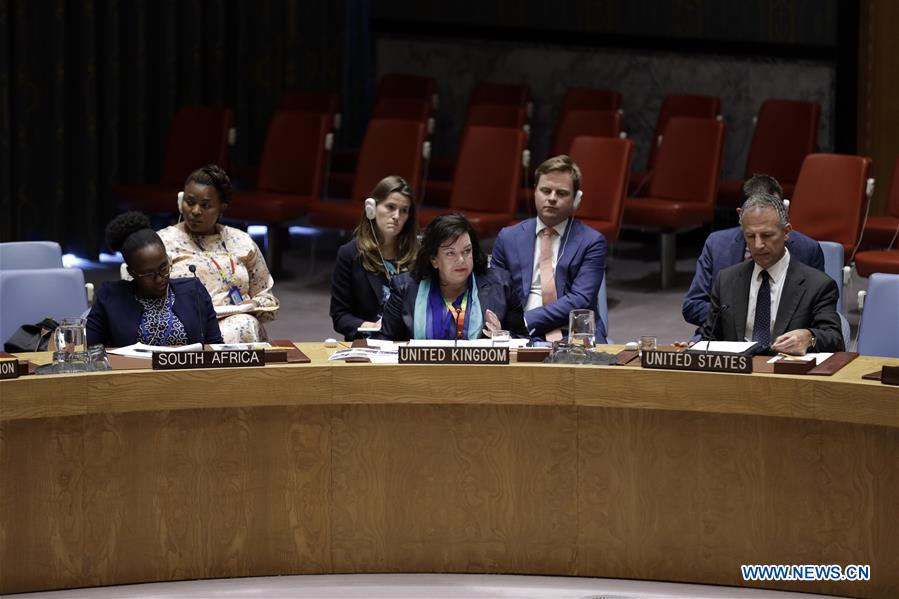 聽
British Ambassador to the United Nations Karen Pierce (C,front) addresses a Security Council emergency meeting on the situation in Libya at the UN headquarters in New York, Aug. 10, 2019. United Nations Security Council on Saturday strongly condemned the car bomb attack in Benghazi, Libya, in which three UN staff members were killed and several others injured. (Xinhua/Li Muzi)
Prev 1 2 3 4 5 6 7 Next Prev 1 2 3 4 5 6 7 Next
Video PlayerClose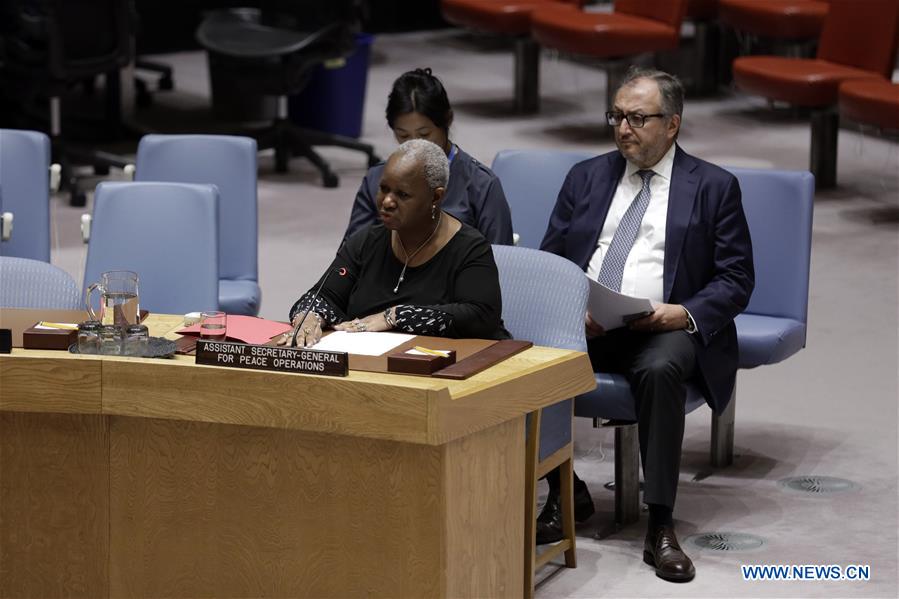 Bintou Keita (front), Assistant Secretary-General for Africa in the UN Department of Political and Peacebuilding Affairs and Department of Peace Operations, briefs a Security Council emergency meeting on the situation in Libya at the UN headquarters in New York, Aug. 10, 2019. United Nations Security Council on Saturday strongly condemned the car bomb attack in Benghazi, Libya, in which three UN staff members were killed and several others injured. (Xinhua/Li Muzi)
Prev 1 2 3 4 5 6 7 Next Prev 1 2 3 4 5 6 7 Next
Video PlayerClose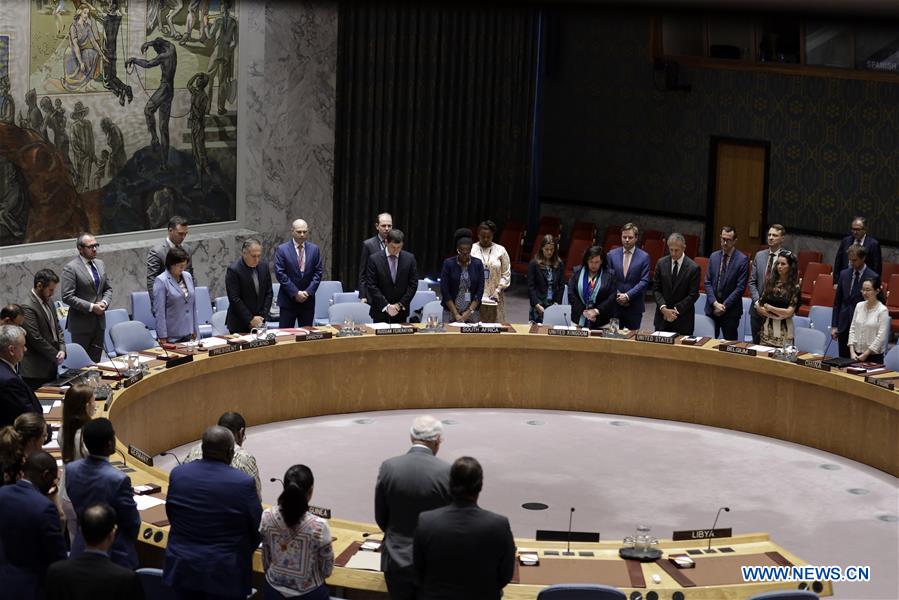 The United Nations Security Council observes a minute of silence to the three UN staff members killed in the Benghazi car bomb attack at the UN headquarters in New York, Aug. 10, 2019. United Nations Security Council on Saturday strongly condemned the car bomb attack in Benghazi, Libya, in which three UN staff members were killed and several others injured. (Xinhua/Li Muzi)
Prev 1 2 3 4 5 6 7 Next Prev 1 2 3 4 5 6 7 Next
Video PlayerClose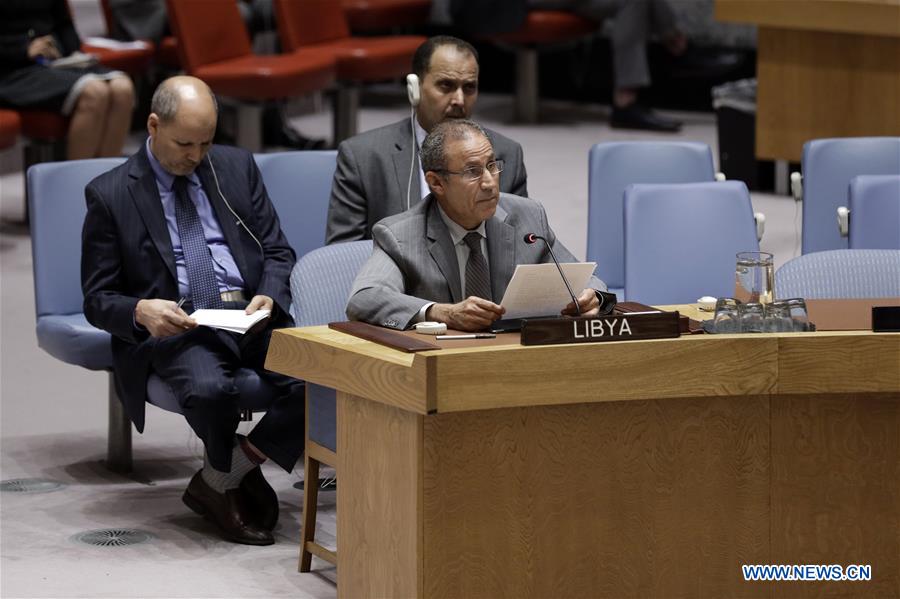 Elmahdi S. Elmajerbi (front), Charge d'affaires of Libya to the United Nations, addresses a Security Council emergency meeting on the situation in Libya at the UN headquarters in New York, Aug. 10, 2019. United Nations Security Council on Saturday strongly condemned the car bomb attack in Benghazi, Libya, in which three UN staff members were killed and several others injured. (Xinhua/Li Muzi)
Prev 1 2 3 4 5 6 7 Next Prev 1 2 3 4 5 6 7 Next
Video PlayerClose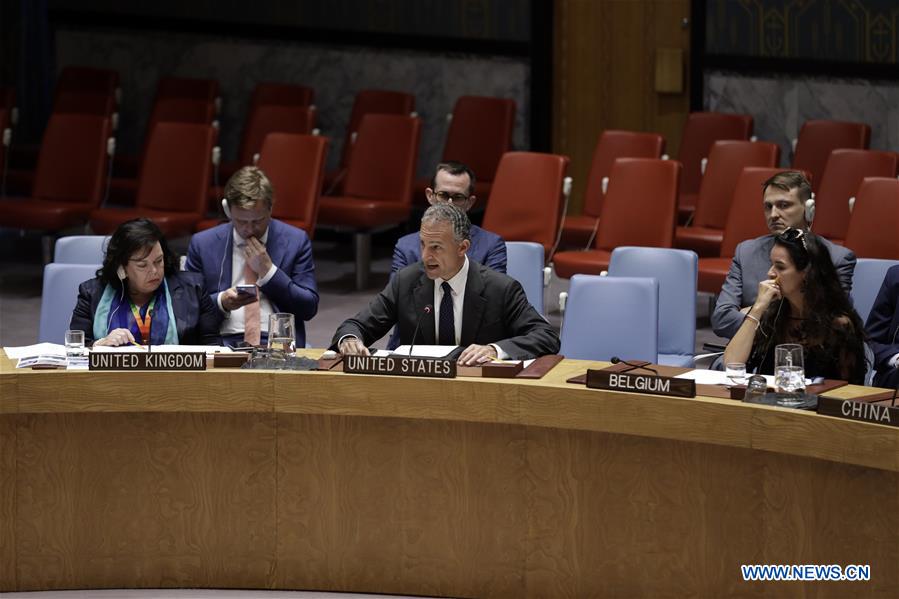 Jonathan Cohen (C, front), acting U.S. permanent representative to the United Nations, addresses a Security Council emergency meeting on the situation in Libya at the UN headquarters in New York, Aug. 10, 2019. United Nations Security Council on Saturday strongly condemned the car bomb attack in Benghazi, Libya, in which three UN staff members were killed and several others injured. (Xinhua/Li Muzi)
Prev 1 2 3 4 5 6 7 Next Prev 1 2 3 4 5 6 7 Next
Video PlayerClose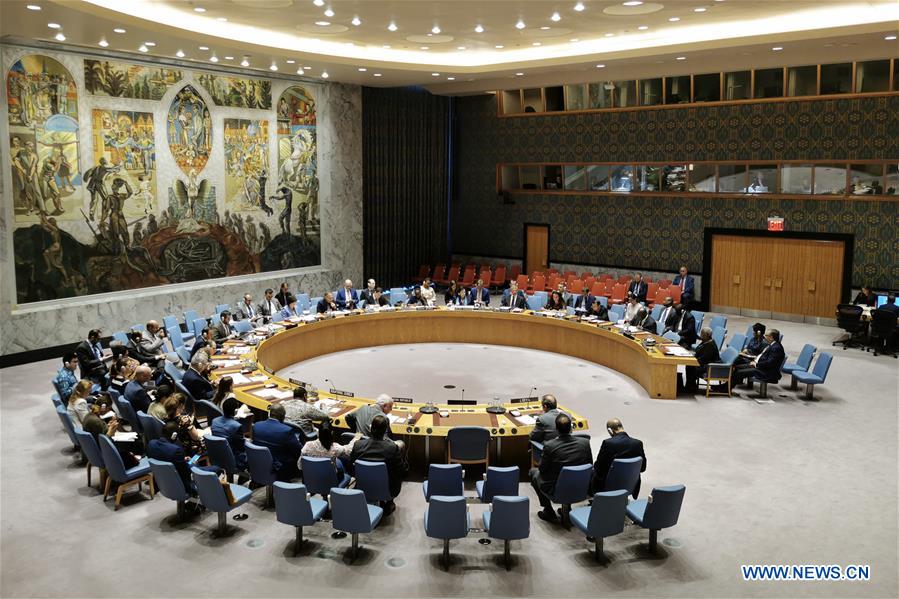 Photo taken on Aug. 10, 2019 shows United Nations Security Council holding an emergency meeting on the situation in Libya at the UN headquarters in New York. United Nations Security Council on Saturday strongly condemned the car bomb attack in Benghazi, Libya, in which three UN staff members were killed and several others injured. (Xinhua/Li Muzi)
Prev 1 2 3 4 5 6 7 Prev 1 2 3 4 5 6 7