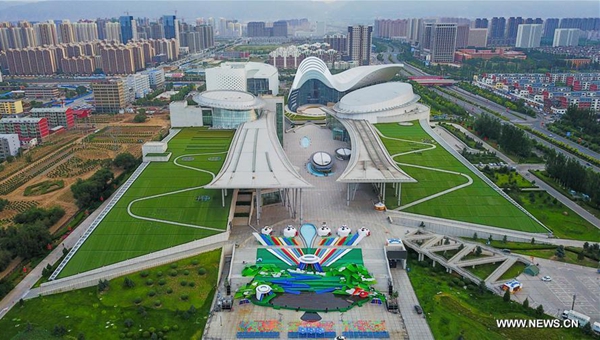 Photo taken on Aug. 1, 2017 shows the Inner Mongolia Museum in Hohhot, capital of north China's Inner Mongolia Autonomous Region. [Photo: Xinhua]

One of the largest inland provincial regions in Northern China, Inner Mongolia autonomous region, is at the forefront of China's opening up because of its implementation of the Belt and Road Initiative since 2013.
Inner Mongolia has established friendly relations with 41 regions of 11 countries since 2013. It has also become a popular investment destination for the countries taking part in the Belt and Road Initiative.
TRADE AND INVESTMENT
Mongolia and Russia are the autonomous region's largest trading partners, followed by several African countries taking part in the Belt and Road Initiative.
From 2012 to 2016, the cumulative volume of exports and imports of Inner Mongolia reached $62.29 billion, accounting for 40 percent of its total foreign trade volume since the autonomous region was founded 70 years ago.
Over the past five years, Inner Mongolia has attracted over $3 billion in foreign investment every year to not only its competitive energy and chemical industries, but also its logistics infrastructure and computer services.
According to the Manzhouli customs, in the first half of this year, the trade value of Inner Mongolia's enterprises with the countries along the Belt and Road routes reached 31.83 billion yuan ($4.75 billion), rocketing 40.3 percent year-on-year, involving 2,871 categories of commodities.
The tradeis principally formed of low value trades across the border, bonded warehouse commodity trading and tourist shopping.
Erenhot, a border town with fewer than 10,000 inhabitants not long ago, has now developed into the largest land port between China and Mongolia. Ten China-Europe freight train services pass through the city. In the first half of this year, Erenhot railway port handled 5.3 million tons of export-import cargo, up 40 percent year-on-year.
The Hetao Plain in the Bayannur League is the largest production base of sunflower seeds in China, exporting 180,000 tons of sunflower seeds every year mainly to the Middle East, Europe and the United States.
Bayannur has two national-level export bases of tomato and sunflower seeds, and 56 enterprises engaged in the export of sunflower seeds.
Manzhouli customs said that China's greater need for energy and minerals in addition to the other Belt and Road Initiative participants' demand for China's high-technology products and automobiles has boosted the autonomous region's foreign tradeperformance.
ENVIRONMENTAL PROTECTION
Inner Mongolia's desertification control and reforestation efforts, which covers an area of over 6,000 square kilometers in the Kubuqi Desert, the seventh largest desert in China, has resulted in the first successful case of desertification control of an entire desert, benefiting 100,000 local inhabitants.
The United Nations set up a global ecological economy demonstration zone and Belt and Road desert green economy innovation center in Kubuqi to promote Kubuqi's development model and experience with other countries and regions suffering with the problems of desertification.
Erdos, a city in the central part of Inner Mongolia, hosted the 6th Kubuqi International Desert Forum on July 29, attracting more than 300 officials, entrepreneurs and scholars discussing desertification control, ecological preservation, the green economy and ecological technology cooperation along the Belt and Road.
Danilo Türk, former president of Slovenia attending the forum, commented that many of China's innovations and experiences in desertification control and desert management can be shared with the international community to spread the benefits of the desert economy.
Antonis Samaras, former prime minister of Greece, pointed out during the forum that China has made huge efforts in developing its green economy and the desertification control of the Kubuqi Desert is a model and example for the world to follow.
PEOPLE-TO-PEOPLE EXCHANGES
The Inner Mongolia Development Research Center is taking the lead in establishing the China-Mongolia-Russia Cooperation Institute in Inner Mongolia.
More than 15,000 patients from Russia and Mongolia arrived in Inner Mongolia for medical treatment last year, and Inner Mongolia has sent 36 experts of Mongolian medicine to Mongolia to treat local patients for free, with more than 5,000 people benefiting from the program.
The first international technology transfer center of Inner Mongolia was set up in Manzhouli in June last year. The center has signed cooperation agreements with seven partners from Russia and Mongolia in areas of education, culture, science and agriculture, and built up relationships with agencies in Southeast Asia, introducing 53 technology promotional projects.
Last year, travelers from Russia and Mongolia made 1.4 million trips to Inner Mongolia, and the total number of entry-exit passengers in the autonomous region hit 5.32 million, up 23.6 percent year-on-year.
Last year, 3,666 foreign students came to study in the autonomous region. The Inner Mongolian government offered a scholarship fund worth 12 million yuan for Mongolian.