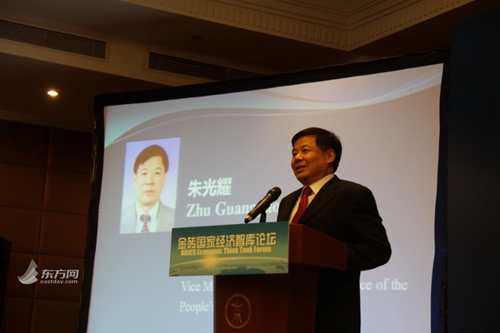 Beijing - Zhu Guangyao, Vice Minister of Ministry of Finance of the People's Republic China said at the BRICS Economic Think Tank Forum in Beijing on Nov 6, 2014 that the spirit of close cooperation is reflected during the period of less than two years from the discussion to the founding of BRICS New Development Bank. Currently BRICS countries are in the preparation for their infrastructure projects, ensuring the successful implementation of the first batch of the projects.
The BRICS is composed of five emerging market economics, representing the strength of emerging markets with diversity. Guided by the spirit of cooperation, the BRICS countries worked together in the common pursuit of economic development to cope with challenges so that the New Development Bank agreement could be signed in such a short time, said the Vice Minister.
"The new bank located in Shanghai embodies the trust of BRICS countries in China and Shanghai", Zhu Guangyao said, "We have a common goal that we should strengthen the cooperation with all the BRICS parties and make careful preparation."
The New Development Bank is the perfection and supplement rather than the replacement to the existing international financial system and especially the World Bank. The BRICS countries pay attention to the economic development and the infrastructure construction, support the existing international financial institutions, and undertake the due the responsibilities and obligations, Zhu added.
By Jiang Wenran and Tang Yihong
Translated by Wang Jiaye