"Marley and Me" tops Christmas weekend box office in North America
---
29/12/2008 10:11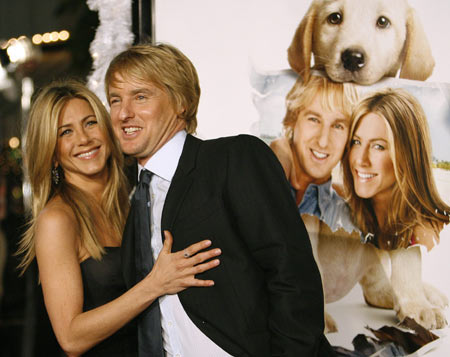 Cast members Jennifer Aniston and Owen Wilson pose at the premiere of the movie "Marley & Me" at the Mann Village theatre in Westwood, California December 11, 2008. The movie opens in the US on December 25.- Xinhua/Reuters
Hollywood is enjoying a happy ending for 2008 as a slew of movies featuring A-list stars helped lure economically frustrated audiences into theaters during the Christmas holiday weekend.
"Marley and Me," a dog tale comedy from 20th Century Fox and starring Jennifer Aniston and Owen Wilson, rocketed to the top of the box office in US and Canadian theaters, taking in US$51.7 million over the four-day weekend, according to preliminary figures released yesterday.
The film also had the biggest Christmas Day opening in Hollywood's history with estimated ticket sales of US$14.75 million, surpassing the US$10.22 million grossed by the previous record holder "Ali" on Christmas day in 2001, said box office tracking firm Media By Numbers.
Paramount's "The Curious Case of Benjamin Button," a big-screen adaptation of the short story by American writer F. Scott Fitzgerald, was in second place with an estimated US$39 million over the same period. Brad Pitt and Oscar-winner Cate Blanchett appear in the film that tracks the fantasy life of a man born old and dying as a baby.
Disney's family comedy "Bedtime Stories," in which Adam Sandler plays a man whose bedtime stories for his nephew and niece come true in real life, ranked in No. 3 with US$38.6 million. But the film edged ahead of "Benjamin Button" over the three-day weekend if Christmas Day sales are removed from the totals.
Tom Cruise's World War II thriller "Valkyrie" was in the fourth spot with an unexpected US$30 million over the Christmas weekend, followed by last week's box office leader, the Jim Carrey comedy "Yes Man," with US$22.4 million.
Amid a deepening economic recession, Hollywood celebrated the Christmas holiday with a record of five new movies in wide release.
The top-selling 12 movies took in US$182.5 million this weekend, up 8 percent from the same weekend last year, while Hollywood's total domestic box office revenues for the year are expected to almost keep at par with the all-time record of US$9.7 billion in 2007.