Madonna's tour tops N America big-earners poll
---
31/12/2008 10:14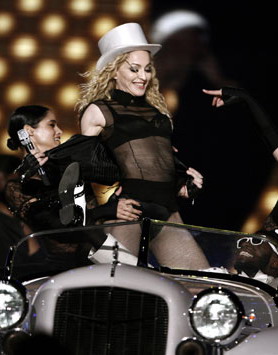 US pop singer Madonna (C) performs during her concert of the "Sticky and Sweet" world tour in Buenos Aires, Argentina, December 5, 2008.- Xinhua
Madonna's "Sticky & Sweet" concert tour was the highest-grossing music tour of 2008 in North America, raking in US$105.3 million, according to media reports today.
The Material Girl, whose 58-show world tour finished in Brazil last week,
Celine Dion came in second, taking US$94 million on her first US tour since her five-year residency in Las Vegas, and The Eagles took third place, with more than 73 million dollars for their tour to support possibly their last studio album "Long Road out of Eden."
Country music star Kenny Chesney (US$72.2 million) and rock band Bon Jovi (US$70.4 million) came in fourth and fifth.
The Top 10 grossing tours of North America were rounded out by Bruce Springsteen and the E street band (US$69.3 million), Neil Diamond (US$59.8 million), Rascal Flatts (US$55.8 million), The Police (US$48.0 million) and veteran rocker Tina Turner (US$47.7 million).