Transparently animated
---
21/1/2006 10:15
Xu Wei/Shanghai Daily news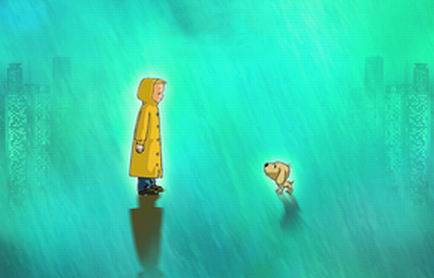 The poster for Yang and Chang¡¯s animation¡°Black Bum,¡±which centers on a stray dog and somewhat resembles the style of Japanese animation master Hayao Miyazaki.

Yang Hui-shan and Chang Yi are an admirable couple in many aspects. They roared to fame in the 1980s with the award-winning film "Jade Love" - Yang was the leading actress and Chang, the director. But they quit the film industry just at the peak of their careers.
Two decades passed, when people got used to talking about their achievements in glass art, then they knocked out the public with a 16-minute animation "Black Bum," which cost them three years and more than 10 million yuan (US$1.23 million) to make.
Like their legendary experiences, it seems that the two artists can not be stereotyped.
"Actually we were never absent from the arena of film art," says Chang in an exclusive interview at Xintiandi's TMSK Restaurant. "Some of our glass artworks are also about the language of film."
"Though we're familiar with shooting feature films, animation is definitely a new challenge for us," adds Yang, the Taiwanese actress-turned-glass-sculptor.
With very little experience in computer before, Chang and Yang had to learn specific technical languages for cartoons from scratch. Their never-fading passion and perseverance also won them big support from their old partners Yu Wei-yen and Peter Chang, who were also among the prestigious crew of "Jade Love."
"Animation provides many possibilities for a director, it is not likely to be restricted by weather conditions, places or actors," Chang says. "There were no bustling crowds around us. For the first time I felt that making a movie could be that quiet."
He has given "Black Bum" such a straight-forward storyline. On a rainy night, a homeless dog confronts people's indifference and scorn on the street, but is warmed by a child's sympathetic gaze. At first the child doesn't want to adopt the poor pet. When he changes his mind and runs out of the door to find it again, the dog has already disappeared.
Director Chang compared the dog to a wandering soul in the darkness whose solitude and pains are unknown to many. The metropolis backdrop also conveys a strong universal message that a lot of people who live fast-paced urban lives are gradually losing their capabilities to care about others.
"We hope that it could be an inspiring and illuminative work," Yang, the producer of the cartoon, adds. "In digital technics, perhaps it has some flaws, but for the emotions that the animation expresses, it doesn't let me down."
"Black Bum" has a style that is so pure and rich, which may remind some of the works by Japanese animation master Hayao Miyazaki, long been considered a national treasure of Japan, whose "Spirited Away" garnered him a Golden Bear at the 2002 Berlin International Film Festival and "Best Animated Feature" Award at the 2003 Academy Awards.
However, Chang notes that they have big differences in art and expression.
"He is a great artist, but do you find that Miyazaki is used to setting his stories away from Japan? Many are set against a backdrop of remote Europe or some unknown fancy places," Chang says. "It seems that he avoids talking about the real life in Japan, though his characters can evoke poignant emotions. But my works will center on the world and people just around us, and feature a more realistic style."
"Black Bum" has been put on www.a-hha.com for free download by the Internet surfers. "A-hha" implies surprise and excitement, and this digital platform, in the eyes of the couple, can be a conceptual renovation for both filmmakers and movie fans.
"People can save money on movie tickets, and for those who have a dream for film, they no longer need to worry about funds or complicated procedures for screening," Chang adds. "They can showcase their talent here on the Internet. In the future, we're eager to bring out more original works on 'A-hha'."
For the majority of local people, their first intimate touch with modern glass art dates back to Yang and Chang's exhibition at Shanghai Art Museum in 2001, which attracted an unprecedented 70,000 visitors.
"I still remember that I was waiting in long lines to buy the tickets," says Gu Jianing, a local university student. "The stunning beauty and purity of their works deeply impressed me."
Glass was first discovered in 2,500 BC and glass-blowing was invented by the Romans circa 100 AD. The studio glass movement in the 1960s in the United States transformed glass from a utilitarian material into a medium of artistic creativity. But Chinese glass artists seem to have been absent from the international stage for a long time.
Fortunately, Yang and Chang's endeavors have filled in this gap.
A harmonious combination of Chinese cultural elements and modern Western technology, many of their fine glass and crystal works have been included in the permanent collections of famous museums, including the Palace Museum in Beijing and the Victoria and Albert Museum in London.
Today, although Liuligongfang, a glass art workshop founded by the couple in 1987, has now become a popular brand for gifts and collectors with more than 20 chain stores on the Chinese mainland, the two movie veterans' dreams and passion for film never fades.
"The professional training in acting is a big help when I am sculpting a glass work," Yang says. "A good actor is also a good observer and imitator, so is a glass artist. Actually art has no boundaries."
Nevertheless, they are worried about the excessive commercial elements - stunts and formalized storytelling methods commonly seen in today's films, even for an animation.
"A lot of filmmakers place a high premium on box office returns but take little notice of the artistry and creativity in their works," Chang notes. "For me, animation is a costly career - a 90-minute animated feature usually costs hundreds of millions of yuan. But if our work can leave something fresh, impressive and meaningful, that is worthwhile."
He reveals that Taiwan used to offer post-production business to 95 percent of Hollywood animations, but the industry declined over the past years due to a lack of originality and excessive pursuit of technical skills.
"Talents, fund and a healthy market mechanism are problems confronting today's animation industry both in Taiwan and the Chinese mainland," Chang says. "It seems to be a long and thorny road to success."
But the couple will not be stopped by the obstacles ahead of them. Now they're busy with the opening of a grand glass art museum at Xintiandi, which will put their representative works and articles from other well-known foreign glass artists on display.
And Chang also has thought about adapting the traditional Chinese classics - "A Dream of Red Mansions" and "Jin Ping Mei" - into animated features.
"We have such a profound and inspiring culture," he adds. "The early movie editions of 'Jin Ping Mei' usually concentrate on people's ardor. But I'd like to display the complicated humanity such as people's realizations after tremendous changes in lives."