FM:China has "unprecedented dynamic interaction" with world in 2008
---
29/12/2008 9:41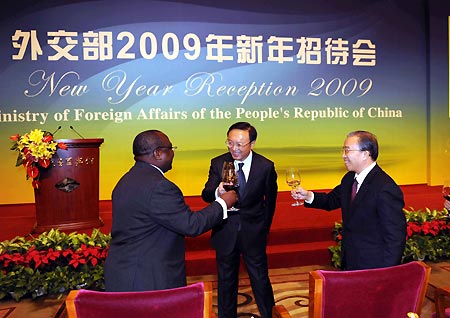 Chinese State Councillor Dai Bingguo (R) and Foreign Minister Yang Jiechi (C) cheers with a foreign envoy during a New Year reception held by the Minitry of Foreign Affairs of China, in Beijing, capital of China yesterday.- Xinhua
China had "unprecedented dynamic interaction" with the rest of the world in 2008, receiving some 180 heads of state or government, Foreign Minister Yang Jiechi said yesterday.
Yang made the remarks when addressing a new year reception in the Diaoyutai State Guesthouse. State Councilor Dai Bingguo and more than 400 foreign diplomats and Chinese officials were also present.
Yang said the cooperation between China and the rest of the world was further consolidated and enhanced amid the natural disasters, Beijing Olympics as well as the international financial turmoil.
The year 2008 marks the 30th anniversary of China's reform and opening-up. "Great changes have taken place in China and China's diplomacy have reached a new height," Yang said.
China will remain on the road of peaceful development and adhere to the mutually beneficial strategy in the coming year, making unremitting efforts for the comprehensively sustainable social development and the peace and stability of the world, he said.
Nolana Ta Ama, Togolese Ambassador to China, said on behalf of the diplomatic corps in Beijing that the world needs China in the past, at present and in the future.
"All ambassadors are hoping to enhance dialogue and cooperation with China," Ta Ama said.
"Our task will be completed smoothly, as the country we are in takes not intervening in other countries' internal affairs and not seeking hegemony as the basis of its foreign policy," he said.