Politician voted for the good life
---
1/1/2005 7:11
Shanghai Daily news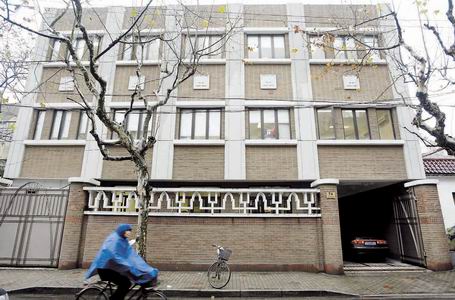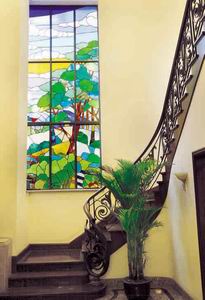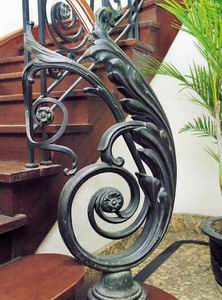 The house at No. 74 Shaoxing Road (top) used to be the residence of top Kuomintang official Zhang Qun. Today, the stylish window and staircase (left) and the exquisite guardrail on the stairs (right) are a few reminders of its former elegance.
The former residence of a senior figure in Kuomintang -- who believed in enjoying life to the full -- contains few traces of his time in the house 60 years ago, writes Michelle Qiao.
The gray-and-orange house at 74 Shaoxing Road that looks like a colossal box used to be the home in the 1940s of Kuomintang senior statesman Zhang Qun (Chang Chun). The legendary politician became famous not for his political career but for his longevity and long-kept secrets.
Today it's the home of the state-owned Shanghai Art and Literature Publishing House. Renovations have covered the ravage of age and given the house a strange new face. A gatehouse today occupies most of the area where a beautiful garden used to be. Inside, traces of the original glory of the building are few. However, a large stained-glass window which serves as a backdrop to the staircase and the exquisite guardrail on the stairs are original. A huge glass door with metal decorations has been reproduced according to the original design.
``There's been more damage than renovation,'' sighs Li Baoqiang, an art editor of the publishing house who used to be involved in the renovation work. ``The pale wall was formerly painted in coarse-feeling paint in an elegant deep-coffee hue. There used to be fantastic rosewood furniture in the house. Even the leather sofas had precious rosewood handrails. And we replaced all the original teak floors due to serious termite problems.''
Liu Gang, an expert in architecture from Tongji University, says the house is ``a Chinese-style modern building.''
``The house is neither Western style nor traditional Chinese,'' Liu says. ``We haven't found out who was the designer but we conclude he was a Chinese architect. The Bowen Kindergarten at No. 80 Shaoxing Road in the west of the house designed by famous Chinese architect Lin Menghai is in a quite similar style. And there are more similar style houses in the neighborhood designed by Chinese architects such as the house at No. 7 Shaoxing Road which was the work of another great Chinese architect, Liu Shiying.'' Zhang was born in 1889 in Southwest China's Sichuan Province. He entered a military school in Baoding in Hebei Province and won an official scholarship to study at a military college in Japan in 1908. He was a schoolmate of Chiang Kai-shek at both schools.
The two schoolmates chose the same road. After joining the United League of China (1905-12, the predecessor of the Kuomintang), they returned to Shanghai together and joined the Revolution of 1911 led by Dr. Sun Yat-sen which overthrew the Qing Dynasty (1644-1911).
Afterwards Zhang's political career rose with Chiang's. He was made governor of Hubei Province, foreign minister, chief of the southwest military region and he represented Chiang when he made an official visit to Japan in 1948.
He published a book entitled ``Talk About Self-Cultivation'' about his life experiences which quickly became a best-seller and has been reprinted 16 times.
The book is divided into five chapters -- ``Nurture the Body,'' ``Nurture the Heart,'' ``Nurture Wisdom,'' ``Nurture Generosity'' and ``Nurture Reputation.'' He was a humorous man who even composed an easy-to-remember song named, ``Never Grow Old'' which goes: ``Rise early, sleep well, stomach 70 percent full, frequently run, smile often, remove sadness, keep busy every day and oldness will never get you.'' He often said that ``a smile will make you one day younger but a fury will cut one year from your life.''
No wonder Zhang had a healthy, pink complexion, a good physique and an amazing memory in his later years. He published a memoir while in his 90s entitled ``Japan and I -- 70 years,'' which was almost a history of Sino-Japanese diplomatic relations. Perhaps he just wanted to prove the truth of something he once said: ``A 60-something man is like in the cradle while life has just begun for a 70-something guy.''
In an article entitled ``Talk About Drinking Wine,'' he wrote that ``Satisfactory drinking is conditional upon having good hosts, good guests, good wine, good ability to drink wine, good food, good lighting, good environment and the last thing is a good wife. So, if you get drunk, you don't have to worry about a wife's scolding.''
Zhang enjoyed a harmonious 63-year marriage with his wife Ma Yuying, a Christian, and they had two sons and a daughter.
It is said he had an affair with a beautiful woman named Zhang Xiaomei in a bank when he worked alone during World War II. But it seems that the affair did not affect his marriage. Zhang took his wife to Taiwan in December 1949. His son Zhang Jizheng rose to become president of the Kuomintang's Central Bank.
Observant visitors may find a surprise among the house's few remaining decorative details. Inside an ordinary window on the first floor stand a couple of lovely, long-feathered birds made of iron who are deeply engaged in kissing one another.
Zhang died in Taipei in 1990 aged 101 but the two amusingly passionate birds in his former Shanghai home today remind visitors of the humor of the man who loved and enjoyed his life.
Li says that Zhang's niece, a fashionable dressed middle-aged woman, visited the house a couple of years ago.