Literary love nest
---
3/2/2005 8:27
Shanghai Daily news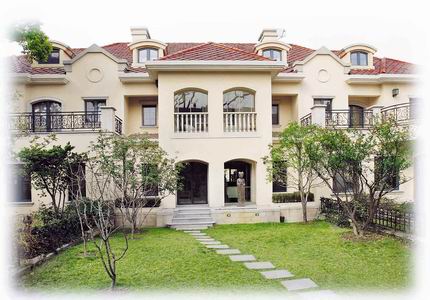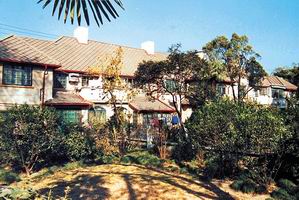 The former residences(above)of American author Emily Hahn(below left) and her Chinese poet lover Shao Xunmei(below right) were typical Spanish-style villas at 1754 Huaihai Road. Four years ago, a property developer converted the villas into new, creamy-yellow houses(top) nd they were sold to Taiwanese businessmen.(Photo: Shanghai Daily)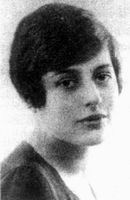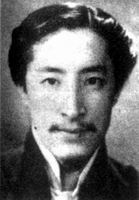 A book published in China last month entitled "Xiang Meili" - American author Emily Hahn's Chinese name - looks back at the life and loves of this remarkable journalist and writer in the Shanghai of the 1930s.
Xiang Meili was the name given to Hahn by her Chinese poet-lover, Shao Xunmei (Sinmay Zau). Although their movie-like affair is a highlight of the new book, their former homes at 1754 Huaihai Road are gone and it's hard to find traces of their lives there today.
The book, along with a biography of Shao and an autobiography by Shao's wife, Sheng Peiyu, share the same shelf in local book stores. More than half a century ago, the three avant-garde young people also shared their lives together.
According to Sheng's autobiography - "The Sheng Family: Shao Xunmei and I" - Hahn used to live in building No. 6 at 1754 Huaihai Road. When the invading Japanese occupied the Shaos' luxurious villa in Yangshupu, Hahn helped the family move into building No. 17 at 1754 Huaihai Road.
The 12,000-square-meter block of land at the address housed 30 Spanish-style villas.
"According to our archives the houses were painted grayish-white and were built in the 1930s," says Jin Yumin, an official from Shanghai's Xuhui District Cultural Bureau.
"The former residents were mostly middle to high-level employees of foreign banks. The two-story buildings all looked alike but each had its own individual character. They all had a simple decor without much ornamentation. They had gray tiles on the roofs shaped like fish scales and the houses were concealed behind tall camphor-laurel trees."
Today, the villas - including the ones where Shao and Hahn lived - have been turned into a cluster of creamy-yellow modern-looking houses. Four years ago, property developers moved out the 140 families who were living in the compound, demolished the original houses and built the spacious garden villas that are now there. The developer claims the new villas were constructed "according to the original look" of the ones demolished. The villas were sold a few years ago to Taiwanese merchants for what were said to be amazing prices.
In her autobiography, Sheng says her home was "a Spanish-style house and very small. Our children and babysitter lived in the three rooms on the second floor. My husband and I lived on the first."
Sheng says the family tried to retrieve some of furniture and belongings from the house then occupied by the Japanese - including a set of Western tableware and a sketch by Ingres - to put in their new home.
"This was our last home but I did not imagine that we would live in the house for 30 years," she says in the book.
It seems incredible that Sheng would mention her husband's lover, Hahn, several times in her book. Sheng was a bit jealous of Hahn but not too much. Reading Sheng's own account of her life, it seems she was content to share her husband with the bohemian American writer.
"Mickey (Hahn's nickname) is a tall woman with short-cut black hair and delicate facial features," Sheng says, describing her rival in her book. "But she is not blue-eyed. She is a quiet woman who never speaks loudly. She is neither fat nor slim. But her curves are not so nice since she has a big bottom."
Born in St Louis, Missouri in 1905, Hahn had a rebellious streak all her life. She resolved to obtain a degree in the male-dominated Mining Engineering Department at the University of Wisconsin and after graduating, she traveled across the United States by car with a woman friend, both disguised as men. She later went to the Belgian Congo to work for the Red Cross.
But her most breathtaking journey was through China where she fell in love with Shao, a handsome, dandy poet-publisher, and became his mistress. Shao gave her the Chinese name "Xiang Meili" - which sounds a little like her Christian name - and which means "beautiful."
Shao had inherited a considerable amount of property from his grandfather, an official of the late Qing Dynasty (1644-1911). Shao was a talented poet who studied English literature at Cambridge University in the 1920s.
His marriage made him more wealthy. His wife was his cousin, Sheng Peiyu, a granddaughter of Sheng Xuanhuai, another senior Qing official.
Shao began his publishing career by printing a dozen magazines including two political journals - "Candid Comment" in English and "Liberal Comment" in Chinese - during World War II.
He also translated one of the late Chairman Mao Zedong's important works, "On War of Persistence," which was published for the first time in "Candid Comment."
As a representative of the "alternative literature" movement, he was much influenced by English aestheticism. Some of his works are soaked in an aura of decadence and feature stories about women and lust.
There are different versions of the affair between the handsome Chinese poet and the unconventional American writer. In articles by Chinese writers, Shao's white skin, Greek nose and wealth were what attracted Hahn to him and led her to become his mistress. Reading Hahn's autobiography, her relationship with Shao seems more like one of tender friendship than hot passion.
However, each was able to help the other. Shao assisted Hahn by arranging interviews with many Chinese celebrities and also translated Chinese material for inclusion in her books. Hahn's American passport helped Shao retrieve some of his property that had been confiscated during the war, including an expensive printing press.
Hahn finally left Shao when she quit Shanghai in 1939 for Chongqing to cover the war against the Japanese. She later fell in love with Charles Boxer, the head of the British Secret Service in Hong Kong, and bore him a daughter out of wedlock. This was a big scandal at the time because Boxer was married. Boxer was interned by the Japanese and the reunion of the two lovers after the war made headlines across the United States. He then divorced his wife, married Hahn and they had a second child.
All of Hahn's best-selling books are about China and include "The Soong Sisters," "China to Me" and "China Only Yesterday."
Shao spent some time in jail in the 1960s and died poor in 1968, aged 62. After writing her autobiography in her daughter's home in neighboring Zhejiang Province, his wife Sheng died in 1989, aged 84. Hahn died in 1997, aged 92.
Their homes at 1754 Huaihai Road were demolished in 2000. Life and story seem to be over.
It is said Hahn left Shanghai on a cold, overcast morning in November 1939 to begin her new adventure and from that moment on, she was no longer Shao's beloved Xiang Meili. However, it is also said that for the rest of her life she was homesick for Shanghai and her longing for the city of love and lust must have had something to do with her long lost Chinese poet-lover.