Profile: US newly-nominated Secretary of State Condoleezza Rice
---
17/11/2004 6:12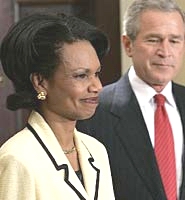 National Security Advisor Condoleezza Rice(L) smiles as President Bush, announces that she is his nominee for Secretary of State. (Xinhua/AFP Photo)
US President George W. Bush on Tuesday nominated National Security Adviser Condoleezza Rice to replace departing Secretary of State Colin Powell.
If confirmed by the Senate as expected, Rice would be the second woman to hold the top cabinet post after Madeleine Albright.
Rice was born in Birmingham, Alabama on Nov. 14, 1954. Her mother was a music teacher at a primary school while her father was deputy principal of the University of Denver. In 1963 when Rice was nine years old, her family moved to Denver,Colorado.
Rice enrolled at the University of Denver at the age of 15, majoring in British literature and American politics. She was inspired to switch to eastern Europe and Soviet studies during a course on international politics taught by Josef Korbel, a Czech immigrant and father of Albright.
She graduated at 19 with a degree in political science. She earned a master's degree at the University of Notre Dame and a doctorate from the University of Denver's Graduate School of International Studies.
At 26, Rice was already a fellow at Stanford University's Center for International Security and Arms Control, specializing in Soviet affairs.
She served as Soviet affairs adviser to the National Security Council during the administration of Bush's father, president George H. W. Bush, and prepped the elder Bush ahead of summits with Soviet leader Mikhail Gorbachev.
Rice returned to Stanford in 1991, and in 1993 became the youngest and first non-white provost at Stanford.
In Bush's 2000 campaign, Rice was the Republican candidate's top foreign policy adviser and became national security adviser upon his inauguration in January 2001.
She speaks fluent Russian and also learned French for nine years. She is a good pianist. Rice, who is single, likes to watch sports matches.
Xinhua