Bold steps ordered to spur city's innovation
---
31/12/2008 9:38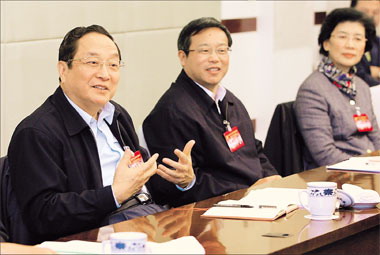 Shanghai Party Secretary Yu Zhengsheng (left) joins a group discussion on Monday during a three-day session of the Shanghai Committee of the Communist Party of China. - Shanghai Daily
Dong Zhen/Shanghai Daily news
Shanghai's Party chief urged local government officials yesterday to break boundaries and take bolder steps to help the city maintain steady economic growth amid the global financial turmoil.

Party Secretary Yu Zhengsheng, addressing the Shanghai Municipal Committee of the Communist Party of China at the end of a three-day session, told the officials they must work with great efficiency and creativity to tackle the mounting economic challenges.

"We should dare to take responsibility, dare to innovate," Yu said.

He also told those attending the session that the city will focus on four main targets next year: achieving steady growth, improving the livelihoods of local residents, ensuring social stability and maintaining smooth progress in infrastructure construction and other preparations for the 2010 World Expo.

Tax incentives and other fiscal stimulus measures will be among the main weapons used to propel the economy to support the needs of local residents and boost employment, he said.

Speaking at the same meeting, Mayor Han Zheng said the key task is to foster the development of local businesses using all possible means.

He said city government is ready to do whatever it takes to help companies survive the financial crisis even if it results in lower fiscal revenue.

The government will likely implement temporary policies next year to allow deferred payment of business taxes for companies that have suffered from the funding squeeze brought on by the crisis, officials said.

The meeting participants did not release a forecast for Shanghai's 2009 economic growth or provide details on the coming stimulus plan. Shanghai's economy grew 10.1 percent year on year in the first three quarters, well off the 13.3 percent pace for all of 2007.

Officials also said the city will continue to make bigger investments next year in major infrastructure projects to further improve the quality of life for local residents as well as to boost domestic demand.

The downtown Jing'an District, for example, has used 700 million yuan in fiscal income this year to establish a fund that will help district-based companies develop innovative and high-tech projects, district Governor Zhang Renliang told Shanghai Daily.

The first batch of nearly 20 state-owned companies will receive a development subsidy from the fund this week.

City officials said college students and farmers will receive more attention as the government maps out plans to improve employment opportunities for those groups next year.

A record 150,000 fresh graduates will leave city colleges in 2009, which will add further pressure to the tightening labor market.