Somewhere beyond the sea
---
27/2/2006 9:45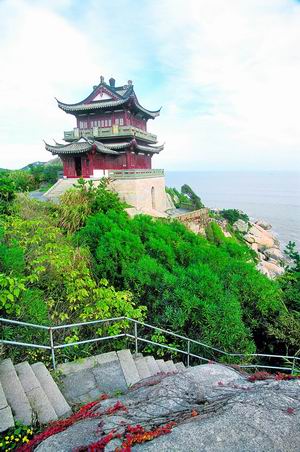 Surrounded by sea, Putuo Mountain is a great natural getaway.
Shanghai Daily News
Putuo Mountain, just off the coast of Zhejiang Province, is only a three-hour trip from Shanghai, but a world apart when it comes to its ability to offer the much missed commodity of nature, writes Ayesha de Kretser.
Putuo Mountain is described in the Shanghai Lonely Planet (www. lonelyplanet.com) as "reminiscent of the China of old, with its temples and pagodas and sweeping coastlines."
Being somewhat of a disbeliever when it comes to guidebook travel recommendations, I must admit I went to Putuo Mountain expecting very little.
Getting to this remote island off the coast of Zhejiang Province is supposed to be simple, but involved countless hours of mafan (troubles) and trekking across the city. So, anyone who wants to go will benefit from this small piece of advice:
Go to the ticket booking office on the Bund (waterfront side, tiny office near Huangpu River boat cruise ticket sales offices) and purchase your boat and bus combination ticket for 228 yuan (US$28.15).
Do not pass go, do not stop for anyone who tries to tell you they can sell you a ticket or pull you into another office, do not listen if anyone tries to tell you that the island does not exist and do not accept the rumors that there is only a 12-hour overnight boat or that you must fly.
With ticket safely in hand, arrive at the Nanpu Bridge bus terminus before 8am. Board the bus, travel one hour east, alight at the dock, wait and then clamber aboard a sizable speed boat.
If you're prone to seasickness, accept one of the plastic bags that is offered every participant in this ride as they enter the boat.
You may also consider parting with 1 yuan for a seasickness tablet at the food station in the middle of the boat, and offering one to a green-looking neighbor to avoid any unfortunate mishaps occurring during the journey.
In two hours, you should find yourself arriving at the dock in Putuo Mountain, where you'll have to pay a sum of money to enter (around 120 yuan).
Once off the boat, it doesn't take long to realize that the praise heaped upon this island is completely warranted.
While the sea may not be the most brilliant shade of blue (it comes closer to a murky brown/gray), this island is shrouded in the one thing most expats miss about living in Shanghai - nature.
There are no KFC or McDonald's restaurants. No taxis will sweep past you with horns blaring. On Putuo Mountain, the only public transport comes in the form of minibuses to ferry tourists around, but it is possible to walk just about anywhere you might need to go on this 12.5-square-kilometer island.
On arriving at our hotel, we were met by a helpful ring-in from Shanghai who had been found to deal with our inquiries in English. He quickly informed us that the island was home to three major attractions, all of which are temples.
The Puji Temple is the biggest and most significant of the three.
Surrounded by lakes and bridges, the entrance to this temple is as impressive as the structure itself.
Most of the island's hotels are located in close proximity to the Puji Temple, as are the restaurants and shops.
From the Puji Temple, it's about a half-hour walk to the Fanyu Temple, which is very similar. After visiting this temple, most people walk the steep steps to the third of Putuo Mountain's sacred attractions, the Huiji Temple.
It's an exhausting trek up to the top of Foding Hill and it's important you know what to expect on arrival.
This mountain's summit is unlike any other you might have seen.
At climbing the last steps, you will be greeted by a mini-mart, restaurants and shops selling tourist paraphernalia. Despite the spectacle, the climb is not a waste of time, not so much because of the third temple (which bears a remarkable likeness to the other two) but for the sweeping views of the island's rugged coastline.
Buddhist pilgrims must visit all three temples each year, and because we were there over Spring Festival, we witnessed a number of celebrations and rituals.
Music filled the temples, and women performed colorful ribbon dances. While these sacred sites may be more tranquil and quiet during the "non-peak" months, the energy and spirit that abounded during our stay on the island far outweighed any inconvenience caused by the crowds.
Once you've taken in the sights and sounds of the three temples, you should definitely hit the beaches if the weather permits.
There are two on the island, the 100-Pace Beach and the 1,000-Pace Beach. Like their names suggest, they're long stretches of sand. They're also incredibly wide, and presumably very crowded during the warmer months.
The 100-Pace Beach lies to the east of the Multi Treasure Pagoda, and spans some 600 meters. This is where most people go to watch the sunrise and in summer, you can hire tents and parasols or organize jetskiing expeditions, or go parasailing or waterskiing.
The 1,000-Pace Beach is more than a kilometer long, and a bit further out of the way. Because of its more remote location, it is less crowded during summer.
We stayed at the Lu Yuan Holiday Inn Hotel (not a member of the Holiday Inn Hotels Group), which is located directly opposite the stairs to the 1,000-Pace Beach.
Our room had a view of the ocean, and even though, it was too cold to swim, the knowledge that such a beach is located so close to Shanghai left us in high spirits.
The hotel itself was incredibly clean, comfortable and the staff (despite having little English) were friendly and helpful for the most part. Breakfast was included, but far from exceptional and it's worth noting that they could not process an international credit card, so take cash or a local card.
It's also worth remembering that there is very little by way of Western food available on this island, so be prepared to eat lots and lots of seafood and vegetables cooked the Chinese way.
Like anywhere you travel in China, getting there is half the fun, but in the case of Putuo Mountain, it is most certainly worth the effort. If you're looking for somewhere to escape for a weekend outside of Shanghai and don't want to spend a lot of money, this beautiful island should be your first choice.
For more information about Putuo Mountain, visit this helpful Website and select the option for English: www.putuoshan.net.