Fred frustrates Brazilian teams by staying with Lyon
---
31/12/2008 10:04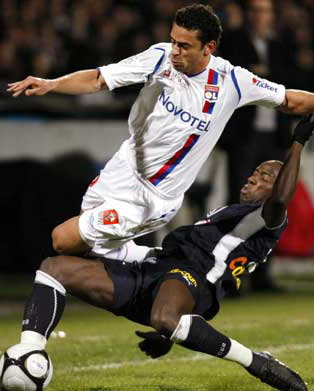 Olympique Lyon's Fred Chaves (L) challenges Alou Diarra (R) of Bordeaux during their French League 1 soccer match at the Gerland stadium in Lyon November 16. -Xinhua/Reuters
Brazilian forward Fred frustrated some Brazilian soccer clubs which wanted to bring him back home by saying yesterday that he intended to stay with his French club Lyon.
It was reported that Brazilian clubs Cruzeiro, Fluminense and Flamengo were all interested in signing Fred in 2009.
"At the moment, I plan to stay with Lyon until June. However, Iam sure that I will discuss my future with other teams when that day comes," Fred said.
Fred came back to Brazil to celebrate Christmas with his family. Upon his return to Belo Horizonte, he showed interest in returning to Brazil to play.