Jinuo people cerebrate 2015 Te Mao Ke Festival
2015-02-09 14:36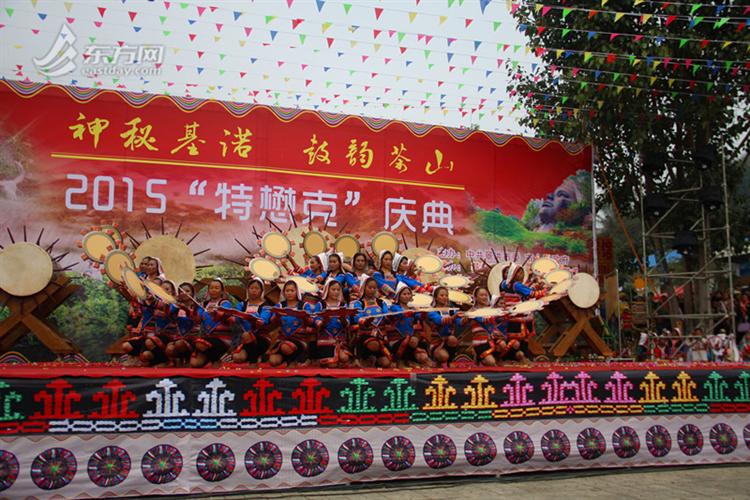 Program "Ma Hei Ma Niu" (Photo: eastday.com)
节目"玛黑玛妞"
Thousands of people from all over the world cerebrated Te Mao Ke Festival, the Jinuo Ethnic Minority's annual pageant on the morning of Feb 8, 2015 at Taiyang Square in Yunnan Province's Jinuo Ethnic Minority County where Youle Mountain, the first of the top 6 ancient tea mountains is located.
"Te Mao Ke" literally means "forging big iron" in Jinuo language. "Te Mao Ke Festival" was once "Big-Iron-Forging Festival" when the Jinuo people celebrated the creation and use of ironware. In 1988, the festival was confirmed as the Jinuo's annual cerebration to be held from Feb 6 through 8. The Jinuo Ethnic Minority is the last one recognized in China's 56 ethnic groups. They mainly live in Jinuo Minority County located in Jinghong City of Xishuangbanna, Yunnan Province.
County Chief Bai Lan said in the speech that "the ancient Jinuo Ethnic Minority born out of Jinuo Mountain regards drum as the embodiment of Gods, thus drum worship must be held every Te Mao Ke Festival. Since Jinuo people live in the tea mountain and have a variety of way of drinking tea, such as cooking and roasting, tea is also one of the essential offerings in most sacrificial activities of the Jinuo. Furthermore, Jinuo Mountain now has more than 4200 acres ancient tea trees, with the oldest ones at the ages of 800 to 1200 years, therefore, Jinuo Minority County has confirmed its image name card as 'Mysterious Jinuo with drum rhyme and tea mountain', hoping to be a rich, civilized, beautiful and happy place as soon as possible."
Zhang Peilan, Vice Mayor of Jinghong City said that Jinuo Minority County needs to fit the new normal of economic development and work hard to build a new socialist countryside, and maintain the unity of the nationalities and achieve the wellbeing of the people at the same time.
Afterwards, artistic performances with characteristics of the Jinuo were staged at the square. The show was divided into three parts, namely, "Mysterious Jinuo", "Harmonious Jinuo" and "Happy Jinuo", displaying the history and current situation of the Jinuo Ethnic Minority.
By Trista Cao

Translated by Wang Jiaye
【中文】
大鼓敲起来!基诺族欢庆2015特懋克节

拥有六大古茶山之首攸乐山的基诺族乡,8日上午,迎来了基诺族的年度庆典——"特懋克"。来自五湖四海的朋友上千人聚集在基诺族乡的太阳广场上,共同欢迎这一盛大的节日。成都军区副司令员桂全智、云南省地税局巡视员张美琼、西双版纳州州委副书记孙青友,西双版纳州委常委、景洪市市委书记马力勇,景洪市市委副书记、市长刘俊杰等出席"特懋克"庆典。景洪市委常委、市人民政府副市长张培兰在庆典上讲话、基诺族乡党委副书记、乡人民政府乡长白兰致辞,西双版纳州州委副书记孙青友宣布开幕。

"特懋克"为基诺语,本意是"打大铁"。早年的特懋克节,是"打大铁节",是基诺族人民为纪念铁器的创制及使用而举行的节庆。1988年,西双版纳州人大常委会根据基诺族人民的意愿,将这个节日定为基诺族的年节,于每年2月6日至8日统一举行。
白兰乡长在致辞中表示,"基诺山孕育了古老的民族——基诺族,基诺族视大鼓为神灵的化身,每年'特懋克'都必须举行祭鼓仪式。由于基诺族生于茶山,对茶的食用有吃、饮、煮、烤等多种多样的方式,茶叶也是基诺族大部分祭祀活动必不可少的祭品之一;而且,基诺山现仍存古茶树有4200余亩,最大树龄约有800至1200年左右。因此,基诺乡确定了形象名片为'神秘基诺、鼓韵茶山',希望早日建成富裕、文明、美丽、幸福基诺乡。"
张培兰副市长表示,基诺族乡要适应经济发展新常态,真抓实干,建设社会主义新农村。在经济发展的同时,做到民族团结,人民生活安康。
之后,一场具有基诺族特色的文艺演出在太阳广场上演。文艺演出分为三部分,即《神秘基诺》、《和谐基诺》、《幸福基诺》,展现了基诺族的历史和现状。
Source:english.eastday.com