11th Shanghai International Youth Interactive Friendship Camp opens in Shanghai
2015-07-22 23:11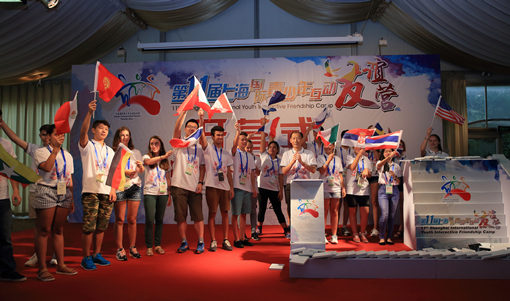 The 11th Shanghai International Youth Interactive Friendship Camp opened on July 22, 2015 at the Oriental Land in Shanghai, starting 10-day events including Chinese cultural experience, homestay with local families and quality development activities.
120 young people come from 20 countries, namely Australia, Bulgaria, Canada, China, France, Germany, Italy, Kyrgyzstan, Mexico, Myanmar, the Netherlands, New Zealand, Republic of Korea, Russia, San Marino, Serbia, Sweden, Thailand, the United Kingdom and the United States.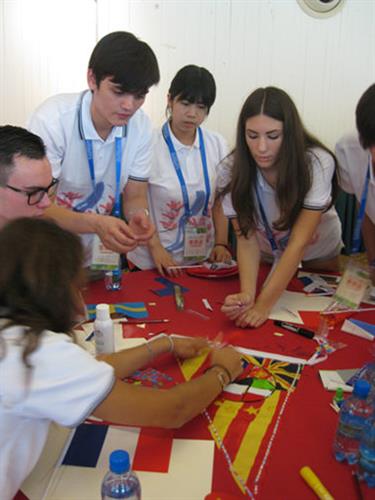 It is the first time for Kyrgyzstan and Myanmar, the two countries along the "Belt and Road" leading youngsters to the camp.
18-year-old Myanmar Chinese Thiha Aung who is fluent in English tells the reporter that he can speak a little Chinese. He looks forward to the upcoming events, "I think it will be very fun, and I'm getting to know so many people from all over the world".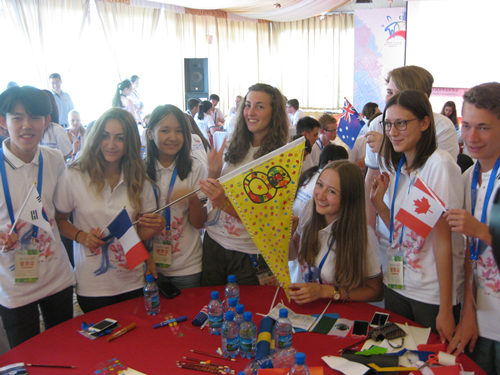 During the camp, these teenagers of different colors, ethnicities and nationalities, who speak different languages, are divided into 10 teams. The first task for them today was to design their team flags.They completed the works successfully after discussion and cooperation, and gave presentations on the stage.
Afterwards the students also learned some spoken Chinese such as Ni Hao (hello) and Xie Xie Ni (thank you).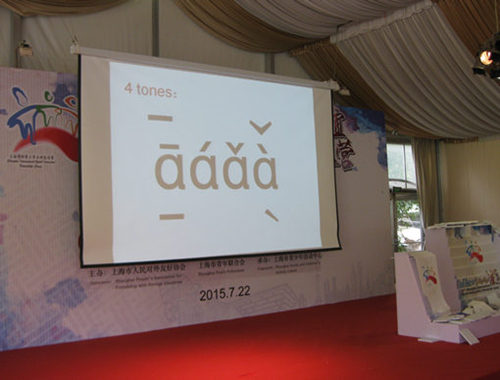 During the next several days, the campers will take part in the "Theme Show on Nations", "I Love Shanghai" International Youth Orienteering Contest, "A Bite of China" food tasting event, folk arts and crafts experience and so on.
One-day homestay with local volunteer families will give these young people exposure to the customs of Shanghainese.
To commemorate the 70th anniversary of the victory of the world anti-fascist war and Chinese people's war of resistance against Japanese aggression, the campers will visit the Exhibition Hall of Resistance War in Jinshanwei.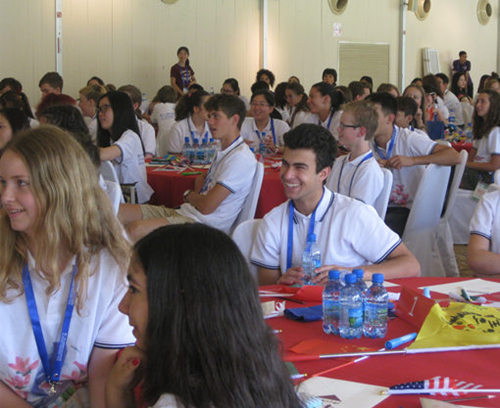 With the theme of "Peace, Friendship, Future", Shanghai International Youth Interactive Camp is sponsored by the Shanghai People's Association for Friendship with Foreign Countries and the Shanghai Youth Federation and organized by the Shanghai Youth and Children's Activity Centre, encouraging young people all over the world to become goodwill ambassadors and leverage the wisdom of youth for world peace and friendship.
Since its launch in 2005, the camp has attracted over 1000 youngsters from 43 countries and regions and has been well recognized for its features of "Joy, Interaction, Friendship, Ambassador". The camp has played an instrumental role in deepening mutual understanding and exchange between young people in Shanghai and other countries.
By Wang Jiaye
Source:english.eastday.com