Shanghai has approved 4 recommendation letters for foreign talents to apply for Chinese green card
2015-09-10 11:50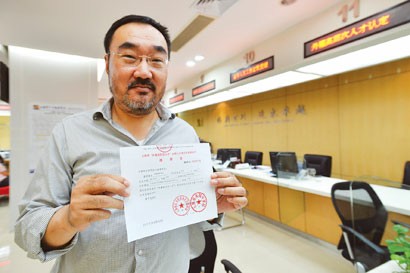 Doctor Liu Chen
Shanghai has approved 4 recommendation letters for the high-level foreign talent work permit and the holders can apply for the Chinese "Green Card" - permanent residence permit for foreigners after 3 years of work.
50-year-old American doctor Liu Chen received the first recommendation letter on Sept. 9, who was an associate professor at the Scripps Research Institute and founded two biological medicines companies in America. He came back to China in 2012 and started a bio medical technology company in Shanghai, researching and developing new drugs for cancer treatment which is synchronized with the United States.
According to the new policy, identified high-level foreign talents who have the recommendation letters can apply for the 5-year work residence permit at the Exit-Entry Administration Bureau of Shanghai Public Security Bureau and get the seal of "Talent". After three-year working period, the applicants recommended by the employing units can apply for the permanent residence permit for foreigners.
Before that, high-level foreign talents can only get common work permit which has the longest period of 5 years unless the person is one of the "Recruitment Program of Global Experts" of China.
The new and more open policy of overseas talent introduction has been implemented to promote the construction of Shanghai science and technology innovation center.
Since the launch in July 1, 2015, the service window for the identification of foreign high-level talents has received 856 telephones or visits. Recently, the identification work officially started and has received the application materials submitted by more than 10 enterprises which include multinational companies, state-run and private companies and expats-founded firms.
Editor: Wang Jiaye
Chinese version 中文版 >>
上海已批4张外国人才推荐函 满3年可申"绿卡"
东方网9月10日消息:昨天,50岁的美籍博士刘辰在上海市人才服务中心"外籍高层次人才认定"窗口领取到了001号《上海市外籍高层次人才办理人才类工作居留许可证推荐函》,这意味着在公安部门办理加注"人才"的工作类居留许可证后,满三年他将获得中国"绿卡",未来在张江创业也更加安心。据悉,这是上海建设科创中心实施更开放的海外人才引进政策后发放的首张推荐函。
领取首张《推荐函》的刘辰博士,曾在美国斯克里普斯研究所任副教授,在美创立了两家生物医药公司。2012年他回国来沪创办了上海亲合力生物医药科技股份有限公司,与美国同步研发治疗肿瘤的新药,并于去年成功入选上海"千人计划"。
据介绍,新政出台前,只有入选中央"千人计划",像刘辰博士这样的外专才可申请《外国人永久居留证》,即中国"绿卡",否则只能办理普通的工作类居留许可证,最长5年。而到本月中旬,他之前办理的3年许可证即将到期,必须再次签注。
根据上海此次新政,对经认定的外籍高层次人才,可持《上海市外籍高层次人才办理人才类工作居留许可推荐函》到市公安局出入境管理局申办5年有效期的工作类居留许可,其上加注"人才";工作满3年后,经用人单位推荐,可按规定申请《外国人永久居留证》,避免了反复签注的麻烦。
  自7月1日设立以来,"外籍高层次人才认定"窗口已接收来电、来访856人次。近日,外籍高层次人才认定工作正式实施,窗口已受理中国商飞等10多家单位为引进的外籍人才提交的申请材料,涉及中央在沪单位、跨国公司上海地区总部、本市重点国有和民营企业以及外籍人才来沪创业企业等,这些高层次人才包括国家重大工程、重点项目等引进的外国专家以及科技创新、创业人才等。目前,包括刘辰博士在内,已有4人得到《推荐函》批准。
Source:english.eastday.com