Shen Guolin: more MNCs' R&D centers will come, helping SH become an innovation hub
2015-07-24 20:47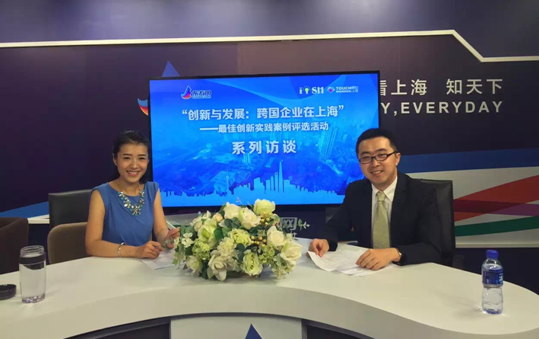 Shanghai, July 24- Shen Guolin, executive vice director of Centre for Think-tanks Research and Management in Shanghai, associate professor from School of Journalism, Fudan University, came to Online Chatting Room of Eastday.com as a guest and shared his opinion on relevant issues around "Innovation and Development- MNCs in Shanghai" Selecting Event and Shanghai's establishment of innovation center with global influence.

As the co-organizer of the selecting event as well as judger organizer, Shen told neitizens that the selecting criteria would be innovativeness, sustainability, demonstrativeness and practicalness of application cases. And judgers are top experts from innovative field, management field as well as media.
MNCs play an important role in the process of economic globalization and also have cross-border advantage in the allocation of global resources, especially innovation resources, said Shen Guolin, more multinational corporations will set up their R&D centers in Shanghai under the good innovation atmosphere, which will be both beneficial to this city and MNCs themselves.
Shen also showed Shanghai's potential to build a science and technology innovation center with global influence from historic, cultural and system sides, and expounded Shanghai's increasing innovation international influence with practical cases. "25 Asia cities are listed by KPMG in the world's Top 100 Innovation City, while Shanghai ranks the first among these listed Asia cities."
"Innovation and Development — MNCs in Shanghai" is a milestone event co-organized by Shanghai Daily and Eastday.com under the guidance of the Information Office of Shanghai Municipality. The activity is designed to select best practice in business innovation, talent development and contribution to local community of multinational companies in Shanghai. A forum will be organized in October to honor those award winners who make significant contribution to the city's ambitious goal to become an innovation center. (Eastday/ Jiang Wenran)
Source:english.eastday.com