The Glen Line Building - built in 1922 (No. 28, The Bund)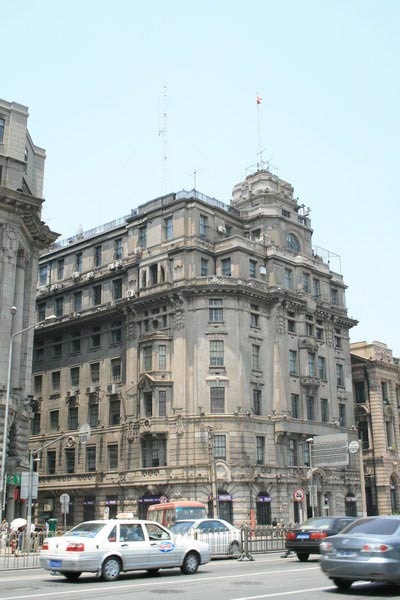 The Glen Line Ltd., a shipping line of Scottish pedigree going back to the l850s, opened their new premises on the Bund in modest style on 2B February 1922. It housed the Shanghai Culture, Radio, Film and TV Bureau.
The building, designed by Tug Wilson of Palmer and Turner in a'free'Renaissance style, was generally regarded as one of the finest ever to be built in the International Settlement. The ground floor was occupied by the offices of the Glen Line Eastern Agencies, with the entrance in the centre of the Bund frontage, consisting of an imposing portico with two granite columns on either side.
The upper floors were rented out, whilst the tower of the building above the roofline provided accommodation for the Glen Line manager. Another imposing entrance, which was found on Beijing Road, led on to one of the largest single office spaces, of around 8,000 square feet, to be found in the city. Separate stairs were provided for the Chinese'coolie'class where foreign feet would dare not tread except in the case of an emergency or a fire. The Glen Line was acquired by Blue Funnel Lines in 1935, and although the building continued to be known by its former name, its local office closed in March 1936. The German Consulate moved into the building in April 193 after their old premises were demolished.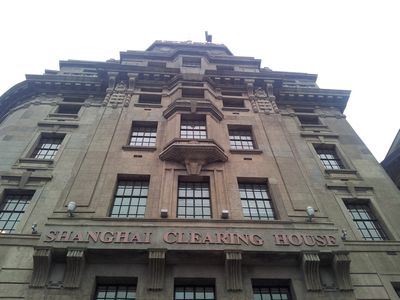 Photo taken on May 19, 2014 shows the Bund No 28 which now is the Shanghai Clearing House.
The building was propitiously sold by Jardine, Matheson & Co., who were acting as agents, to Japanese interests just four months before the Japanese occupation of the city. Following the war, it was taken over by the American Navy and housed the Fleet Post Office and Shore Patrol. The navy undertook a renovation of the building and one floor was converted into two apartments for visitors. Following their departure, the American Consulate moved in. The consulate, which had not had its own permanent premises since 1931, had previously rented space in various hotel and office buildings near the Bund.