After suffering years of ridicule, square dancing is massively popular and is now regarded as a genuine sport, as Xu Junqian reports.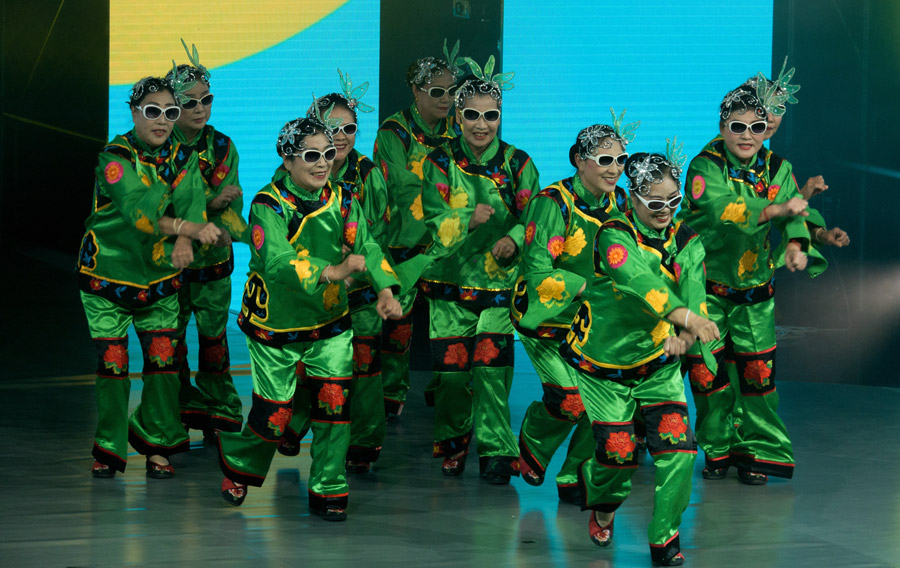 Carnation, a square dancing team formed by retirees, performs at the Looking For China's Most Beautiful Queen of Square Dancing competition in Shanghai last year. [Photo by GAO ERQIANG/CHINA DAILY]
She may be a 64-year-old retiree, but Yang Suxian certainly doesn't lack things to occupy her time.
Unlike many of her peers who spend their days looking after grandchildren and hanging out in parks, Yang, from Tangshan, a city in the northern province of Hebei, is heavily involved in organizing an amateur dance troupe that has about 80 members.
This year, her team, called Carnation, is scheduled to participate in 100 events. More than half of them are provincial-or national-level contests attended by thousands of middle-aged "Gyrating grannies", commonly known as dama.
"Competition brings out the best in us. Square dancing gives us seniors an incentive to get up every morning, and the competitions provide us with a reason to keep dancing," said Yang, who no longer dances as a result of a back injury. She founded the troupe in 2001 with seven neighbors and colleagues.
The Looking for China's Most Beautiful Queen of Square Dancing competition, sponsored by Mighty, a sunflower oil brand from Taiwan, is one of the largest events of its kind in the Chinese mainland.
It lasts almost six months and more than 35,000 dancers from 25 provinces and regions take part. Carnation was one of 10 teams from 3,500 troupes that made it to the finals which were held in Shanghai in December.