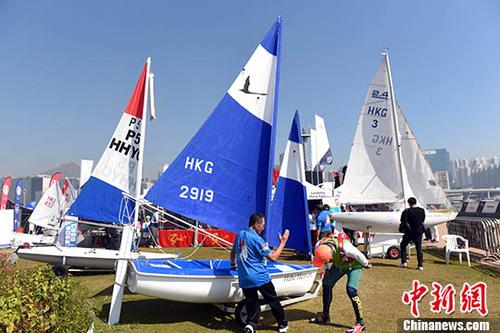 Volvo Ocean Race [Photo/ Chinanews.com]
The Volvo Ocean Race is for the first time held in Hong Kong on January 17-31. This 15-day sailing carnival is free to the public.
The race across world's four oceans with a 46,000-nautical mile course is recognized as the most difficult global offshore sailing race worldwide. Seven participating fleets will dock at the ports in 12 cities, including China's Dongfeng Team.
Tang Yisheng, president of Hong Kong Sailing Federation said the contestants need to overcome a variety of difficult situations. For instance, it will be about zero to several degrees Celsius with strong wind during the voyage from Cape Town, South Africa to Melbourne, Australia while the sailing boatmen need to rely on dry food in 2-3 weeks.
Apart from arrival and departure, there are two scoring competitions in Hong Kong - a short-distance race valuing speed on the afternoon of January 27 and a race around the island in the morning the day after.