President of Siemens Healthineers Asia Pacific: Digitalization the biggest trend of medical industry
Source:english.eastday.com
By:Lu Yukun, Jiang Meiqing

The past year was doomed to be a tumultuous year for most enterprises around the globe. It presented a challenge that every enterprise had to take up and decide whether to remain stuck in trouble or to turn crisis into opportunity. The same is true for Siemens Healthineers, a leading global medical technology company with nearly 150 years of history in China. Elisabeth Staudinger, president of Siemens Healthineers Asia Pacific, was interviewed by Eastday.com and other media, and exchanged her views on the situation of Siemens Healthineers in China in the past year and its prospects for the future.
Challenges and opportunities amid the pandemic
"For me the most impressive thing last year was that, as the pandemic unfolded in Wuhan, how the team of Siemens Healthineers really went into to make sure the hospitals can keep running and operating, especially our service engineers, the frontline people who helped to train people and maintain the scanners, as well as everybody there to support them. After receiving the demand from Wuhan on January 22, we delivered a new CT machine from Shanghai factory to Wuhan within 24 hours, and our engineers in Wuhan quickly completed the installation and commissioning and put it into use. At the same time, our three production bases in China resumed their production at the fastest speed, so as to guarantee production capacity for the fight against the epidemic," Elisabeth said.
When talking about the impact of the epidemic on the business, Elisabeth also said frankly that when the epidemic broke out last year, it was really difficult to predict how much impact it would have on Siemens Healthineers' business. "There are mainly two types of business affected, namely Laboratory Diagnostics business and Point-of-Care Diagnostics business. Due to the impact of the epidemic, the number of patients who went to the hospital for routine examination decreased significantly. On the other hand the epidemic also required that we have enough capacity to ensure that the patients are diagnosed and treated in time, which has also created many opportunities. So, on the whole, our business also achieved good results last year. "
Although the epidemic has brought great challenges, it has also promoted the application of innovative solutions. "In fact, as early as in 2019, we demonstrated the 5G remote ultrasound solution. Our 5G remote scanning assistant can help CT scanning and ultrasound scanning. Last year the demand for this solution was particularly urgent due to the epidemic. We quickly transformed the original design into a deliverable product, and now many users are using it. It is worth mentioning that this solution is 100% developed for the Chinese market by our local R&D team. "
Of course, this kind of remote diagnostic and treatment technology is not only used to deal with the epidemic, but also reflects the change of traditional diagnostic and treatment methods. In the future, there will be more applications of remote technologies and robots, which will promote the flow of high-quality medical resources to the third and fourth tier cities and even rural areas, and help improve the level of primary medical care in China.
"People everywhere yearn for high-quality medical services. The medical resources in China's big cities are relatively sufficient, but there are still many unmet medical needs in rural areas, so Siemens Healthineers is also cooperating with Chinese customers and hospitals to provide medical services in remote areas." Elisabeth explained.
Digital medical is the biggest trend of medical industry
In addition to remote medical care, Elisabeth believes that the biggest trend of the medical industry is the digitalization of medical treatment. Siemens Healthineers, which is famous for its professional medical imaging equipment, has been increasing its investment in medical digitalization in recent years, and is committed to promoting the digitalization of images. This also fits in with Shanghai's strategy of promoting the development of its artificial intelligence industry.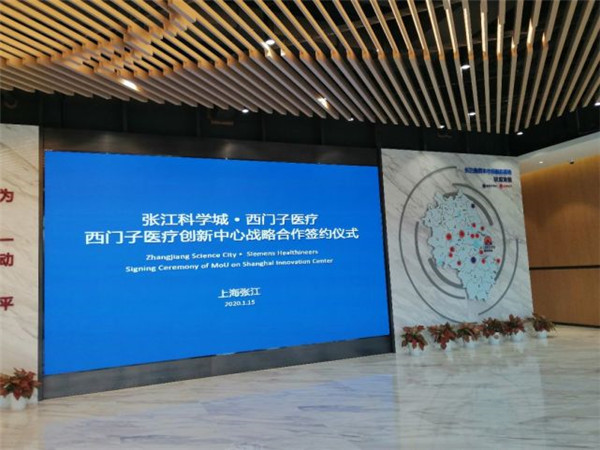 Siemens Healthineers set up medical innovation center in Zhangjiang
Elisabeth told reporters that in January 2020, Siemens Healthineers established Siemens Healthineers Digital Technology (Shanghai) Co., Ltd. in China, hoping to make more contributions to the "Healthy China 2030 plan" through digital medical solutions. "Siemens Healthineers is very optimistic about the development of artificial intelligence in China, especially in Shanghai. For this reason, we set up this new company in Waigaoqiao Free Trade Zone, Shanghai, so as to create a larger digital technology platform. At the same time, Siemens Healthineers is also cooperating with Zhangjiang High Tech Park to build an open innovation platform, and cooperating with local start-ups, multinational companies, medical institutions and scientific research institutes to explore digital, artificial intelligence and other technologies, so as to better meet the needs of the Chinese market. "
"In recent years, our team has also grown rapidly. China's R&D department has obtained nearly 700 technical patents. In the past, our R&D mainly focused on CT and X-ray equipment. Now we are also increasing R&D efforts in the digital field," Elisabeth added.
"There will be many opportunities in the field of medical imaging artificial intelligence. Today, artificial intelligence can do better and more accurately in many aspects," Elisabeth, to use Elisabeth's Chinese name, told reporters. "For example, medical imaging analysis can become easier. At present, most of the medical image data need to be analyzed manually, but now we can complete the daily medical image analysis through core algorithms, deep learning and other artificial intelligence technologies, to help doctors locate the lesions, analyze the disease, assist in diagnosis, and greatly reduce medical misdiagnosis. "
Elisabeth attending the foundation laying ceremony of the new laboratory diagnostics factory in Shanghai in 2018
Talking about the plan for the next five years, Elisabeth said that she was looking forward to the new laboratory diagnostics factory being built by Siemens Healthineers in Zhangjiang, Shanghai. This is the largest investment of Siemens Healthineers in Shanghai in recent years. It is expected to create 500 jobs, with a total investment of 3 billion yuan. The foundation of the new factory in Shanghai marks the expansion of Siemens Healthineers' existing manufacturing capacity in Shanghai, China. "I also look forward to continuing to improve our digital technology and capabilities in Shanghai to support our vision in telemedicine, smart medicine, artificial intelligence, etc. Of course, I also hope that the epidemic will end as soon as possible so that we can travel. There are many places I want to go in China," Elisabeth said with a smile.