2015 Yao Foundation Charity Game to kick off in Shanghai
2015-08-20 15:36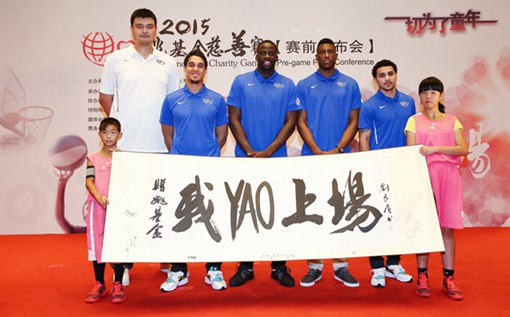 Yao Ming and NBA players sign on the calligraphy works.
With a goal of "All for Childhood", 2015 Yao Foundation Charity Game will be held at the Oriental Sports Center in Shanghai, Aug. 21, 2015, which is committed to promoting the physical and mental health and growth of Chinese young people.
2015 Yao Foundation Charity Game concludes in Shanghai >>
Yao Ming and NBA players instruct little players at training camp >>

Chinese and American basketball stars will play in the charity match and 16 little players coming from Yao Foundation Hope Primary School Basketball Season will enter the court in the third quarter, according to the pre-game press conference held in Shanghai on Aug. 19.
All the money raised in the charity game will be used to build hope primary schools and purchase teaching equipment in poor or disaster-affected areas, improving the learning conditions, and let children participate in Yao Foundation basketball season to feel sportsmanship.
Founder of Yao Foundation, former NBA star Yao Ming, NBA players Draymond Green from Golden State Warriors, Thaddeus Young and Shane Larkin from Brooklyn Nets and Nick Johnson from Denver Nuggets attended the press conference. They signed on the calligraphy works by Mr. Liu Buceng at the scene.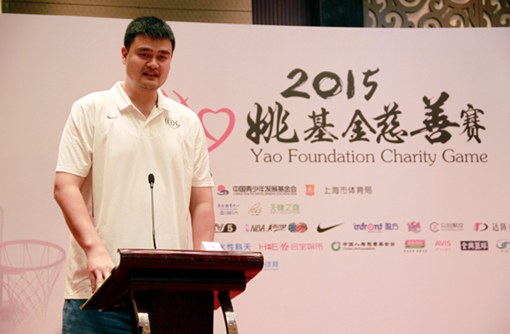 Yao Ming gives a speech.
Sponsored by Yao Foundation, China Youth Development Foundation, Chinese Basketball Association and Shanghai Sports Bureau and supported by a number of warm-hearted enterprises, this year's charity game is themed with "I Wanna Join in the Game" ("wanna" pronounced like "Yao"), aimed at creating more opportunities for the children in impoverished areas to display themselves, feel sportsmanship, learn spirits of dedication and teamwork. More importantly, it helps them build self-confidence and regain hope in their life.
Yao Ming said that different from money, time is equal to everyone, and it is important whether we are willing to devote our time to public welfare. Only when you devote yourself in it can you feel the meanings of public welfare to social and to persons. I appreciate everyone here and other friends for your supports to Yao Foundation and all efforts for children over the years.
Source:english.eastday.com