Tom Cruise is back as Ethan Hunt as Mission: Impossible - Rogue Nation premieres in Shanghai
2015-09-07 15:37
汤姆·克鲁斯亮相《碟中谍5:神秘国度》上海首映式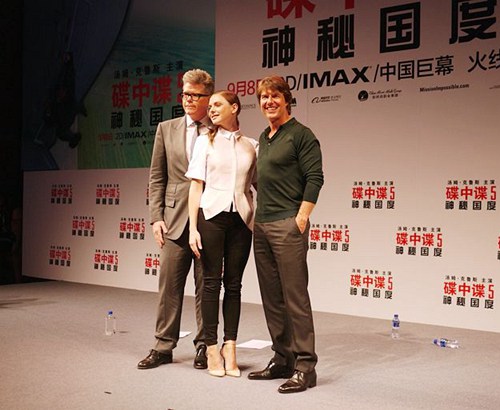 Film stars Tom Cruise, Rebecca Ferguson and director Christopher McQuarrie appear at the Shanghai premiere. (Photo: Su Xiangning)
导演克里斯托夫·迈考利、男主角汤姆·克鲁斯、女主角丽贝卡·弗格森亮相上海首映式。(摄影:苏向宁)
Hollywood stars Tom Cruise, Rebecca Ferguson and director Christopher McQuarrie attended the premiere and press conference of the new film "Mission: Impossible - Rogue Nation" in Shanghai on Sept 6, 2015, sharing their favorite plots, pictures and the stories behind the scenes with Chinese fans.
Produced by Paramount Pictures, the American action spy film is the 5th installment in the "Mission: Impossible" series and will be screened from Sept. 8 in Chinese Mainland.
In the movie, IMF agent Ethan Hunt (Tom Cruise) is on the run from the CIA, following the IMF's disbandment as he tries to prove the existence of the Syndicate, an international criminal consortium.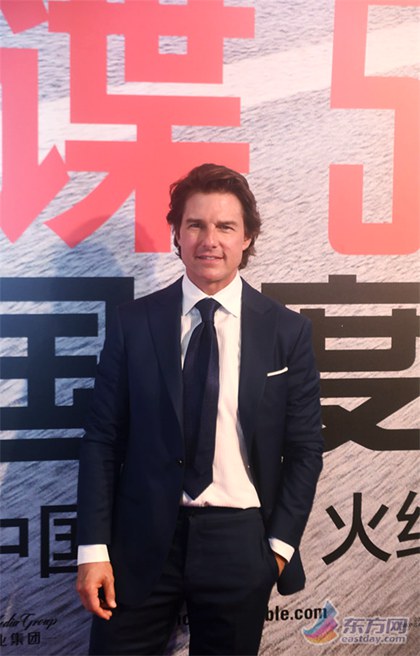 Tom Cruise poses on the red carpet. (Photo: Cao Lei)
汤姆·克鲁斯亮相红毯。(摄影:曹磊)
The action scenes of the film rose to a new height in the series. Many stunts and high difficulty movements are completely real shots without using any computer special effects.
"When I was on a plane, I was curious about what it would feel like to be on the wing. And now I have experienced that", said Tom Cruise, who was suspended for more than 20 minutes on a 1500-meter-high plane in the shooting, and only a thin rope was used to connect the actor and the plane.
Jack Ma, chairman of the board of directors of Alibaba Group made an unexpected appearance at the press conference and disclosed the stories behind the scenes with Cruise. Alibaba Pictures was one of the investors of the film.
Editor: Wang Jiaye

Source:english.eastday.com