Shanghai Marathon 2015 to allocate quotas by drawing lots
2015-09-08 14:37
上马名额首次抽签分配 新增两段特色路段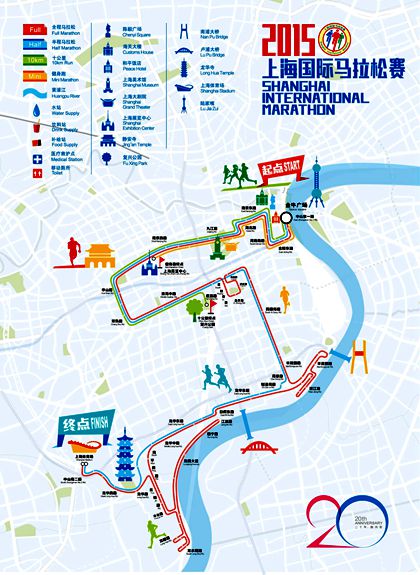 Map of Shanghai Marathon 2015
The registration of 2015 Shanghai International Marathon is set to start from Sept. 10 and the event will allocate quotas by drawing lots for the first time.
With the starting point at the Bund, the event is scheduled to open at 7 a.m. on Nov. 8 (Sunday), including full marathon (15000 contestants), half marathon (8000), 10-kilometer race (7000) and health run (5000).
Two new sections will be added in this year's route, that is, Xintiandi Taiping Lake section on Huaihai Road (M.), Huangpi Road (S.) and reentry section on Miaojiang Road at the World Expo site.
Besides, this year's registration fees have been adjusted.
Full/half marathon: RMB 100 Yuan (300 Yuan for expats)
10-kilometer race/health run: RMB 60 Yuan (200 Yuan for expats)
Launched in 1996, Shanghai International Marathon will usher in its 20th anniversary this year.
Editor: Wang Jiaye
2015上海国际马拉松赛将于9月10日开始报名,并首次采用抽签形式分配名额,共设全马15000人、半马8000人、10公里7000人,及健康跑5000人。今年上马定于11月8日(周日)早上7时在外滩开赛,将新增两段特色路段:淮海中路黄陂南路的新天地太平湖路段,以及世博园区苗江路处的折返。此外,上马的报名费也做了调整,中国籍全、半程马拉松赛报名费为100元人民币(外籍选手为300元),10公里、健身跑报名费为60元人民币(外籍选手为200元)。创办自1996年的上海国际马拉松赛今年将迎来20周年。
Source:english.eastday.com