US visa section opens new space to improve service
2015-09-17 14:19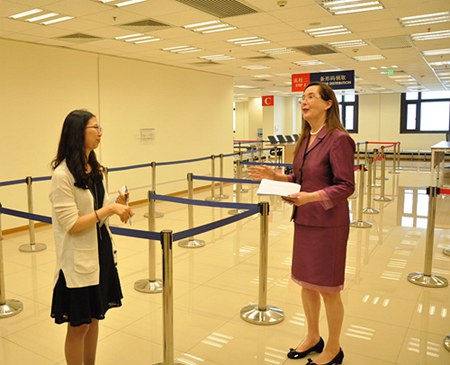 (The photo is provided by the U.S. Consulate General in Shanghai)
The Visa Section of the U.S. Consulate General in Shanghai has started using the newly-renovated waiting area to offer better service for the applicants with the rising demand of visa in China. The consular section September and October closures have also been announced.
Covering an area of about 900 square meters, the new space can hold up to 600 applicants at the same time.
The applicants will go through five preparation steps here including appointment check-in and barcode screening before security and interview.
As seen on the scene, the new room is spacious and clean where signs and zigzag passages are set up in different zones to help maintain good order and increase efficiency.
"It will take less than an hour to pass through all the steps here", said Jewell Elizabeth Evans, Consular Section Chief of the U.S. Consulate General Shanghai at a press conference on Sept. 16, 2015. The applicants are advised not to come to the visa section one hour earlier than the appointed time.
According to the introduction, visa demand in Mission China has risen by more than 53 percent in the wake of the November 2014 announcement on the expansion of Chinese visa validity. U.S. Consulate Shanghai has interviewed and processed more than 500,000 of these applications in the past eleven months.
Moreover, wait times for interview appointments in China have averaged less than a week for the last two years.
Ms. Evans also announced the periods of closure of Shanghai Consular Section in September and October 2015 during which no visa services or routine American Citizen Services will be provided.
The closures which are not regular will be used to better service for the visa applicants, said Ms. Evans.
The closures are as follows:
Sept. 28 and 30; Oct. 1, 2, 5, 9, 12, 13, 14, 15 and 16
During these periods, American Citizens needing emergency services should call (021) 3217-4650. Applicants requiring emergency visa services can use www.ustraveldocs.com to schedule an appointment with the consular sections at the U.S. Embassy in Beijing or at one of the U.S. Consulates located in Guangzhou, Shenyang or Chengdu.
By Wang Jiaye

Source:english.eastday.com