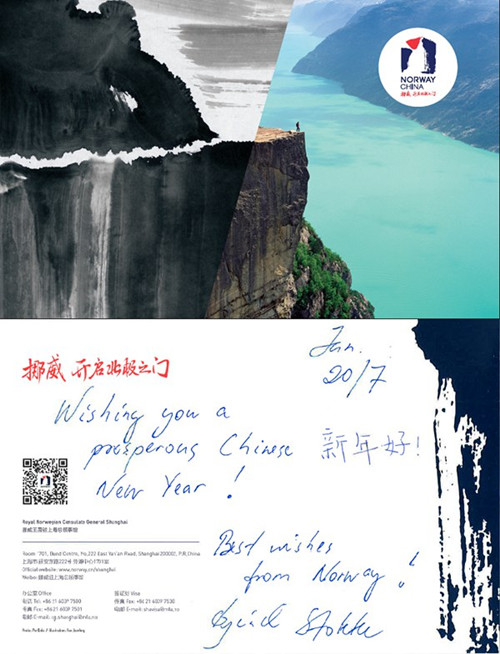 Hand-written New Year Wishes from Øyvind Stokke, Consul General of Norway in Shanghai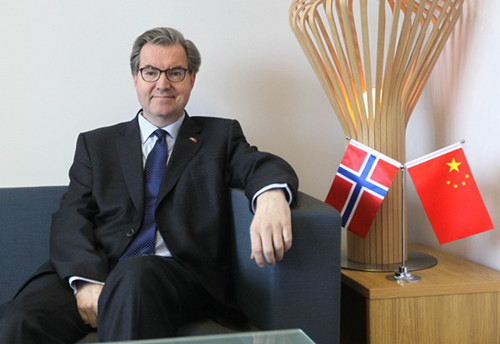 Mr.Øyvind Stokke
  "Now is a good time for Chinese and Norwegian companies to work together on future projects.
  There are at least five priority areas in 2017:
  We will promote Norway as an adventurous tourist destination, based on the very promising figures of a 30% increase in Chinese travelers in 2016.
  We will assist Norwegian companies within high tech, innovation, smart cities development and creative industries to do business in Shanghai.
  We will maintain a primary focus on areas where Norway already has a strong presence in Shanghai – the maritime and marine industries.
  We will continue our scheme of support of Chinese Arctic scholars and journalists interested in Polar issues going to the many high quality events in Norway in 2017.
  We will support Chinese art and music curators and producers from Shanghai who want to travel to exhibitions and festivals in Norway in 2017. Let them go and see and listen – so they can invite good music bands and artists to come to Shanghai."