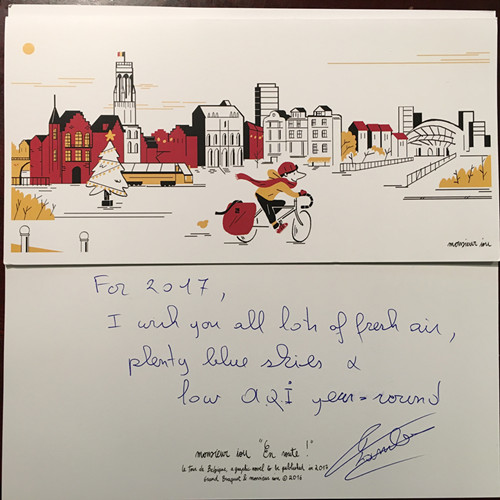 Hand-written New Year Wishes from Paul Lambert, Consul-General of Belgium in Shanghai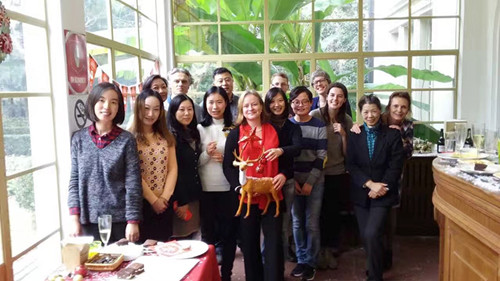 Photo of staff of the Consulate General of Belgium in Shanghai
  As in previous years, we will spare no efforts to further develop beneficial trade & business relations with China. With the support of the commercial consuls, our Belgian companies will participate in a host of exhibitions and trade fairs in Shanghai and surrounding provinces, in varying sectors (Food, Bio tech, ICT / e-commerce, Pharmacology). We will help solve issues that arise in a friendly manner. Support is likewise provided to Chinese companies wishing to participate in fairs and events in Belgium. It is known that we process "Schengen" visas promptly.
  The healthy flux of incoming/outgoing high level visits will continue in 2017. Some of which are at the highest level (like the meeting between Pres. Xi Jinping & the HRH King Philippe of Belgium, in Davos). However, most visits are at the level of provinces and cities, which are building on the various sister-city agreements for example, taking part in the Mayor's International Summit in Suzhou, as well as through frequent student visits & exchanges. We are proud to contribute to the "One Belt and One Road" initiative, connecting people through more direct links between our two countries. With a greatly expanding harbor infrastructure in the Port of Antwerp, Belgium is ready to take on a bigger role in shipping, container traffic & logistics.
  On the cultural side, we have some innovative concerts coming up in the second half of the year. As we are, uniquely blessed with a large garden at the Consulate General of Belgium in Shanghai (127 Wu Yi Lu), we will continue to host major outdoor events as soon as the weather permits. Stay tuned!