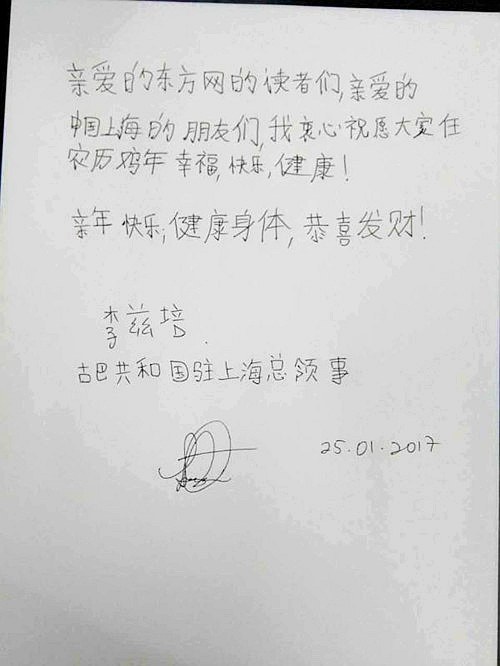 Hand-written New Year Wishes from Lisbet Quesada Luna, Consul-General of Cuba in Shanghai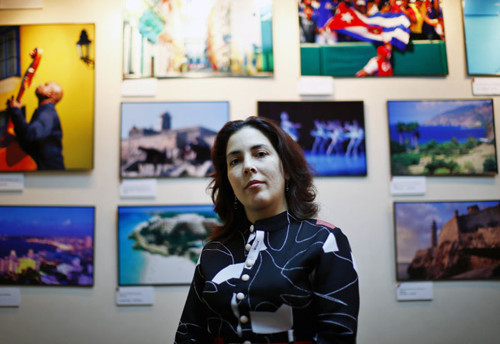 Mrs. Lisbet Quesada Luna
HAPPY AND HEALTHLY ROOSTER YEAR FOR ALL EASTDAY READERS AND FOR ALL SHANGHAINESE!
  新年快乐,身体健康,恭喜发财!
  For me as Consul General and a foreigner living in Shanghai, the last 10 years that I have lived here has been an extraordinary experience with wonderful memories. China and Shanghai have opened their hearts to my family and I. For us, as Cuban citizens living in Shanghai, the city impresses us and enters our lives every day because of its bright culture and its position as an international city.
  During 2016, Shanghai started the XIII Five-Year Economic and Social Development Plan, thus initiating a higher phase in deepening its reform, opening up, internationalization and adopting important policies toward transforming Shanghai into a Center for Innovation, Science and Technology by 2020."I would like to congratulate Shanghai's government on the work that it has carried out; during the 9th Global Conference on Health Promotion last November, where the General Secretariat of WHO, Ms. Margaret Chan, and Premier Li Keqiang, as well as high-level delegations from all over the world were participants." When it comes to bilateral relations, 2016 has been a year of strengthening the friendship and cooperation between not only Cuba and China, but also Cuba and Shanghai. This has been highlighted by the successful visit carried out by Premier Li to Cuba, last September, which was the first official visit by a Chinese Premier since the establishment of diplomatic relations 56 years ago. During the official visit of the Political Bureau Member of the CCPCC, he and the Minister of the Cuban Public Health Ministry, Dr. Roberto Morales Ojeda, participated in the 9th Global Conference on Health Promotion and during the official visit, a productive bilateral agenda was a priority.
  The year 2016 was an important year of celebrations between Cuba and Shanghai. Shanghai and Santiago de Cuba celebrated the 20th Anniversary of the Sister Cities with visits by high-level delegations. Also, in 2016 the Shanghai People's Association for Friendship with Foreign Countries celebrated its 60th anniversary. SPAFFC is a relevant bridge that unites people from different countries through culture, friendship and solidarity. We hope to continue fortifying our friendship and cooperation in the future years to come.
  During the Year of the Rooster, Cuba and China will celebrate the 170th Anniversary of the arrival of the first Chinese in Cuba in 1847. This was the first moment of a Chinese presence in our culture forming part of the national identity. The Consulate General of Cuba in Shanghai hopes that during this important year of celebrations, Cuba and the government of Shanghai can strengthen our bilateral cooperation through cultural, educational, and tourism events in Shanghai.
Mrs. Lisbet Quesada Luna
Consul General of Cuba in Shanghai