中英双语 Internet Finance and 'Belt and Road' in the Spotlight of Sino-Swiss Cooperation
瑞士财长中国行:中瑞合作聚焦互联网金融与"一带一路"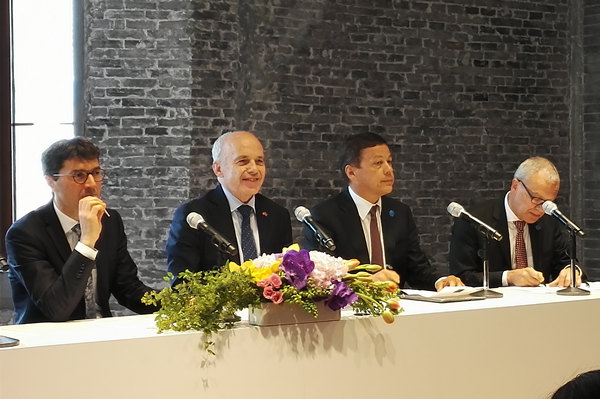 "We have been deeply impressed by the development of internet finance in Shanghai and China. We are glad to have more exchange and collaboration with China in this field", said Federal Councillor Ueli Maurer, Head of the Swiss Federal Department of Finance at a press conference in Shanghai recently. Councillor Ueli Maurer led a delegation of members of the Swiss federal government and financial institutions to China from April 12-19, 2017.
"我们对中国、上海的互联网金融发展印象深刻,并乐于就此与中国开展更多交流与合作",瑞士联邦委员兼财政部长于利•毛雷尔(Ueli Maurer)近日在上海作如上表述。2017年4月12日至19日,毛雷尔部长率领由瑞士联邦政府及主要金融机构代表组成的代表团访问中国北京、上海、香港等地。
Ueli Maurer stated that they would push for Alipay, China's biggest online-payment platform to be used in 200 thousand retailers and point of sale locations like airports and railway stations in Switzerland and Europe. Specifically, customers will be able to use the Alipay mobile payment app at airports in the Netherlands beginning this summer.
毛雷尔部长透露,他们将推动瑞士及欧洲范围内十万家零售商、以及另外十万家包括机场、铁路在内的支付点接受使用支付宝。具体来说,今天夏天,用户就可在荷兰机场"刷"支付宝了。
Joerg Gasser, State Secretary for International Finance Matters, of the Federal Department of Finance said that Switzerland manages 25% of the world's assets. Asset management is one of the core businesses of Swiss banking.
瑞士联邦财政部、瑞士联邦国际金融事务国务秘书约克•加瑟尔(Joerg Gasser)表示,瑞士管理着全球25%的资产,资产管理是瑞士银行业的核心之一。
"Yesterday we visited Alibaba in Hangzhou. Ali provides convenient access to online shopping while Switzerland provides high-quality investment services and products", Gasser stated.
"我们昨天去了杭州的阿里巴巴,阿里能提供便利的网络购物,而瑞士能提供高质量的投资服务与产品",加瑟尔说。
During the week-long visit to China, the two countries discussed mutual openness, cooperation, financial digitization and how Switzerland can play the role of a hub for China's RMB. As the biggest financial center on the European Continent and the second-biggest one in Europe, Switzerland hopes to be more involved in the construction of Shanghai's financial center.
在为期一周的中国访问期间,中瑞双方就金融业的相互开放、相互支持与合作、瑞士如何发挥作为人民币枢纽的作用、金融数字化等领域进行了探讨。作为欧洲第二大、欧洲大陆第一大金融中心,瑞士希望更多地参与到上海金融中心的建设中。
The Swiss Confederation president will attend the Belt and Road Summit in Beijing next month. Maurer stated in Shanghai that the "Belt and Road" is one of the most important initiatives for the 21st Century. Switzerland hopes to take an active part in and obtain more investment opportunities through the "Belt and Road" Initiative.
据代表团此前在北京发布会上透露的消息,瑞士联邦主席将于下月来华出席"一带一路"国际合作高峰论坛。毛雷尔财长在上海表示,"一带一路"倡议是本世纪最重要的战略之一,瑞士希望能积极参与,并通过"一带一路"获得更多的投资机会。
Gasser added that during the summit Switzerland may hold discussions with China in the fields such as infrastructure construction, financing management, risk control, and insurance and reinsurance.
加瑟尔补充道,在"一带一路"高峰论坛上,瑞士可能就基础设施建设、融资管理、风险控制、保险及再保险领域与中方进行探讨。
He also revealed that the Industrial and Commercial Bank of China (ICBC) would set up a branch in Switzerland. It will be the second Chinese bank established there after the China Construction Bank (CCB) started business in Zurich at the end of 2015. Moreover, the Swiss delegation also held discussions with Shanghai Pudong Development Bank on opening branch in Switzerland.
加瑟尔还透露,中国工商银行将在瑞士开设分行。这是继2015年年底中国建设银行苏黎世分行后第二家落户瑞士的中资银行。此外,本次中国之行中,瑞士代表团还与浦东发展银行探讨了开设分行事宜。
The Free Trade Agreement between the People's Republic of China and the Swiss Confederation was signed in Beijing on July 6th, 2013 and came into force on July 1st, 2014. It is the first free trade agreement between China and a continental European country. In addition, Switzerland is one of the founding members of the Asian Infrastructure Investment Bank (AIIB).
2013年7月6日,中国-瑞士自由贸易协定在北京正式签署。这是中国与欧洲大陆国家签署的第一个自贸协定。该协定于2014年7月1日正式生效。此外,瑞士也是亚洲基础设施投资银行(简称亚投行)的创始成员之一。