Doruk Keser: İşbank bridges Chinese and Turkish companies and supports the B&R initiative
Thanks to its unique position at the crossroads between Asia and Europe, Turkey, a destination on the ancient Silk Road, once played an important role in the trade route. Now, the country is once again connected with China with the development of the Belt and Road (B&R) initiative.
In May 2017, while delivering a speech at the opening ceremony of the Belt and Road Forum (BRF) for International Cooperation in Beijing, China, Turkish President Tayyip Erdogan pointed out that increasing infrastructure and technical standards of all the countries on the B&R route will contribute to the further development of land, maritime and air corridors at the intercontinental level. He said Turkey will give all kinds of support for the initiative and will be very happy to materialize the project with its Chinese counterpart.
China, after Germany, is now the second biggest trade partner of Turkey. During the last decade, the trade volume between the two countries has reached close to 30 billion USD in 2016 from 10 billion USD in 2006. In the bilateral trade, the market share of Türkiye İş Bankası (or simply İşbank) has accounted for a big part. For the future, the bank has a clear strategic goal: to cooperate with more Chinese companies and institutions and promote the development of the B&R initiative for a win-win outcome.
Recently, sitting in his office in Shanghai's Jinmao Tower, Doruk Keser, Chief Representative of Türkiye İş Bankası Shanghai Representative Office, had an exclusive interview with Eastday.com.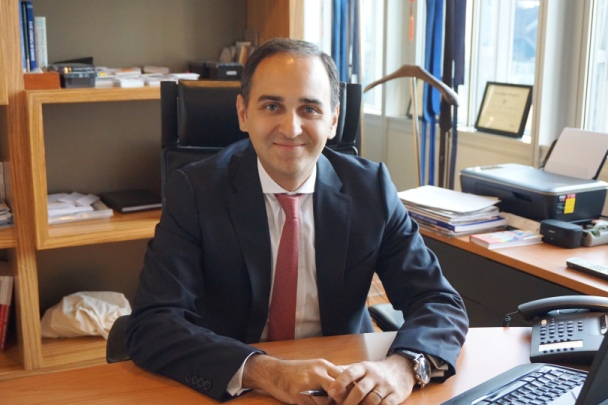 Doruk Keser, Chief Representative of Türkiye İş Bankası Shanghai Representative Office
Turkey: a giant country along the new Silk Road Economic Belt
With a GDP of 856.79 billion USD in 2016, Turkey has an economy almost three times larger than that of the other Central Asian countries combined. Boasting a population of around 80 million, half of them under the age of 31, Turkey is a pivotal power among the countries along the new Silk Road Economic Belt.

During the interview, Doruk told the reporter that Anatolia has a great place in the history of civilizations. Trade was very solid and the true invention of modern metallic coinage started in Lydia in modern Western Turkey in the seventh century BC, which was a major breakthrough in the history of civilizations. For Turkey, once a destination and trade hub along the ancient Silk Road, the modern Silk Road can be a new opportunity to put forward its comparative advantages of being a major gateway from Asia to Europe. Due to its proximity to Europe and the Middle East, Turkey is a natural bridge that connects the continents and regions together and a vital player in the China-Central Asia-West Asia economic corridor.

In Doruk's opinion, the so-called B&R initiative is a huge leap forward of Chinese policymakers in the development of trade and stability. After the dissolution of TPP, China's lead in the region along the B&R route will nourish the connectivity of peoples, cultures and economies. As its advantages are understood by more Chinese people, Turkey will become a key investment destination of Chinese companies. If Turkey succeeds in synergizing the B&R initiative with its economic development strategies, it will certainly benefit from the win-win situation with China.

With a vast network, İşbank boosts China-Turkey economic and trade exchanges
Established by the founder of the Turkish Republic, Atatürk, in 1924, İşbank is the country's largest private bank. Operating 1,349 domestic branches and 6,542 ATMs countrywide, it is a leader among Turkey's private-sector banks, in terms of asset size, loans and deposits. Furthermore, the bank has a profound network of overseas branches and subsidiaries taking into consideration its London, Cyprus, Kosovo, Bahrain and Iraq branches, subsidiaries in Georgia, Russia and Germany, branches in Netherlands, France, Switzerland and Bulgaria, and representative offices in China and Egypt. İşbank Group, apart from serving diverse commercial banking services, also operates in insurance, leasing, factoring, asset management, investment banking and private equity businesses. In most of these verticals, İşbank leads the market.
According to Doruk, based on nearly 100 years of operating expertise and a vast network worldwide, İşbank, as part of the B&R ecosystem, can be a bridge between China, Turkey and the countries within its footprint, so as to enhance their trade exchanges and help Turkish and Chinese entrepreneurs in their growth prospects. "We hope that İşbank Group can be the ultimate financial partner for Chinese companies entering the Turkish market." He continued, "The bank can help Chinese companies with their market entry strategies, assist them partnering with local companies, support their organic and inorganic growth prospects through providing financial leverage and help them with their trade and settlements businesses. On the other hand, as more and more Turkish companies are now trying to tap the vast Chinese market, İşbank, by leveraging its local know-how in China, can help facilitate their payments, while helping them with their supply chain financing and investments."
Fruitful achievements through partnership with Chinese giants

It is known that İşbank has cooperated with a number of major Chinese companies. Talking about İşbank's cooperation with UnionPay International (UPI), Doruk said that an agreement had been reached between the two to open İşbank's vast network of merchants and ATMs to UnionPay cardholders. People can use their UnionPay cards whether they are applying for visa, buying air tickets at thy.com.tr or withdrawing cash from ATMs in Turkey. They can also pay bills at shopping malls, restaurants, tourist spots and hotels through İşbank's POS.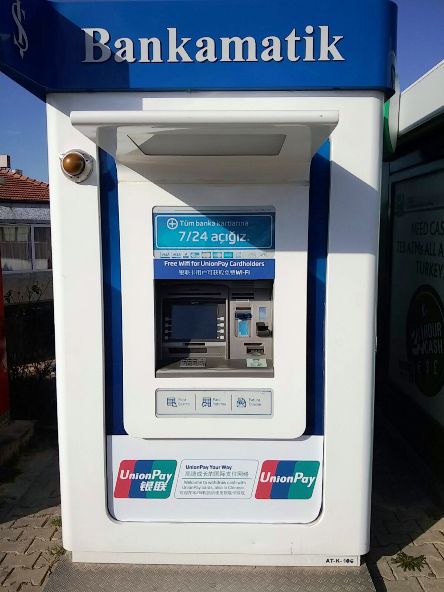 UnionPay cardholders can withdraw cash from an İşbank Bankamatik (ATM)
China's third-party payment is burgeoning. However, in Turkey, despite an extensive network of ATMs and POS terminals, payment via Alipay's QR codes is still unavailable. "We started our cooperation with Alipay last year. İşbank's subsidiary companies are now working on a technology to help Turkish merchants receive payments on mobile terminals via QR codes. Currently, people can use Alipay on Turkish shopping sites. After the birth of the new technology, Chinese tourists will be able to pay via QR codes to merchants who partner with Turkish banks. The technology can be applied in other third-party payment platforms in the future," said Doruk.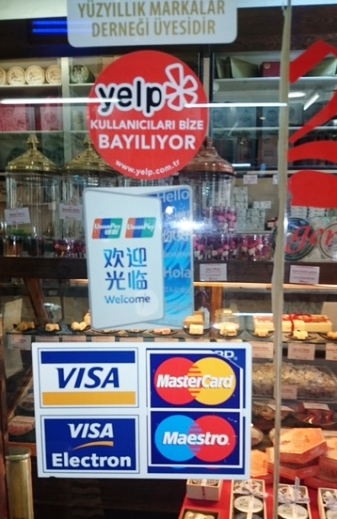 A Turkish shop which accepts UnionPay payments
What's more, İşbank signed a Framework Cooperation Agreement with China's export credit insurance institution, Sinosure, in May. The agreement mainly covers the insurance support of Sinosure regarding projects that have a significant meaning for the economic and social development of Turkey. It supports trade, investments, infrastructure, energy, machinery, construction, logistics and other fields.
Doruk said in Turkish culture, people believe the fact that "we are friends not because we do business but we do business because we are friends." In his opinion, an important part of the win-win structure of B&R arises from the cultural exchanges, friendship and trust between China and Turkey. In essence, Chinese and Turkish cultures have lots of things in common, making it easier for communication and mutual understanding.
Shanghai is a starting point for İşbank

İşbank entered the Chinese market through setting up a representative office in Shanghai about 11 years ago, in 2006. The main reason why the top management chose Shanghai is that they believed the city will develop and evolve into a financial hub, surpassing Hong Kong's role in financial markets, as well as trade and settlements in China.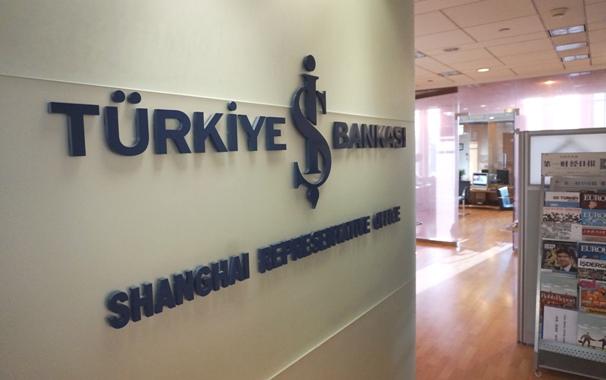 Türkiye İş Bankası Shanghai Representative Office
According to Doruk, during the past decade, İşbank has gone deep into the Chinese market to learn and get familiar with China's laws and regulations, state conditions and capital market. The bank has connected Chinese and Turkish markets in such fields as banking, investments, trade and economy. With a deep understanding of the Chinese market, İşbank hopes to convey the message to Turkish investors and help them grow in China. On the other hand, by introducing Turkey to China, it will attract Chinese companies and institutions to make direct investment in Turkey's energy and PPP programs.

"Given the RMB's inclusion in the SDR basket, as well as a stable exchange rate, we hope to promote the RMB internationalization efforts of China and make it into a currency shared by China and countries along the B&R in financial businesses. I think the B&R route is not only a trade route, but also a bridge between financial markets. In Turkey, RMB loan and deposit business are now available," said Doruk. "Each year, at İşbank's annual conference, we introduce the Chinese market to Turkey. This year's theme is China's B&R initiative. As the main speaker, I will share my understanding of China."
Doruk also pointed out that apart from B&R-related businesses, İşbank Shanghai Representative Office is also concerned over businesses related to the city's Free-Trade Zone (FTZ). As the Representative Office gets more understanding of the Chinese market and its dynamics, it conveys government's beneficial policies regarding foreign investment to Turkish investors, attracting them to invest in various fields in China. It also boosts small and medium-sized investments in China by utilizing the FTZ platform.
İşbank's present and future
Turkish financial institutions and institutional investors, including banks, asset management companies and portfolio managers, have profound governance and risk management systems in place. The banks and the financial markets in general are extremely healthy in terms of infrastructure, regulation and financial fundamentals, even better than most of their peers. Furthermore, having discovered the benefits of digitalization, Turkish banks have invested heavily in the fin-tech ecosystem. To present a specific case, share of İşbank's non-branch channels in the banking transactions reached a level of 83.7% last year and the number of mobile banking customers has increased by 18 times over the past five years.
"At this stage, financial cooperation opportunities, including but not limited to digitalization in the banking industry, as well as closer partnerships in financial markets and private equity investments, can be the other fields that we foresee a huge potential to be leveraged in the B&R framework. Moreover, apart from trade in goods, service trade shall find more importance in bilateral trade agreements in such fields as e-commerce, finance, tourism, shipping, education, healthcare and architecture. We suggest the institutions and banks from both countries hold periodical meetings and network with each other in order to diversify service trade and increase financial cooperation in the areas of banking, financial markets and private investments," said Doruk.
He also told the reporter that Turkey has been persistent in designing Istanbul's financial infrastructure to make the city a financial hub in its region. From this standpoint, increasing off-shore RMB liquidity in the local market can be the new hype that Istanbul gains in the way to become a financial center, which can be further discussed with bilateral policy institutions.
During the interview, Doruk also expressed his concern over the development of "Industry 4.0" in China. He revealed that in the WIN EURASIA 2018 Fair which is to be held in Istanbul, the concept will be introduced for the organic integration of digital technology, AI and production. He hoped that the exposition of industrial products and technology through Europe and Asia can promote communication and cooperation between China and Turkey in "Industry 4.0."
Doruk Keser's life in Shanghai
Doruk came to Shanghai In September 2015, for the position of Chief Representative of İşbank Shanghai Representative Office. Before this, he had worked for İşbank for over ten years and had accumulated rich experience in investment banking, commercial banking and other sectors. Also, he is curious about the Chinese market and has proven business development capabilities. Therefore, the head office appointed Doruk to the position.
During his two years in Shanghai, what impresses him most is his wedding ceremony with his Turkish wife here. Starting a family is one of the most important things in his life. Both he and his wife love Shanghai. They love its spirit and vitality. They wanted to get closer to their friends here and get married in front of them, so they tied the knot in the Consulate General of Turkey in Shanghai, believing the city would bring luck to their marriage.
In his spare time, Doruk often goes out to eat xiaolongbao (steamed soup dumplings) and visit temples. On weekends, he and his wife like to visit ancient water towns, where they can get closer to nature and experience traditional Chinese culture. "The biggest attraction of Shanghai is that it is a modern city with a fusion of various cultures. Places like the Yu Garden, the French Concession and the Pudong New Area are like Istanbul. Today's Shanghai is a combination of the old Shanghai, the western culture, the classic and the modern, which is very different from other metropolises," said Doruk, who chose to live in Laoximen in order to feel the old Shanghai. "The culture of Shanghai and my friends here impress me a lot. We love the friendly people around us who treat us with sincerity, which you'll never feel in London, Paris and other big cities."
Before the interview started, finding the reporter was not comfortable with the sunlight shining through the window, Doruk stood up, trying to close the blinds, though it took him quite a while to finally figure out how the blinds worked.
To conclude the interview, Doruk mentioned a Turkish proverb, "elini taşın altına koymak," which means if there is only one hand under a big stone, the heavy weight of the stone, which symbolizes great responsibility, will be difficult to be borne by that only hand. But if more hands join, the responsibility will be divided, and the stone will be lifted easily. He told the reporter, "We hope İşbank can be a pair of supportive hands which share the significant historic importance and responsibility under the B&R initiative."