南非驻上海总领事 陶博闻
Esrom Thabo Thage
Consul General of South Africa in Shanghai
To all our Chinese friends, I'd like to say, 猴年行大运 All the best in the New Year and may it be a wonderful year filled with happiness, prosperity and good health.
我要向所有的中国朋友送上最美好的新年祝福,祝你们身体健康,吉祥如意,猴年行大运。
I feel Shanghai is a dynamic and welcoming city, a very cosmopolitan city; it's a city where you meet a number of people coming from across the world, starting with our good hosts the Shanghai people, across China, people from Beijing, in the north and everywhere is all year to welcome us. We have very good relations with the host Foreign Affairs Office and a number of other commissions in Shanghai.
我觉得上海是一座充满活力、热情好客的国际大都市,在这里你能遇见来自世界各地的人,首先是我们友善的主人翁上海人,还有来自北京、北方、全中国,以及各地的人都很欢迎我们。我们和上海市外办以及其他一些驻沪委办都有很好的关系。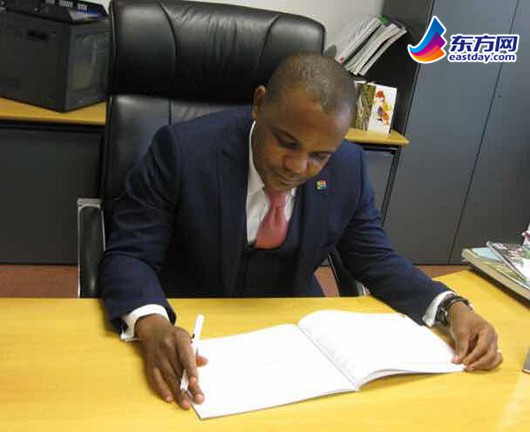 "One Belt and One Road" initiative from one of the leading countries of the South- this is a ground-breaking initiative that connects China and the rest of Asia, Europe and African continent. As South Africa we welcome this initiative because it opens a lot of opportunities, it's about connectivity, connectivity in terms of rail, connectivity in terms of road, connectivity in terms of sea.
中国的"一带一路"倡议是一项连接中国和亚洲、欧洲、非洲大陆的突破性倡议。我们南非乐见这一倡议,因为它带来很多机会,它关乎诸如铁路、公路、海路运输上的互联互通。
For South Africa and African continent, it's even more required because we have a lot of opportunities and challenges as regards infrastructural development.
对于南非和非洲大陆来说,"一带一路"更是必需的,因为我们会有很多关于改善基础设施建设的机会和挑战。
Shanghai is a city that is renowned for cutting-edge technology, leading trade and shipping hub. It's among leading cities of the world. We look to a city such as Shanghai in terms of cooperation in ICT, trade and investment. I know for a fact that the ease of access of Wi-Fi in an important city such as Shanghai is something that other cities are looking up to improve communication within and between its citizens. So we are looking at cooperating with Shanghai in terms of ICT, in terms of broad band roll-out, as that will lead to increase the access to Wi-Fi technology in countries such as South Africa, in leading cities such as Johannesburg, Cape Town, Pretoria and Durban. So for us, cooperation with Shanghai in this space and beyond is a welcoming opportunity.
上海以其尖端技术、领先的贸易与航运中心著称,它是世界上最主要的城市之一。我们从信息和通信技术、贸易和投资合作的角度看上海这样一座城市。世界各大城市都看重Wi-Fi连接的便捷度,并以此改善其市民间的沟通,上海在这方面做得很好。因此,我们希望和上海在信息通信技术,以及宽带产品上合作,而这将加快Wi-Fi技术在南非的接入,比如在我们的主要城市约翰内斯堡、开普敦、比勒陀利亚和德班。所以,我们很期待和上海合作。