新西兰驻上海总领事 葛甘楠
Guergana Guermanoff
Consul General of New Zealand in Shanghai
我是新西兰驻上海总领事葛甘楠,首先祝大家新年快乐!

I am Guergana Guermanoff, Consul General of New Zealand in Shanghai. Firstly, I wish all of you a happy New Year!

我在上海快一年了,在这一年里,我见证了上海的飞速变化,也非常高兴地看到新西兰和中国的关系越来越紧密。

I have been in Shanghai for almost one year. This year I witness the rapid changes here in Shanghai and I am glad to see the closer relationship between New Zealand and China.

我知道,上海目前的发展重点是科技创新产业,我想新西兰在这方面应该有很多可以与上海合作的。新西兰的科技创新产业是世界领先的,比如在人工智能和在药物筛选方面的合作。

I know that science and technology innovation industry is a main focus in the development of Shanghai. I think that New Zealand has a lot to cooperate with Shanghai in this regard. New Zealand is one of the leading countries in innovation industry, for example, in terms of artificial intelligence and drug screening.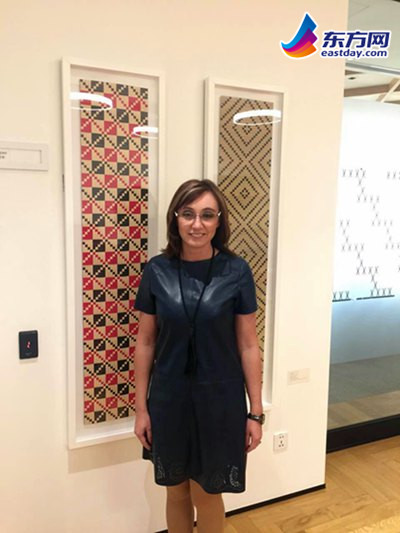 大家可能知道, 新西兰在影视特效、动画制作上有着领先优势,很多大片,包括《指环王》、《霍比特人》、《金刚》和《阿凡达》都是在新西兰的特效工作室完成的。

As you may know, New Zealand has a leading edge in the film and television special effects and animation production. Many blockbusters were completed in the special effects studios in New Zealand, such as the Lord of the Rings, the Hobbit, King Kong and Avatar.

今年,我们计划在上海举办新西兰电影节,让上海进一步了解新西兰的历史、文化和生活。

This year we plan to host New Zealand Film Festival in Shanghai, providing Shanghai people a deeper understanding of New Zealand's history, culture and life.

虽说新西兰不是一带一路的沿线国家,但新西兰是1000亿美元的亚投行的初始成员国。

Although New Zealand is not among the countries along the "One Belt and One Road" initiative, it is one of the founding members of the US$100 billion Asian Infrastructure Investment Bank.

今年,上海又有新的地铁线路开通, 我也希望能有时间发现上海更多有趣的地方,尝试更多的本地美味,更深入地了解中国的文化,也希望在新的一年里,新中两国之间有更多的交流与合作。欢迎大家都去新西兰感受一下真实的新西兰。祝大家在新的一年一切顺利!

This year Shanghai started new metro lines. I hope to discover more interesting places in Shanghai, taste more local food and know further about Chinese culture. And I also hope there will be more exchange and cooperation between New Zealand and China in the upcoming New Year. Welcome to New Zealand to feel the real New Zealand. I wish you all the best in the New Year!