泰王国驻上海总领事 巴丽彩
Parichat Luepaiboolphan
Consul General of Thailand in Shanghai
你好,猴年快乐!

Hello, Happy Monkey Year!

I am very lucky to be posted in Shanghai. I love to live here. Not many cities in the world surpass Shanghai as a perfect city to visit, to work, to live and to enjoy life. I love Shanghai.
我很幸运被派驻到上海工作,我很喜欢住在这里。世界上没有几个城市能媲美上海,无论是旅游、工作、居住,还是享受生活,这都是一座完美的城市。我爱上海。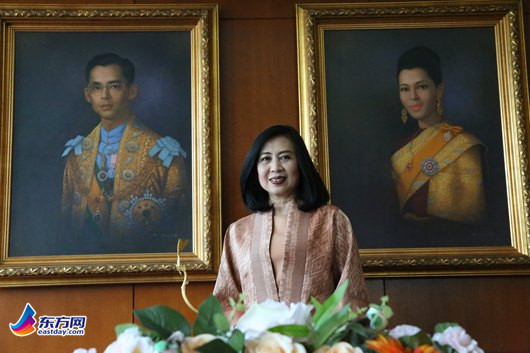 Firstly I'd like to congratulate the people in Shanghai that in the year 2020 they will enjoy the new face of Shanghai as a full smart city and global innovative center.
首先我要祝贺上海人民,到2020年,他们将看到上海作为全方位智慧城市和全球创新中心的新面貌。

Thailand can learn a lot from Shanghai's strategy as we are going along the same path with a high potential of innovative economy.

泰国可以从上海的战略中学习很多东西,因为我们的发展路线相一致,都在创新经济方面有巨大发展潜力。
This year Thailand we will again be a part of Shanghai's big events, namely, Shanghai International Film Festival, Shanghai International Fashion Week and China International Cartoon and Games Expo or CCG Expo.
今年,泰国将再次参与上海的各项大活动,如,上海国际电影节、上海国际时装周,以及中国国际动漫游戏博览会。
I would rather say that not only Thailand but both China and Thailand would enjoy the benefits from "One Belt One Road" and from our mutual existing strengths.
我认为,泰中两国都将从"一带一路"战略和共同的现有优势中获益。
"One Belt One Road" and ASEAN connectivity plans involve much physical infrastructure development which will bring both sides closer and easier by car, by railways, by sea and by air.
"一带一路"和东盟互联互通计划涉及大量的基础设施建设,这将使我们双方通过公路、铁路、海运、空运等渠道联系更紧密、来往更便捷。
This will stimulate economic growth in all other social and cultural cooperation including people-to-people relations.
这也将激励双方在社会、文化合作领域上的经济增长,加强民间联系。