德国驻上海总领事 罗腾
Peter Rothen
Consul General of Germany in Shanghai
你好!My name is Peter Rothen. I'm the German Consul General for Shanghai and Yangtze Delta. I would like to wish to all viewers very good New Year of the Monkey. I'm excited to be able to experience this New Year here to gather with you in Shanghai. I'm sure it's going to be an exciting and dynamic year.
你好!我是德国驻上海总领事罗腾,在此向所有网友致以美好的猴年新春祝福。很高兴能与你们相聚在上海一起过年,我相信,这将是令人兴奋、充满活力的一年。
I've been in Shanghai only for a big more than one year. But it is so good and so exciting that I feel as if I had been here already for many years. And I love it and I hope to stay for many more years to come.
我来上海只有一年多时间,但在这儿生活非常棒,因此我觉得好像已经待了很多年了。我很喜欢这里,希望能待上很多年。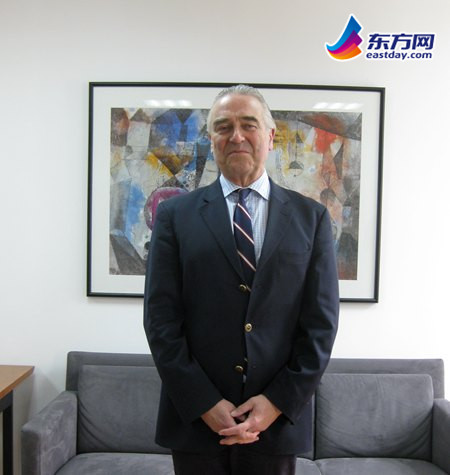 Germany is very excited that Shanghai is now also putting much emphasis on promoting innovation because Germany is a very innovative country. And I think with a new emphasis in Shanghai on innovation we are ideal partners, also in that new and exciting field. So Germany wants to cooperate with China, with Shanghai in innovation matters. It is already happening. There are a large number of German companies who have already moved their research and development departments here to Shanghai, and there will be more. So we will be able to cooperate in this very exciting and important area.
很高兴中国现在重视推动创新发展,因为德国就是一个注重创新的国家。我想创新将成为上海一项重点推进的工作,而我们是理想的合作伙伴,在新兴领域同样如此。因此,德国希望与中国、与上海在创新发展上开展合作。事实上,合作已经在进行中了,已经有很多德国企业将他们的研发部门迁到了上海,未来还会有更多。我们将会在这一重要而又令人兴奋的领域展开合作。
The "One Belt and One Road" initiative as you know, stretch is out around the globe and will touch many countries, starting in China and going all the way west. Germany is more and less in the end of the new Silk Road. We will be there as partners for China as we have already been. And we hope to be able to develop Silk Road together with China and to increase our trade and our contacts, even more with the new road.
如你所知,"一带一路"倡议起始于中国,一路向西,遍布全球,涉及众多国家。德国差不多是在新丝绸之路的终点,我们将在那儿一如既往地成为中国的合作伙伴。我们希望能与中国一起发展丝绸之路,扩大贸易,加强联系,并期待更多发展空间。
I know a number of great German orchestras will be coming to Shanghai this year. I will do my best to promote these concerts and to bring Chinese people, Shanghai audiences to these concerts. I hope there will also be some other concerts, Jazz concerts, rock concerts may be. So, we here in the consulate we have brought some musicians here. Last year we have brought very good German Jazz band here which performed in the Shanghai International Jazz Festival. So I hope we will be able to continue this and to see many of you at these concerts.
2016年将有很多出色的德国交响乐团来上海演出。我将尽我所能推介这些音乐会,邀请中国观众、上海观众来欣赏。我们希望今后还会有更多其他类型的音乐会,比如爵士音乐会、摇滚音乐会。我们总领馆也邀请了一些音乐家,去年,在上海国际爵士音乐会上就有我们德国非常棒的爵士乐队的演出。因此,我们希望将继续推动这样的活动,也期待你们能光临音乐会。