哈萨克斯坦共和国驻上海总领事 克拉把叶夫·佐齐汉
Kyraubayev Zhoshykhan
Consul General of Republic of Kazakhstan in Shanghai
我是哈萨克斯坦共和国驻上海总领事克拉把叶夫·佐齐汉。快到中国新年猴年,祝中国人幸福,家庭美满,日子过得更好。
I am Kyraubayev Zhoshykhan, Consul General of Republic of Kazakhstan in Shanghai. As the New Year of Monkey approaches, I would like to take the opportunity to exchange cordial greetings with those, whose friendship and business we value so highly. In this spirit it is my pleasure to wish all best to all Chinese people.
我们哈萨克斯坦和中国,历史上就是和睦的友好国家,我们两国的关系越来越密切,一年比一年成功。
Kazakhstan and China are enjoying friendly neighbor relations and partnership. The bilateral relations between our countries are getting more successful each year.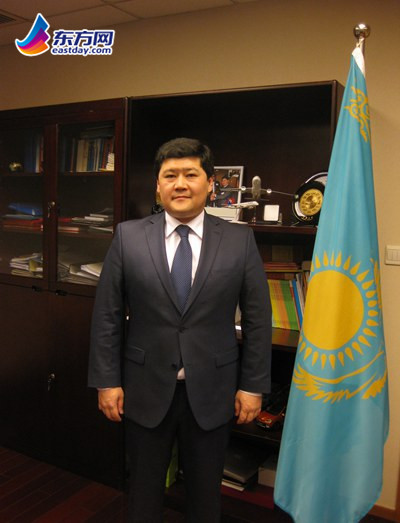 我国总统纳扎尔巴耶夫先生提出的"光明大道",和我们邻国主席习近平提出的"一带一路",名称不一样,但内容是一致的。
The policy of "Nurly Zhol" proposed by President N.A.Nazarbayev is consistent with "One Belt and One Road" proposed by President Xi Jinping.
两个国家领导人会面了很多次。在2015年,我们签订了45个项目,这也是按照"一带一路"和"光明大道"政策(落实的)。
Two leaders have visited each other many times. In 2015 about 45 documents on bilateral cooperation were signed within the policies of "Nurly Zhol" and "One Belt and One Road".
2016年,我期待两个国家的经济政策、文化各方面发展。为此,我们两个国家的外交官都在很努力地工作。
Kazakhstan and China share common interests in the economics and politics field. So we look forward to further cooperation.
从五月份来上海当总领事,我到这里已经7个月了。我感觉上海是节奏非常快的城市,企业很多,人很忙碌,他们擅长幽默,一边做事一边做人。我们在上海工作的外交官都对在上海工作很感兴趣。
It has been 7 months since I arrived in Shanghai as Consul General. I feel and see that Shanghai is one of the most beautiful and prosperous cities in the world. It is my pleasure to work here as a diplomat.
今年,哈萨克斯坦的经济大城市阿拉木图和中国经济发展的中心上海将联盟为友好城市,我们已开始着手具体的工作,希望今年能实现(这一目标)。
We are planning to establish friendship ties between the center of economic development of China - Shanghai and one of the biggest cities of Kazakhstan - Almaty this year.