捷克驻上海总领事 理查德·卡尔帕奇
Richard Krpac
Consul General of the Czech Republic in Shanghai
Hello! My name is Richard Krpac. I'm Consul General of the Czech Republic in Shanghai.
大家好!我是捷克共和国驻上海总领事理查德·卡尔帕奇。
It is the Year of Monkey coming in a few days. On behalf of the Czech Republic and on behalf of Czech people, I would like to wish everybody in Shanghai and everybody who is watching this video 新年快乐!
快到中国猴年了,我代表捷克共和国、捷克人民,祝福所有在上海的,以及正在观看这段视频的朋友,新年快乐!
I can tell you I've dreamt of coming to work in Shanghai already for 15 years because 15 years ago when I was working in Washington, the United States, I met a Chinese, Shanghainese lady. She told me beautiful stories about her city and everything that I really wanted to work in China and in Shanghai in particular. This dream came through just last year.
我梦想到上海来工作已经有15年了,因为15年前,当我在美国华盛顿工作的时候,我遇到了一位上海姑娘,她告诉我许多关于她家乡的美丽故事,因而我特别希望到中国、尤其到上海工作。而去年,这个梦想成真了。
We want to deliver during the smart Year of Monkey the smart technologies for smart cities. One of the most important projects of this year is we are bringing ICT and IT companies and gaming companies to Shanghai for China Joy. We are looking forward to meeting our Czech companies with Shanghainese companies and perhaps great partnership.
我们希望,在这个智慧的猴年将智能科技带给智慧的城市。今年,我们把信息和通信技术公司、游戏公司带到上海来参加中国国际数码互动娱乐展览会(China Joy),这也是我们今年最重要的项目之一。我们期待看到捷中两国企业成为很好的合作伙伴。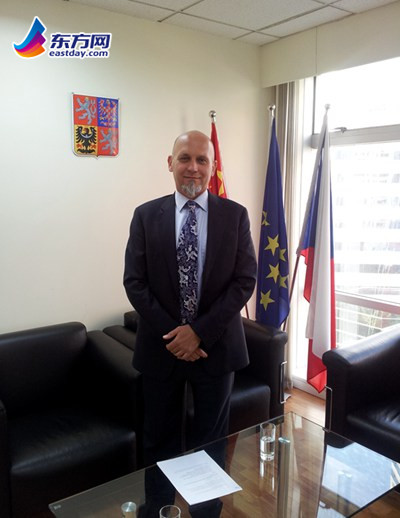 Regarding the "Belt and Road", I can tell you that Shanghai is on the one end of the "Belt and Road" when Prague, the capital of the Czech Republic is exactly on the opposite side. So I can't say "Belt and Road" short of bridge actually between Shanghai and Prague. I can tell you that Shanghai already serves as a harbor for the Czech Republic, for Czech businessmen, for Czech tourists, for any Czech people, scholars, academicians, students and culture people.
说到"一带一路"战略,上海在"一带一路"的这一端,而捷克首都布拉格刚好在另一端。我想说,"一带一路"是拉近上海和布拉格之间的桥梁,而且上海早已成为捷克在中国的一个港口,不仅是对捷克商人、游客的,而且是对所有捷克人的,包括学者、院士、学生和文化人士。
We are also happy that the Czech Republic is becoming the center of the traditional Chinese medicine for Europeans to come.
我们也十分高兴地看到,捷克正成为中国中医在欧洲传播的中心。
We are looking forward for having a direct flight between Shanghai and Prague very soon.
我们正推动捷克成为上海乃至中国以及整个中欧的港口,并取得了越来越好的成果。我们期待上海和布拉格很快拥有直飞航线。
For those who have not been to the Czech Republic, I would suggest strongly to see Xu Jinglei's movie, the last movie of hers, which is entirely about Prague, about Chinese couple meeting in Prague. You can see the beauty of the country. The movie is called "Somewhere Only We Know".
对于没来过捷克的朋友,我强烈推荐你们去看徐静蕾的最新电影,《有一个地方只有我们知道》,那是发生在布拉格的浪漫爱情故事,你们将从中感受到捷克的美。
If you have seen that one, I suggest you to watch the Hunan TV program "天天向上", where Ou Di, one of the famous celebrities from "天天向上" got married in Prague at the most beautiful 16th Century castle. Then you will know how beautiful Prague and the Czech Republic are.
如果你们看过这部电影,我再推荐你们看湖南电视台的综艺节目《天天向上》,他们的主持人之一欧弟去年在布拉格最美的16世纪城堡里举行了婚礼,你们将从中看到我们布拉格、捷克有多美!
Welcome to the Czech Republic.
欢迎来捷克。