加拿大驻上海总领事 艾伟敦
Weldon Epp
Consul General of Canada in Shanghai
大家好,我是加拿大驻上海总领事艾伟敦。
Hello, I am Consul General of Canada in Shanghai Weldon Epp.
去年,加拿大和中国建交45周年。上海经济发展的过程,还有计划,就是在强调创新。创新城这个平台其实蛮有吸引力。
2015 marked the 45th anniversary of diplomatic relations between Canada and China. Innovation is a main focus in the social and economic development, and the planning of Shanghai. The city of Innovation is really an appealing platform.
去年,我们加拿大比较有名的创新品牌太阳马戏团跟上海有名的复星集团合作,今年刚刚开了一个新的办公室。
Last year, Canada's famous innovation brand Cirque du Soleil cooperated with the Fosun Group, a well-known company based in Shanghai. They have just opened a new office this year.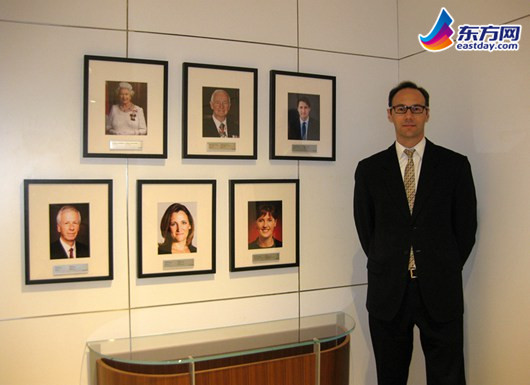 去年,我们加拿大的渥太华大学和中国的(上海)交通大学,这两所大学的医学院发展了一个新的项目:医学学位,是合办的学位。这个学位可以在上海学完,但它的课程来自渥太华大学,毕业生一样可以申请中国、加拿大或美国的医生资格证书。所以,我们觉得,在科技创新方面,我们的合作已经很强,将来也会有更多发展。
Another good example is the Ottawa–Shanghai Joint School of Medicine, a joint program between the University of Ottawa and the Shanghai Jiao Tong University School of Medicine. Students can finish the courses from uOttawa in Shanghai and graduates can also apply for doctor's qualification certificates in China, Canada or the United States.So we think we have very strong collaboration in terms of scientific and technological innovation and there will be more development in the future.
很多人也问到加拿大和中国在"一带一路"上的合作和发展。首先想说,习主席推动的"一带一路"经济发展战略,受到很多国家的关注。
Lots of people ask about the cooperation and development between the two countries on the "One Belt and One Road" strategy. Firstly, I'd like to say that the strategy proposed by President Xi has received a lot attention from many countries.
刚好去年我们新上任的总理和习主席在土耳其的G20高峰会上与会过。我们很乐观能看到加拿大和中国的公司可以继续合作。
On the margin of the last G20 summit in Turkey, Canada's newly elected Prime Minister met with President Xi. We are optimistic to see that companies in Canada and China will continue to cooperate.
说到上海这座城市,我到这里已经快半年了。家人和我搬到上海后都觉得特别舒适。其实我第一次到上海是20年前,20年之后基本上天天看到这么大变化,让我特别惊讶。我们都觉得住在上海,无论在工作还是私人生活方面都特别舒适、方便。
Speaking of the city of Shanghai, I have been living here for almost half a year. It continues to amaze me how much the city has developed after my first visit 20 years ago. My family and I feel very comfortable and convenient to live here, both in work and private life.
最后,代表加拿大驻上海总领事馆我所有的同事,祝愿所有东方网的网友们身体健康,猴年大吉,恭喜发财,谢谢!
Finally, on behalf of all my colleagues in the Consulate General of Canada in Shanghai, I wish all of the viewers of eastday.com a health and prosperous Chinese New Year. Thank you!