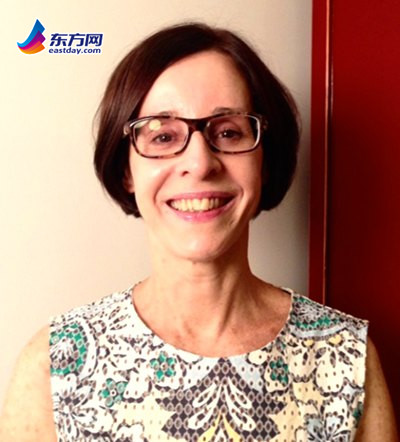 巴西驻上海总领事 安娜
Ana Candida Perez
Consul General of Brazil in Shanghai
Happy 2016 to all Eastday readers!
祝东方网网友2016新年快乐!
This is the fourth time I celebrate the Chinese New Year in Shanghai. In 2016 the new Shanghai Tower will be a main attraction with its lightning show. The contrast between the futuristic skyline of Lujiazui and the Art Deco architecture of the Bund makes Shanghai unique.
这是我第四次在上海过春节。2016年,新建的上海中心大厦拥有灯光秀,它将成为一大旅游亮点。陆家嘴富有未来主义色彩的城市轮廓和外滩艺术建筑间的鲜明对比令上海与众不同。
Shanghai hosted the World Congress on Art Deco in 2015 and is presently doing a very good job in the restoration of its heritage architecture. My home city, Rio de Janeiro, also has Art Deco heritage and could profit from Shanghai's experience about preservation and restoration. On the other hand, Rio has a special charm because it is a city where one can feel closer to nature, with the mountains and the beaches within easy reach.
2015年,上海主办了艺术装饰世界峰会,而目前,上海在历史建筑物修复工作上也做得很好。在我的家乡里约热内卢也有艺术装饰遗产,在保护和修复方面我们可以借鉴上海的经验。另一方面,里约热内卢富有独特的魅力,在那儿,人们与自然更贴近,高山和海滩触手可及。
I expect that the measures that are being put in place by the Shanghai government will reduce the air pollution. I praise the public transportation in Shanghai and the expansion of the metro, which is one of the best in the world. In big cities, the use of private cars should be discouraged, not only due to health concerns with the air quality but also because everybody is penalized with traffic congestion.
我期待上海的空气污染能在政府采取的措施下得到改善。我要为上海的公共交通和轨道交通扩建点赞,它们位列全世界最好的交通体系之列。在大城市,应鼓励人们少开私家车,这不仅关乎与健康相关的空气质量,也关乎困扰每个人的交通拥堵。
In 2016 Rio de Janeiro will host the Olympic (5-12 August) and Paralympic Games (7-18 September). The Consulate will focus on helping Chinese delegations, supporters and media to go to Rio. We have recently opened the Brazil Visa Application Center in Shanghai (4F, Jiushi Commercial Building, 213 Middle Sichuan Road, Huangpu district) to make the visa application procedure easier. All information about visas for Brazil is at http://www.vfsglobal.cn/brazil/china

2016年,里约热内卢将于8月5日到12日举办奥运会,9月7日到18日举办残奥会。巴西领馆届时将协助中国代表团、工作人员,以及媒体前往里约。为了使签证申请流程更为方便,我们最近在上海开设了巴西签证申请中心。地址是:上海市黄浦区四川中路213号久事商务大厦4楼。更多签证信息,可登录http://www.vfsglobal.cn/brazil/china 查询。