韩国驻上海总领事 韩硕熙

SukHee Han

Consul General of Republic of Korea in Shanghai
大家好,我名叫韩硕熙,是韩国驻沪总领事。今天我很高兴和东方网的网友见面。今年是猴年,我要祝福大家猴年快乐!

Hello, my name is SukHee Han, Consul General of the Republic of Korea in Shanghai. Today I am very glad to see the viewers of eastday.com. This year is the Year of Monkey, I wish all of you happy New Year.

猴年猴人,猴起之秀,猴模猴样,猴福无穷。

Promising people behave like smart monkeys in the Year of Monkey. I wish you unlimited happiness in the future. (Here are the four phrases containing "Hou" which is pronounced like "monkey" in Chinese-language.)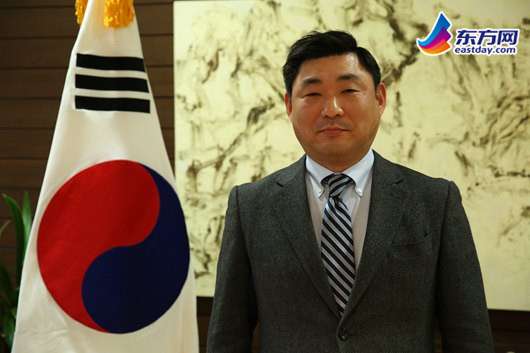 In my country, Park Geun-hye government wants to promote creative economy. We want to combine technology and science, plus the people's idea. If we apply the kind of idea into China or Shanghai, and Shanghai will be a good venue for our combining the promotion. One of the things that we most focus on is science and technology center which has restarted last year.

在韩国,朴槿惠政府希望推动创新经济,结合科学技术以及人们的创意。如果我们将其在中国或上海付诸应用,上海将是我们推动创新的良好场所。其中,我们最为关注的一点是去年重新启动的科技中心。

"一带一路" is a very interesting program for Korea's development. In Korea, we are promoting Eurasia Initiative which is connecting Korea, North Korea and Eurasia continent. I think in that perspective, we have some similarity between Eurasia Initiative and "一带一路"。

对韩国的发展来说,"一带一路"是我们很感兴趣的项目。在韩国,我们正推动"欧亚倡议",这是一项连接韩国、朝鲜和欧亚大陆的倡议。我认为,从这个角度来看,我们的"欧亚倡议"和"一带一路"有相似之处。

I've been living here in Shanghai for 8-9 months. In the meantime, I really enjoy the weather first. Shanghai is much milder than Korea in terms of winter time and sometime it is a bit hot but it's very good, it's very comfortable for me. Most of all, I think one of the good things in Shanghai is Shanghai people. Shanghai people are very intimate, very friendly and very international. Most of the people know how to be cosmopolitan. I really enjoy my life here. Especially my wife really likes Shanghai. She has been here for about 8 months. It's her first time to be in China, but it's great time for us to stay.

我到上海有8、9个月了。首先我很喜欢这里的天气,冬季上海的气候比韩国温和很多,有时有点儿热,但我感觉很舒适。最重要的是,我觉得上海人非常好。他们很亲切、很友好,也很国际化。大部分的人都知道如何与世界接轨。我很喜欢这里的生活,尤其是我的太太很喜欢上海。她来这里大约有8个月了,这是她第一次来到中国,我们在这儿都过得很好。