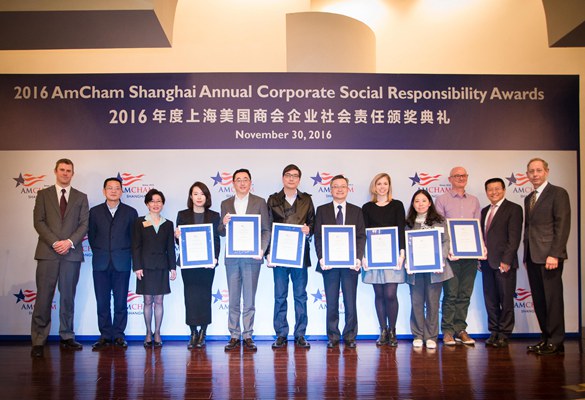 The American Chamber of Commerce in Shanghai (AmCham Shanghai) announced the winners of the 2016 Annual Corporate Social Responsibility (CSR) Awards in Shanghai on Nov. 30, 2016.
This year's awards were given in three categories: Leadership, Innovation, and Engagement. These awards honored and showcased organizations and individuals who made notable contributions to enhance corporate citizenship and raise sustainability awareness in China.
The AmCham Shanghai 2016 CSR Award Winners are
Leadership Award: Accenture Greater China
Engagement Award: Shanghai Disney Resort
Innovation Award: Coca-Cola China, Green Initiatives
The 2016 winners were selected from 38 nominees who offered best practices across the range of CSR focus areas. The innovation award was determined by a public vote, in which more than 2000 people participated.
AmCham Shanghai's president, Kenneth Jarrett congratulated the winners and said: "Sustainability issues are too big to tackle alone. AmCham Shanghai's goal is to provide a platform for our members and NGOs to work together. We're grateful for the wonderful work undertaken by these organizations and individuals. Their efforts make our community a better place. "
The event also featured a panel discussion on CSR and sustainability trends in China with business executives and CSR leaders, including Tony Au, General Manager of AbbVie China, Wu Minwen, Public Affairs & Corporate Communications Director at Fosun Group and Murray King, Vice President of Public Affairs, Shanghai Disney Resort.
Partner of Brunswick Group Dr. Lv Jianzhong said that multinational companies have been gaining excellent experiences in fulfilling corporate social responsibility these years while local enterprises have been taking active practice and making progress. The annual awards event plays a catalytic role in promoting communication, cooperation and innovation for Chinese and foreign companies in CSR, and also builds a meaningful platform. He hopes that CSR practice will have a deeper development in the mode of collaborative engagement through this platform, and enterprises will create social value as well as economic value in the innovation and cooperation.
About AmCham Shanghai CSR Awards
Since 2005, AmCham Shanghai's Corporate Social Responsibility (CSR) Awards have been given to recognize companies, their NGO partners, and individuals for their outstanding and innovative CSR programs and initiatives in China.