World's first national instrumental concert in drama Xuanzang's Pilgrimage produced by the Central Nationalities Orchestra had its show tour in Shanghai at Shanghai Culture Square on October 10 with global masters and celebrities in the circle gathering to appreciate the traditional Chinese music banquet.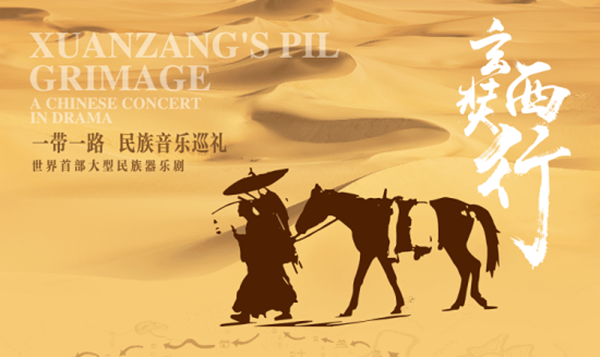 Xuanzang's Pilgrimage tells a story of a famous Chinese monk Xuanzang (602-664), who traveled along what we know as the Silk Road, including the Xinjiang Autonomous Region, central Asia and eventually reaching India. Xuanzang visited Buddhist resorts in different countries, absorbing their cultures.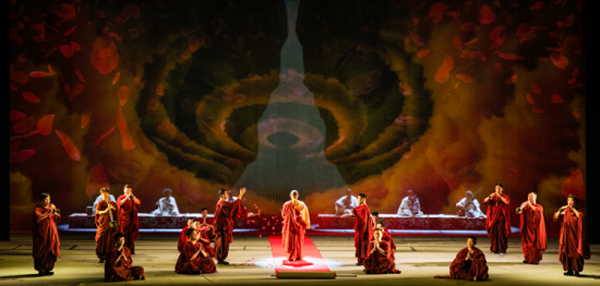 As a Chinese concert in drama, Xuanzang's Pilgrimage presented a unique refreshing feeling to audiences with its touching music and beautiful stage and is praised as "an elaborate work of craftsmen" for the ingenuity and shock of the repertoire.
"The theme of Xuanzang's pilgrimage contains cultural, religious, national and historical backgrounds, and such a theme gives the drama temperament of an epic." said Jiang Ying, scriptwriter, arranger as well as the general director of the drama.
According to Jiang, reproducing national music quintessence with craftsman spirit and make a breakthrough with a spirit of innovation and pioneering consciousness is the only best way to inherit Chinese culture.
Xi Qiang, producer of the drama and director of the Central Nationalities Orchestra explained that the drama is not only a story about Xuanzang, but also a unique expression way to show the national spirit of great love under the trend of Belt and Road Initiative. The creative art form coincides with Shanghai's city spirit of "all rivers run into sea", pioneering large national instrumental music drama.