A city tourism promotion campaign, themed "Shanghai Salon", kicked off at the Radisson Blu Azuri Resort & Spa in Mauritius on August 19, enticing more tourists to the city of Shanghai.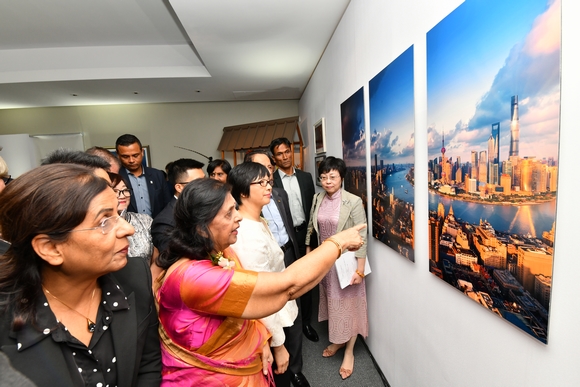 (Visitors look at a picture of the Huangpu River.)
The guests were shared with Shanghai's scenery, food, music and lifestyles through set scenes, exhibits, photos, live performances, and interactive programs.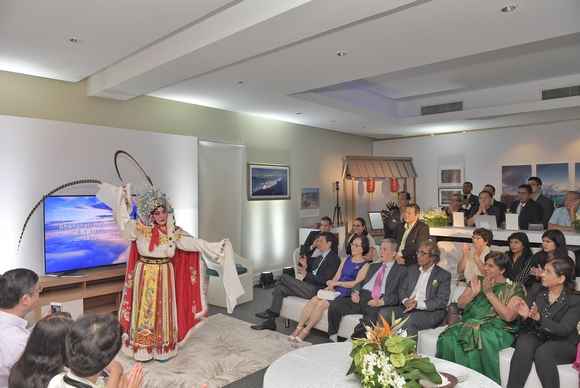 (People enjoy the kunqu opera "Zhaojun Goes Beyond the Frontier". Photo/Cao Lei)
"Shanghai Salon" is a tourism promotion campaign organized by the Shanghai City Promotion Office in 2019. The campaign creates a temporary Shanghai-style living room in an overseas target market, aiming to deliver a comprehensive image of Shanghai by offering the guests an all-senses experience of Shanghai.
Apart from the Shanghai-style furniture and qipao (cheongsam) on display in the well-decorated salon, visitors can also take a closer look at an exquisite ancient bronze ware imitation collected by the Shanghai Museum, wind turbine models and automated truck models developed and manufactured by Shanghai's companies. While tasting glutinous rice balls and other unique Shanghai snacks, they can also enjoy kunqu opera and experience Shanghai's impressive scenery through VR technology.
William Mcintyre from Scotland was attracted by the beauty of Shanghai. He said the pictures and videos in the salon made him want to visit the city for his next vacation.
Government officials from Mauritius, together with tourists from different countries attended the salon. The Minister of Tourism of Mauritius, Anil Gayan, said the salon was an interesting space in which he and other visitors gained a new understanding and recognition of the eastern city.
If being treated to a multi-sensory taste of the city wasn't enough, the guests were even hosted by none other than the deputy major of the city, Ms. Zong Ming.
The campaign was co-organized by the Embassy of the People's Republic of China in the Republic of Mauritius and the Shanghai People's Association for Friendship with Foreign Countries (SPAFFC).