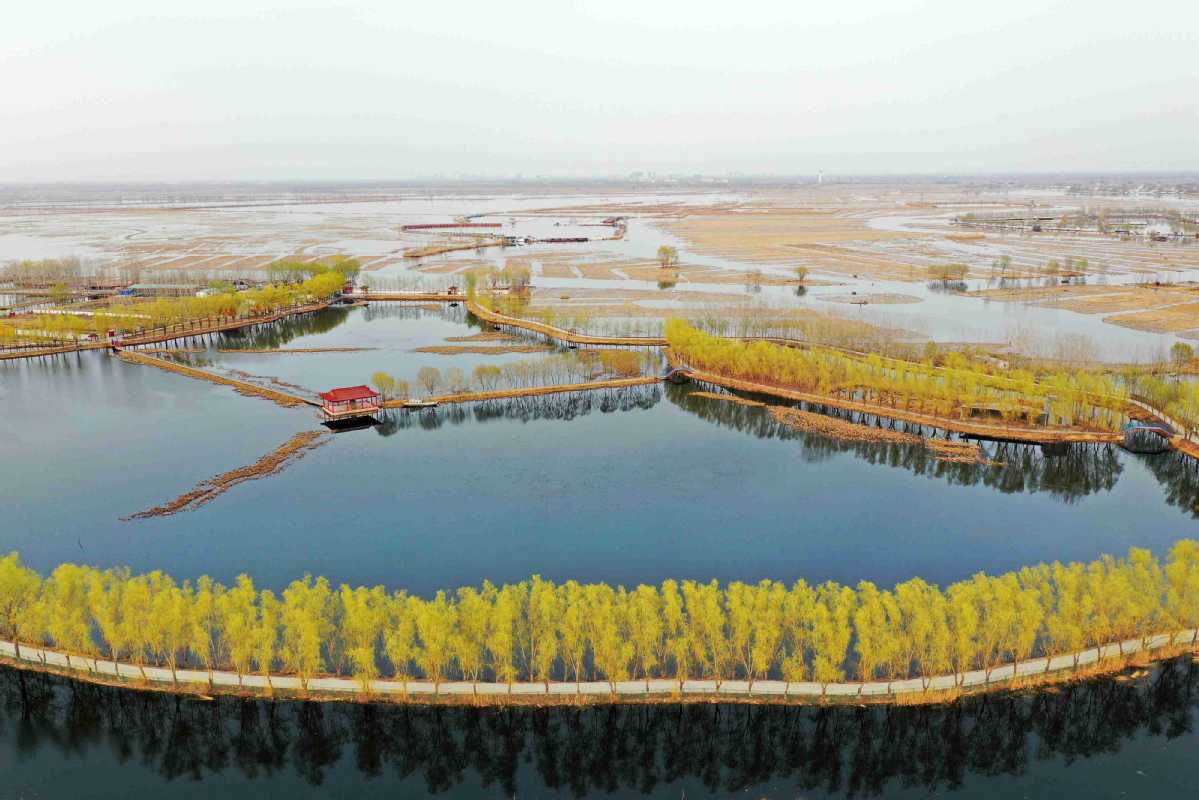 CCFG's sewage systems harmonize livelihoods, nature, set tone for peers
These days, villagers of Rongcheng county in Xiong'an New Area near Beijing are an excited lot. The environmentally friendly development that has come about in recent months has sprung a pleasant surprise on them, much like the riot of colors unleashed by the spring season.
Besides the greenery, there is technology powered by clean energy, which has breathed fresh life into local small businesses, raising hopes that this transformation will not only be sustainable but long-term.
Images and video clips of the new area have gone viral on Chinese social media platforms. Locals can be heard boasting with palpable pride that development has burst forth from the ground "all of a sudden".
There are even visitors over the weekends who can't have enough of selfies in front of the green walls that surround the area.
Wu Qiaoyin, a local farmer, said: "Thanks to our new facilities, the sewage from the villages is now better handled. Consequently, the nearby rivers are infinitely cleaner."
The sewage treatment plants have been set up by China Construction First Group Corp Ltd, a unit of the nation's largest builder China State Construction Engineering Corp. They are part of the State-owned builder's green projects in the new area, which has national significance.
Wu said: "Not long ago, sewage was not handled well and it would flow into local rivers and ponds, polluting the water resources, and savaging the local fisheries. Over the last two years, however, there has been visible improvement in water quality.
"Many of my neighbors started to stock the local ponds with fish. Initially, they just wanted to test the waters, and figure out if the fish would survive. Believe it or not, the fish have not only survived but matured nicely, and are ready for sale. The local fisheries business is picking up again."
Apart from the projects in Xiong'an New Area, the CSCEC's unit has undertaken as many as 20 projects in Hebei province that will benefit more than 50,000 villagers. Some of them wrapped up construction work this month.
Observers of the new area's transformation over the years are quick to attribute the success to the national philosophy that development should promote harmony between humans and nature.
On Friday, President Xi Jinping gave a call during a tree-planting event in Beijing that in the new development stage, redoubled efforts must be made to promote green development and to strive to set the global development trend.
The central authorities executing Xiong'an New Area development are aiming to build the venue into a green, modern and smart area with a beautiful environment, high-end industries and efficient transportation.
For instance, upon completion, the local sewage treatment plants will be capable of handling 3,500 metric tons of waste per day.
With a total length of 221 kilometers, a sewage pipeline network connecting 19 villages of the Rongcheng county has been well laid, transferring sewage from the villages to 19 integrated treatment facilities.
In addition, CCFG, the project builder, set up 11,483 inspection wells and remolded 15,840 soak pits to have better control over local water quality and prevent pollution.
The move reflects the project's efforts to protect the ecology around Baiyangdian Lake near the area, the largest freshwater lake in North China often referred to as the Kidney of North China.
Yan Lei, project manager, said: "We adopted biological contact oxidation, or BCO, process, to handle sewage in an efficient and environmentally friendly way. Also, the once-polluted but treated water can be used in irrigation, which helps conserve water resources."
Many local farmers were employed by CCFG to join the local battle against pollution.
Li Chunxi, a local farmer and a project participant, said: "Being a Rongcheng native, I didn't know that much about the ecology of my hometown. But, I've learned a lot on the job… for instance, about the water and land, and about farming. It's a job that benefits not only ourselves but the place we live in."
At a recent financial forum in Shijiazhuang, Hebei province, Zhou Hongchun, a professor at the Development Research Center of the State Council, said, "As the nation is shifting to a greener mode to achieve high-quality development, figuring out proper pollution solutions should be given priority while promoting livelihoods in Xiong'an New Area."
The national-level new area, Zhou said, is also a test case for various sectors, with focus on preventing pollution risks, finding out a way to achieve low-carbon development, and finding more breakthroughs in integrating the industrial chain.
All this is necessary to save more resources and protect the local environment. That's the key to sustainable development, he said.