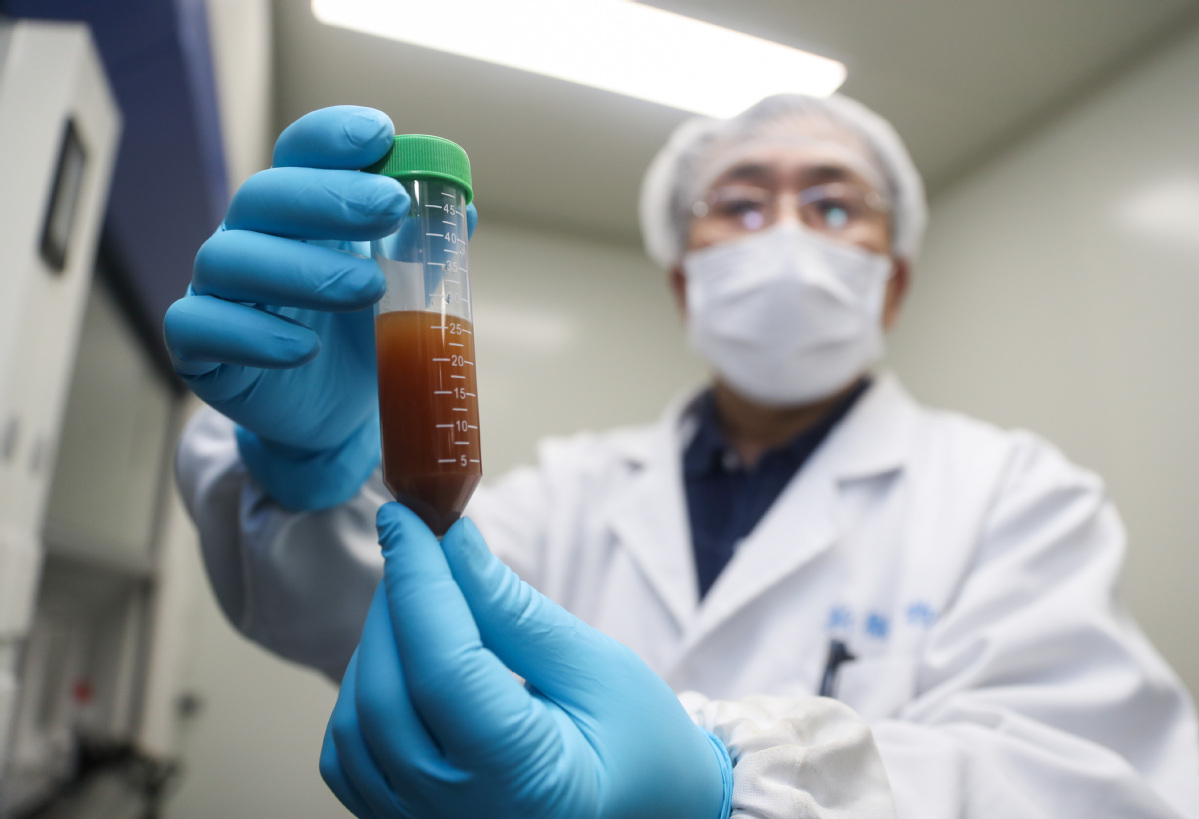 Shanghai Pudong New Area's Zhangjiang National Innovation Demonstration Zone-a key player in China's pharmaceutical industry-has developed interactively with industrial parks across the city to boost the whole industrial chain in the past decade.
Among the collaborations is with the Biomedicine Harbor of the Bay Area with a planned area of 7.74 square kilometers, in Jinshan district, southwestern Shanghai.
Located in Jinshan Industrial Park, the harbor has long been pivotal in fueling commercialization of research results for startups. It accommodated 50 enterprises in biologic preparation, traditional Chinese medicine and medical devices, with an annual output value of 9.57 billion yuan ($1.46 billion) in 2020.
At the heart of the harbor is a 270,000 square meter zone jointly developed by Jinshan Industrial Park and Zhangjiang Hi-Tech Park in 2013 to supplement the limited space for medicine production in Zhangjiang, said Huang Tao, deputy manager of the industrial park in Jinshan, which manages the harbor.
Three zones with manufacturing facilities are now available: one for small and micro-sized biopharmaceutical firms, another targeting precision medicine and cell therapy industries and a third supporting firms in pharmaceutical preparations.
Shanghai-based CARsgen Therapeutics settled within the harbor in 2017, having been attracted by the facilities, which according to Wang Huamao, co-founder and COO of the firm, likely saved four years spent on plant construction.
The company now owns an 8,000 sq m manufacturing base for developing Chimeric Antigen Receptor T-Cell Immunotherapy (CAR-T)-a tumor immunotherapy mainly applied to leukemia and lymphoma-and has so far obtained 3 CAR-T official approvals to initiate clinical trials.
Resources in Zhangjiang are underpinning more pharma companies for the city's goal of being a biomedical hub in Asia, as 22 citywide industrial parks centered around Zhangjiang have been established in districts including Jinshan and Fengxian districts and Lingang free trade area in Pudong New Area.
"Zhangjiang has been on the frontline of innovation in the city," said Wu Qing, vice-mayor of Shanghai, at a conference held on March 30.
It's home to 330 national-level R&D institutions, with new ones under development by top domestic universities, such as Tsinghua University, Zhejiang University and Shanghai Jiao Tong University, Wu said.
In terms of biomedicine, which makes up a big chunk of core industries in Zhangjiang, the annual output in the area hit 110 billion yuan in 2020, accounting for 78 percent of the total in the city. The area contributed to a third of Class 1 new drugs developed nationwide-meaning they have never been marketed within or outside China-in 2019.
Large scientific installations in Zhangjiang, covering domains like protein research and translational medicine, have been fostering industry growth.
Financial support is also accessible. The industrial park in Fengxian district, for instance, has received Zhangjiang National Innovation Demonstration Zone Special Funds worth 640 million yuan since 2012.
"It drives innovation and enhances startups' competitiveness on the global stage," said Yuan Fei, general manager of Oriental Beauty Valley, a biotechnology zone in the park dedicated to beauty and healthcare.
Buoyed by the funds, Shanghai RAAS Blood Products based in the valley got two inventions patented in 2017. They are expected to serve more patients with bleeding disorders in the future. The company's revenue soared to 2.58 billion yuan in 2019, an increase of 43.3 percent from 2018.
"The aid alleviates the financial burden faced by these SMEs focusing on R&D but with little or no revenue at the earliest stage," Yuan said.
"The valley will strengthen cooperation with Zhangjiang in innovation projects to serve more firms labs, and innovation platforms," he added.
Talent and industrial resources, two other elements empowering startups, are pooled as well, according to Wu Bo, co-CEO of Shanghai Free Biozone-1 Biotech Industrial Park located in Waigaoqiao free trade zone-another region partnering with Zhangjiang.
"Over 700 biomedical companies from home and abroad have gathered near the park, attracted by the business environment spurred by collaborations with Zhangjiang," Wu said.
The park has also worked with local universities to establish R&D centers for scientific research and data exchanges.
Wu said that up to 4 billion yuan will be added to the park's funds in five years to go toward cooperation with investment institutions in order to boost industrialization.