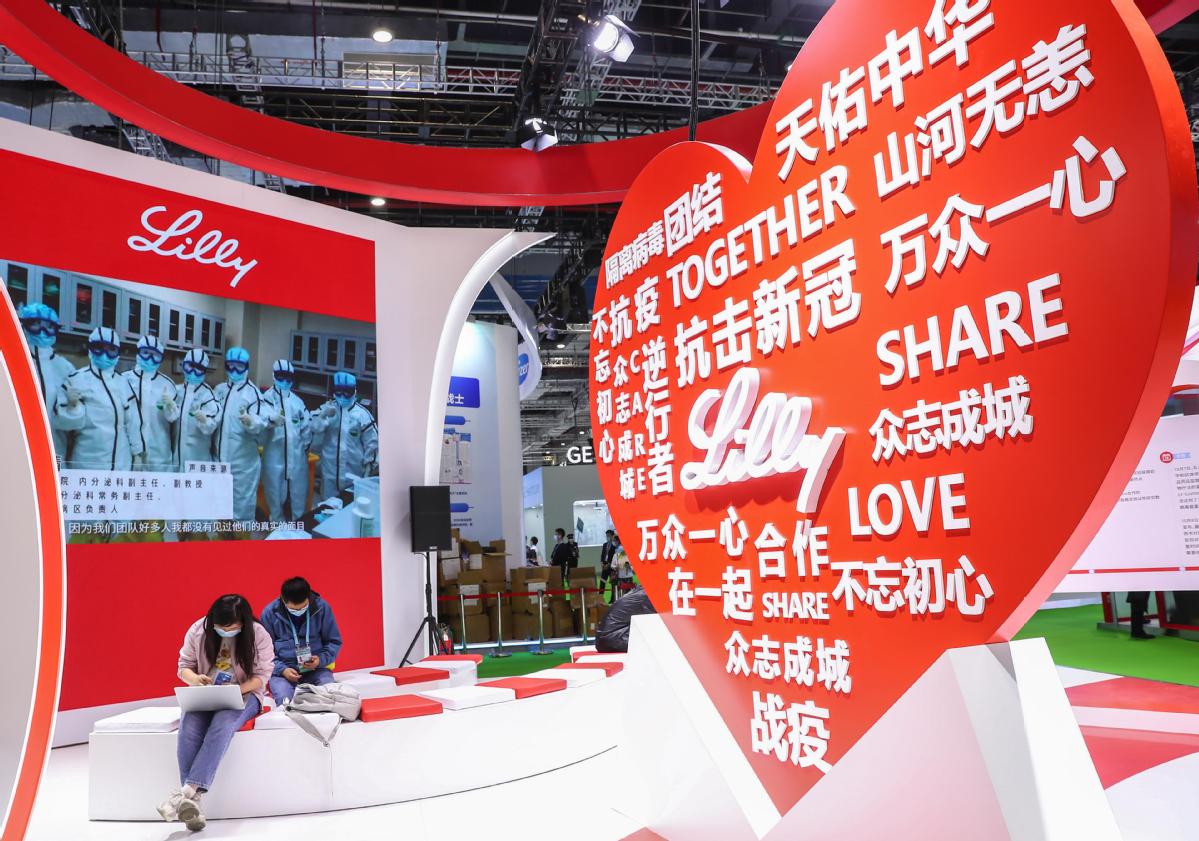 Multinationals accelerating cooperation for enhanced growth, breakthroughs
Research and development collaborations between multinational pharmaceutical companies and innovative local Chinese biotech enterprises have begun to bear fruit as some have already jointly developed products in the country that have benefited patients overseas.
Today's China, the world's second-largest economy and medical consumption market, is not merely a sales opportunity for multinational pharmaceutical giants but also a major platform for medical research and development, said industry insiders.
Despite challenging international relations, global pharmaceutical enterprises, mainly from the United State and Europe, have been accelerating cooperation with Chinese biotech research startups and R&D institutions at a record pace.
Data from consultancy ChinaBio showed that international pharmaceutical players reached 271 cross-border licensing cooperation agreements with Chinese pharmaceutical enterprises in the areas of clinical trials, drug development and commercialization as well as data sharing last year.
That was a rise of more than 50 percent year-on-year, and an increase of more than 300 percent compared with that in 2015.
"We're really proud to partner with China-based biotech company BeiGene to bring a China-developed PD-1 inhibitor, a cancer treatment, to the rest of the world," said Vasant Narasimhan, CEO of Swiss pharmaceutical giant Novartis, during an interview with China Daily on March 23.
"We believe this is an example of how we can be a partner to Chinese companies to bring the innovations from China to patients around the world. The partnership also enables the two sides to combine the PD-1 with a range of Novartis oncology products," Narasimhan said.
The two companies agreed in January to jointly develop the cancer treatment in the US, Canada, the European Union, the United Kingdom and Japan among other countries and regions. Both companies may conduct clinical trials globally to explore combinations of the drug with other cancer treatments.
"Novartis has been impressed by the China biopharmaceutical sector with more than 140 biotech companies emerging over the last decade. We've built up a business development and licensing presence in our Shanghai office to better interact with this biotech ecosystem," said Narasimhan, adding that the company has had 30 new drug and new indication approvals over the last five years and expects 50 new drug filings in the next five years.
He said he believed China is rapidly moving through a transition in its biotechnology sector. "China is now moving from developing so-called fast follower molecules to more novel technologies. We believe the trend will accelerate. Novartis wants to be the partner for Chinese innovations aiming to be brought to patients around the globe."
China's innovation in oncology as well as cell and gene therapies is ahead of many countries, Narasimhan said.
"Chinese companies in oncology have been very effective at making medicines focused on some of the most important targets in cancer. Regarding cell and gene therapies, China is one of the leaders in conducting clinical trials in this new technology area. I believe there are numerous opportunities for China to use its capabilities in data science and artificial intelligence to make future discoveries in the world of medicine," he added.
US-based Eli Lilly and Innovent, a domestic pharmaceutical company, announced the China market launch of a PD-1 inhibitor to be used for the indication of a main type of non-small cell lung cancer in March.
As co-developers of the drug, they said they are recruiting non-Chinese patients for future clinical trials outside China and are talking to regulatory authorities overseas to find a better path to get global approval for the drug.
"We're proud of the drug, which is an episode of 'from China and for the world'. It showed that the value of innovation coming from local Chinese innovation benefits more than Chinese patients. The results should be available worldwide. So definitely this partnership with this new drug, and hopefully with other drugs in the pipeline, we believe we serve patients coming from China to patients worldwide," said Julio Gay-Ger, president and general manager of Lilly's China arm.
The new drug, which was approved in China to treat classical Hodgkin's lymphoma as its first indication in late 2018, became the No 1 product for Lilly China for the past two years, replacing a diabetes insulin drug that had remained No 1 for two decades.
He said that Lilly and Innovent are also working on several other molecules in disease areas of oncology and immune oncology, and are looking for the next generation of PD-1 and PDL-1 with a goal of including two targets into one molecule.
Regarding a late-stage breast cancer drug that Lilly launched in China in early March, Julio Gay-Ger said that a sufficient number of Chinese patients were put into the international, multicenter clinical trials to allow the company to submit new drug applications to regulatory authorities simultaneously in both China and overseas.
"Actually two professors from Beijing and Shanghai were leading researchers on the clinical trials, which involved 45 medical centers from different countries, including 28 from China," he said.
The Lilly executive added that in addition to the Chinese government's efforts at streamlining medicine regulatory processes, opportunities brought by the Healthy China 2030 Initiative and digital transformation, China continued to have a bigger say in global new drug development decisionmaking.
"With China's importance becoming more central for our strategy, we ensure that our China teams provide input to our global development programs much earlier in development. We consider feedback from our China team and Chinese regulators at the same time as we consider feedback from other major global regulators in designing our phase III studies," said Narasimhan from Novartis.
On March 26, Switzerland-based Straumann Group and Shanghai's Minhang district government held a signing ceremony for the company's first China campus for manufacturing, education and innovation-an effort by the global aesthetic dentistry leader to expand business in the local market.
Guillaume Daniellot, CEO of Straumann Group, said, "By bringing high-quality solutions to Chinese dentists and patients, the new investment reflects China-Europe cooperation, friendship and win-win."