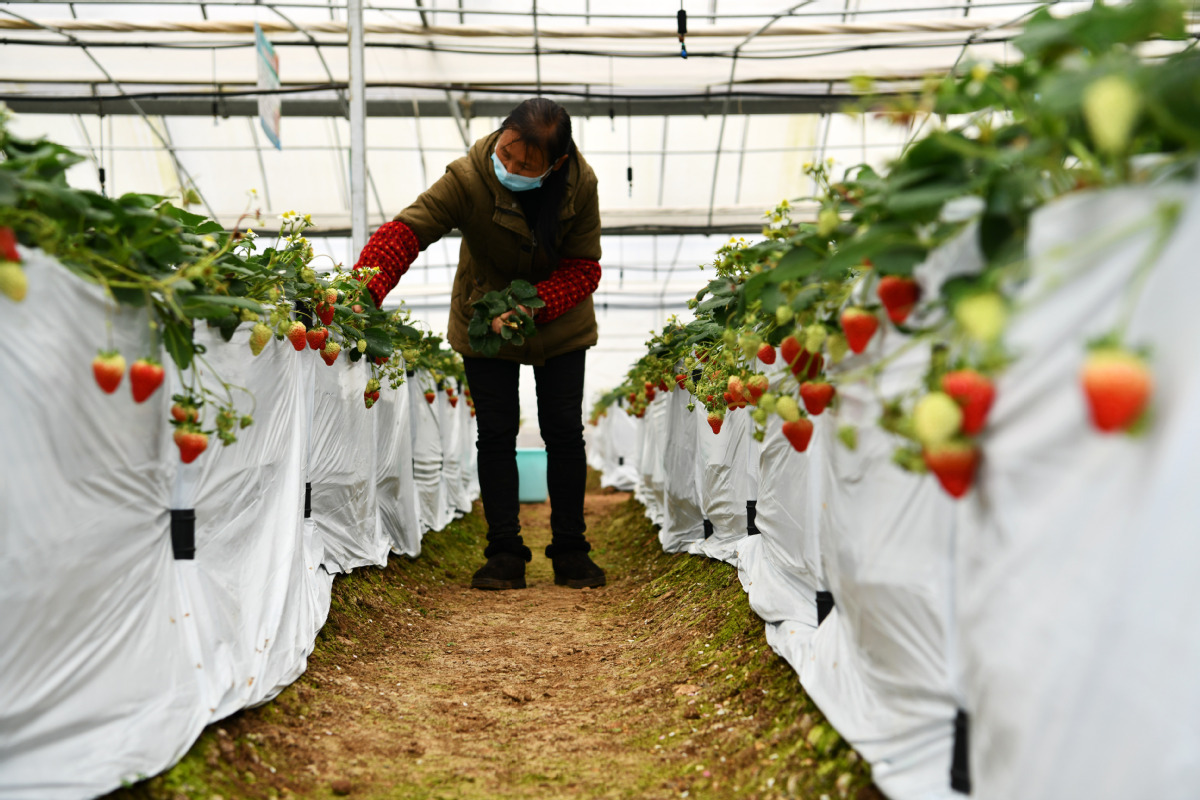 For Luo Xianguo, 53, the two-month vocational training he received in Zhangjiagang, Jiangsu province, two years back was a life-changing experience.
Before that, Luo, who lives in Gaofeng, Yanhe county, Guizhou province, had several jobs, including as a farmer and construction worker, all of which did not allow him to support his entire family. In 2014, Luo's wife fell ill, making it worse for his whole family. That same year, Luo's family was registered as being poverty-stricken by the local government.
Luo wasn't the only one. Among the 571 residents in Gaofeng, 197 were living in poverty. The 6-square-kilometer village has only 840 mu (56 hectares) of farmland, and about 85 percent of the area is heavily forested.
Changes occurred in 2018 when Shangang, a village in Zhangjiagang, known for its well-developed agricultural and breeding industry, partnered with Gaofeng to help lift it out of poverty. Soon after, a team of poverty alleviation professionals from Shangang, including government officials and agro-technicians, came to Gaofeng and offered their expertise in building businesses and developing pillar industries.
With Shangang's help, Gaofeng set up a 60 mu organic agricultural industrial park, with investment totaling 5 million yuan ($762,819), a 183 mu tea plantation for 4.5 million yuan, and a livestock breeding base, which helped 199 people in poverty boost their take-home pay. Shangang also offered vocational training to over 120 locals from Gaofeng, among whom more than 70 were living in poverty.
Luo was among those who received free vocational training. In 2019, Luo went on a journey to Zhangjiagang and learned about livestock breeding for two months.
After training, Luo returned and found a job at a local stock breeding farm. By breeding quail, Luo managed to emerge from poverty and earned over 70,000 yuan with his wife last year. He also renovated his house to a two-story building.
"My wife and I used to quarrel a lot, and most of the reasons involved money issues. Now life is getting better. We barely quarrel like before. Working in the breeding farm in my home village also allows me to take care of my 84-year-old mother. Looking ahead, I want to teach stock breeding techniques to my neighbors in the village who have similar situations as I did and we can enjoy better lives together," he said.
Chu Dequan, head of the Shangang's poverty alleviation professional team, said breeding quails has brought monthly incomes ranging from 60,000 yuan to 100,000 yuan to local villagers, while pig farming has helped local people earn about 300,000 yuan in the first half of 2020.
Yang Wenfeng, 47, has been working with the poverty alleviation professional team for almost four years.
"In the past, Gaofeng villagers grew a single kind of crop or plant on a large field, but we encouraged them to diversify the plants and breed multiple species of livestock to ensure that they can harvest and make profits all four seasons. The weather and land conditions of our two villages are quite different.
"Guizhou features a humid climate, insufficient sunlight and severe soil erosion issues in some places. We invited agricultural experts from Jiangsu province to come and inspect the land and collect soil samples after which we decided on which crop species were suitable for cultivation. We also introduced advanced business models from Shangang village. Going forward, we will step up efforts to develop industries with high added value such as tea and rural tourism," Yang said.
In 2019, per capita disposable income hit 7,800 yuan in Gaofeng, and the village had reported to have ended poverty in the same year.