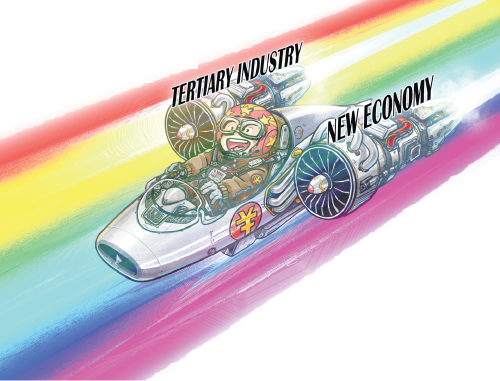 China's tertiary industry, which is concerned with the provision of services, is likely to be a major economic growth driver this year. The growth of the new economy will also remain rapid and robust.
Both factors, together with strong demand in consumption, will ensure that China's economic growth this year will run at a comparatively high level.
Figures from the National Bureau of Statistics show that over the first quarter of this year, value-added industrial output went up 24.5 percent year-on-year, and increased 2 percent compared with the fourth quarter of last year. Such growth momentum is particularly robust considering the very low base of 2020 due to the COVID-19 impact.
In March, retail sales of consumer goods, a major indicator of consumption growth, went up 34.2 percent year-on-year.
This year's Government Work Report set 2021 GDP growth target at no less than 6 percent. From our perspective, this is a prudent and appropriate growth target that will contribute to the country's sustainable growth in the long run, and will also not be hard to achieve.
Economic growth in the first quarter was strong, partly due to the low base of 2020, but will gradually show a trend of decline in the following quarters.
To reiterate, the tertiary industry, or the services sector, is likely to rebound and become a major economic growth driver this year.
Last year, due to the COVID-19-induced impact, a number of sectors in the tertiary industry, including retail, transportation and warehousing, showed low growth or even contracted. For instance, added-value of retail and wholesale contracted by 1.3 percent in 2020, while added-value in accommodation and catering services contracted by as much as 13.1 percent.
With effective containment of the COVID-19 situation, these sectors are likely to show very strong recovery and have large room for growth, and thus will turn out to be an important growth driver this year.
One important phenomenon to notice is that last year, added-value in high-tech manufacturing, information transmission, software and information technology service industries grew at a faster pace. In particular, the growth rate of information transmission, software and information technology service industries reached 13.2 percent in the first quarter of 2020 and kept increasing quarterly, reaching an overall growth rate of 16.9 percent for the full year.
Development of high-tech manufacturing showed similar momentum. It would be worthwhile to look at the kind of role these two sectors will play this year. We believe these industries, generally known as emerging industries and the new economy, will contribute greatly to this year's economic growth.
From the demand side, demand in consumption will be unleashed. This year's consumption growth is expected to be robust. In the first half of 2020, COVID-19 led to a notable reduction in consumer activities. Consumption's contribution to the economy over the entire 2020 contracted by 0.5 percentage point.
Over the 2016-19 period, which was a major segment of the 13th Five-Year Plan period (2016-20), the average annual contribution rate of consumer demand to economic growth was 61.1 percent. This means, more than 60 percent of economic growth was driven by consumer demand, and the rest 40 percent was driven by investment.
That is to say, the potential of China's consumer demand is still relatively large.
The newly unveiled 14th Five-Year Plan (2021-25) attaches great importance to demand-side management. It stresses on the leading role of the domestic cycle and the new dual-circulation development paradigm. With the effective control of the epidemic and the rapid promotion of vaccines, offline consumption is resuming rapidly and consumer demand may resume its main role in stimulating economic growth this year.
At the same time, we believe that investment demand will remain steady, with exports likely to show robust growth in the first half of this year.
While the central government has made it clear that "there will not be sudden shifts in policies", investment will continue to work effectively in fueling economic growth this year.
The country's exports soared 38.7 percent year-on-year to 4.61 trillion yuan from January to March, while its imports jumped 19.3 percent year-on-year to 3.86 trillion yuan. Its trade surplus surged 690.6 percent year-on-year to 759.29 billion yuan.
With effective control of COVID-19 at home and the pandemic situation still evolving overseas, export growth in the first half of this year will continue to be strong.
The writer is a professor at the School of Economics and Management of Tsinghua University in Beijing. He is also the former deputy director of the National Bureau of Statistics.The views are compiled from his speech for the first quarter at the China Macroeconomic Forum.
The views don't necessarily reflect those of China Daily.