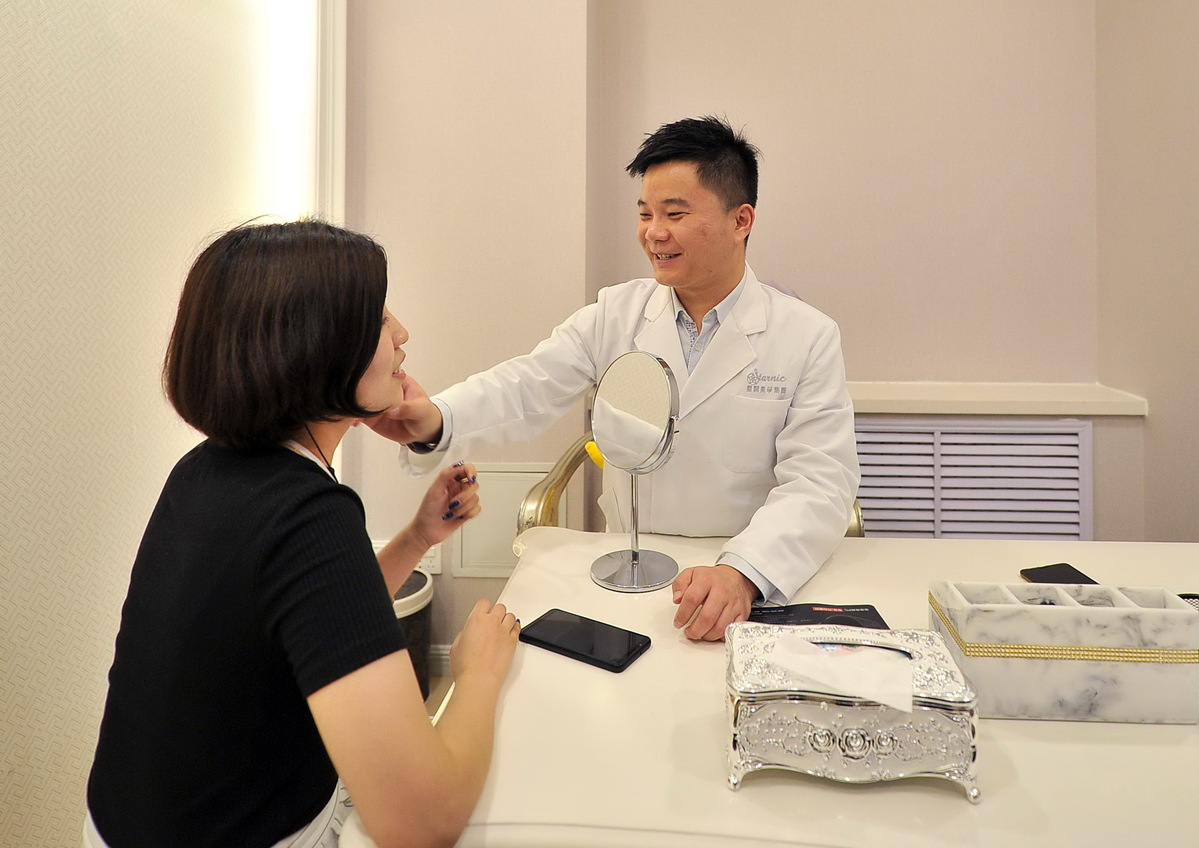 With rapid development pace and surging market demand, more efforts are needed to regulate China's medical aesthetics sector to ensure its healthy and sustainable development, industry experts said.
Xiao Ran, director of the research center of the Plastic Surgery Hospital of the Chinese Academy of Medical Sciences and a member of the 13th National Committee of the Chinese People's Political Consultative Conference, said that regulations on medical aesthetics institutions and practitioners should be strengthened to effectively curb cases of malpractice and fraud.
Xiao said that in recent years, government efforts have been seen in harnessing the chaotic growth in the country's medical aesthetics sector. However, to protect against unlicensed institutes, practitioners and products, constant vigilance is required.
Data from Shanghai-based market consultancy iResearch showed that in 2019, there were 13,000 qualified medical aesthetics institutions in China. Between 2011 and 2019, the compound annual growth rate of formal institutions in the sector was 12.69 percent. However, market volume during the same period grew 28.97 percent. The growth of qualified institutions cannot catch up with market growth at present rates.
"The shortage of qualified medical aesthetics institutions created loopholes for unqualified ones," said the report.
According to iResearch, currently, there are over 80,000 illegal medical aesthetics institutions in China, and legal ones only account for 14 percent of the total.
"There was a mismatch between skyrocketing medical aesthetics demand and the accommodation of service providers. Qualified medical institutions have strict requirements over doctors, drugs, medical devices and operational norms, and the long approval times and high costs resulted in a supply gap," said the report.
Apart from problems with medical institutions, Xiao said China's rapid development of the medical aesthetics sector spurred demand for qualified professional medical practitioners. However, the number of informal doctors outweighed formal ones. The doctors haven't undergone strict professional training and lack professional skills, which can easily lead to medical negligence and bring harm to consumers.
"The training system to cultivate medical aesthetics professionals should be enhanced to increase their overall diagnosis and treatment capability. Specifically, more attention should be paid to the training of doctors from private medical institutions should be paid more attention to. Joint efforts from the government and leading enterprises are needed," Xiao said.
In April 2019, Allergan Aesthetics, a global medical aesthetics unit of the United States-based pharmaceutical company AbbVie Inc, launched an innovation center with an investment of 100 million yuan ($15.42 million) in Chengdu, Sichuan province, to cultivate talent by offering systematic training to medical professionals.
On June 13, 2019, Allergan Aesthetics launched the first course in its innovation center, offering lessons such as anatomy, aesthetics assessment, consultation and aesthetics photographing.
Allergan Medical Institute has trained more than 10,000 medical professionals through offline sessions in China by the end of 2020.
Fan Jing, Allergan Medical Institute Japan and Asia-Pacific lead, said: "There is no medical cosmetics major currently offered in China's universities. All related knowledge needs to be acquired through other means, such as working experience, or communication with industry leaders and experts. China's medical aesthetics industry is exploding, and public demand is surging, forcing medical professionals, techniques, products and institutions to make progress."
Fan said that China's medical aesthetics industry is expanding at a compound annual growth rate of over 20 percent, and the sector faces a severe shortage of qualified practitioners.
"Systematic and standard training is in urgent need for the industry," she said.
Meanwhile, to help consumers distinguish standardized medical aesthetics institutions and products from others, Allergan Aesthetics, together with the Chinese Association of Plastics and Aesthetics, launched the Authentic Alliance campaign.
The campaign aims to convey to medical aesthetics consumers the concept of "going to formal institutions, finding qualified doctors and using standard products", as well as raising their safety awareness and establishing a rational and scientific aesthetic value.
Mylike Aesthetic Plastic Hospital Group, a Beijing-based medical aesthetics giant, said that ever since the company was established, it has only offered products and services via its direct outlets, refusing involvement of intermediaries to guarantee the quality and authenticity of its products and services.
Xiao suggested a long-term mechanism should be set up to enhance legal enforcement over the sector and outlaw illegal institutions and practitioners.
"A medical aesthetics 'blacklist' should be established, and illegal cases should be publicly posted regularly, to ensure the safe and stable development of the sector," she added.
On April 8, the National Development and Reform Commission and the Ministry of Commerce jointly issued a document to support the development of high-end medical aesthetics industry in Hainan province, encouraging the entrance of renowned medical aesthetics institutions to the island.