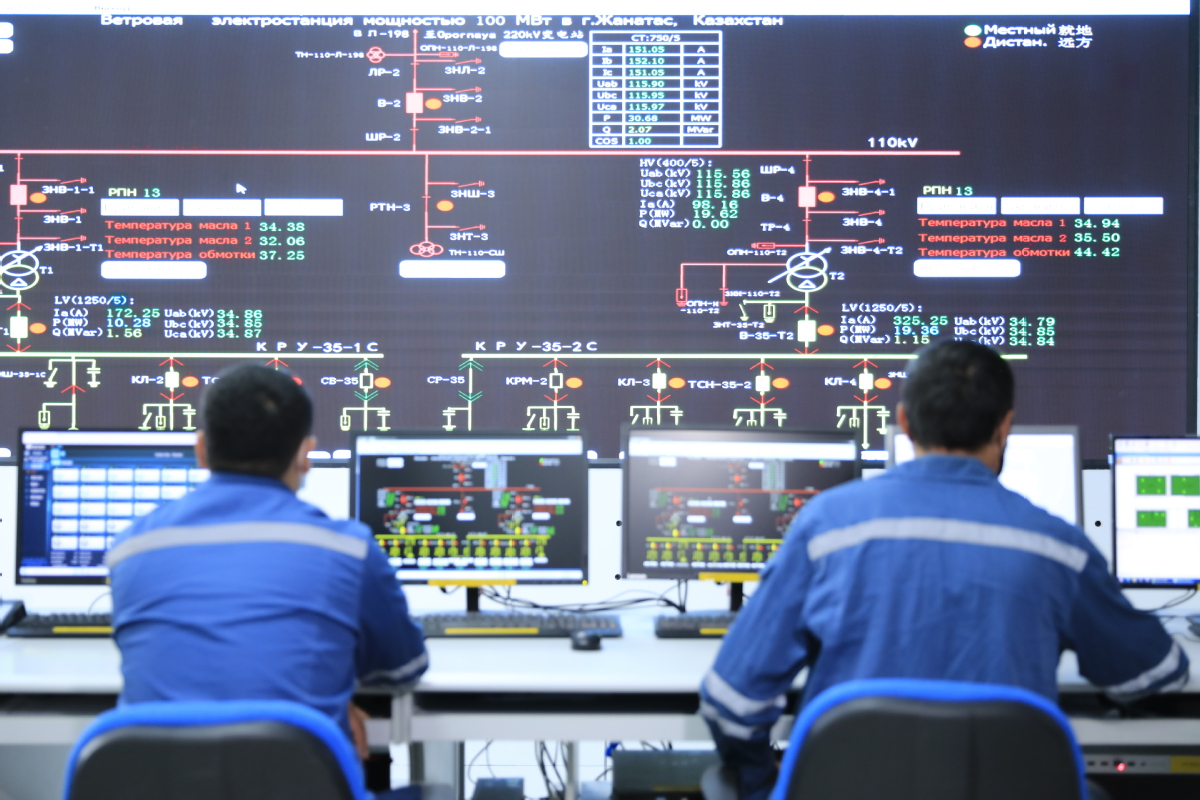 SPIC will continue to provide clean, safe and economical energy worldwide
With Central Asia's largest wind power project, the Zhanatas 100-megawatt wind farm in Kazakhstan, beginning full operations on June 20 after its last turbine was connected to the power grid, its operator, State Power Investment Corp, is further expanding its global presence.
The company is one of China's top five power producers.
With the largest installed capacity of any project of its kind in Central Asia, the wind power project is expected to provide South Kazakhstan with 350 gigawatt-hours of clean power each year, equivalent to demand from one million households, it said.
With a total of 40 wind turbines, the project is expected to save roughly 110,000 metric tons of standard coal annually and significantly reduce greenhouse gas emissions, which plays an important demonstration role for Kazakhstan's environmental protection.
China has contributed significantly to the development of renewable energy in Kazakhstan. Two-thirds of the 1,500 MW new renewable energy capacity in the country was built with the help of Chinese partners over the past four years.
This is also one of the latest renewable energy projects with SPIC as an operator that was put into operation in the market outside China. By the end of May, SPIC's total power generation capacity abroad exceeded 6.1 GW, with clean energy like hydropower, wind power, photovoltaics and related fields like energy storage accounting for 70 percent of the total.
Power generation capacity under construction overseas reached 2.16 GW. The company has a presence in 46 countries and regions, 37 of which are participating in the Belt and Road Initiative, it said.
Wei Hanyang, a power market analyst at research firm BloombergNEF, said choosing renewable energy as the entry point is a wise choice. This will further facilitate SPIC's contribution to global clean energy.
Kazakhstan relies heavily on thermal power generation which accounts for more than 80 percent of total power generation in the country. Its southern regions, which see about 70 percent of total power demand in the country, are home to rich renewable energy resources.
The project has tackled the issue of how to make full use of renewable resources in terms of meeting the country's power demand and improving its unbalanced energy situation, an analyst said.
Under the framework of China-proposed Belt and Road Initiative and Kazakhstan's Bright Path new economic policy, SPIC started cooperating with Visor International DMCC on wind power development.
The Zhanatas wind power project, with each wind turbine weighing about 300 tons and reaching nearly 150 meters tall, was selected as part of China-Kazakhstan production capacity cooperation in 2016 and began construction in 2019, SPIC said.
Despite the COVID-19 pandemic, the first turbines entered operation in September 2020. A financing agreement was signed in October the same year.
Wang Ziyue, an analyst with BloombergNEF, said Kazakhstan is the best destination to develop wind power in Central Asia given its rich wind resources and substantial potential.