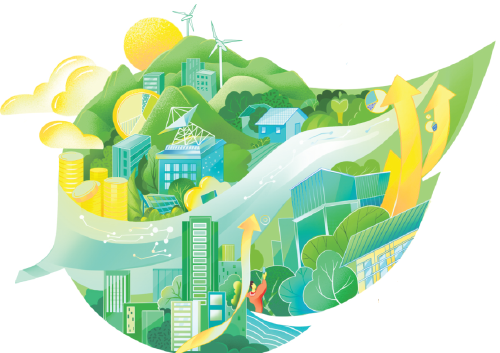 Despite unprecedented challenges, Chinese companies completed several key overseas renewable energy projects last year during the COVID-19 pandemic as the nation stepped up efforts to help countries involved in the Belt and Road Initiative in their green transition.
For example, the Zhanatas 100-megawatt wind farm in Kazakhstan, which was constructed by China Power International Holding, went into full operation on June 20.
With an annual output of 35 gigawatt-hours of clean power-the largest installed capacity for any project of its kind in Central Asia-the plant is expected to meet the demands of 1 million residents.
With China Power International Holding and Visor Kazakhstan as its shareholders, the plant is expected to reduce carbon dioxide emissions by about 300,000 tons annually, according to the company, a subsidiary of State Power Investment Corp, or SPIC.
Almas Chukin, managing partner at Visor Kazakhstan, said the launch of the wind farm would ease power shortages in the south of the country, with 70 percent of its electricity generated in the coal-rich north.
High demand for energy in the south resulted in Kazakhstan Electricity Grid Operating Co building three highly expensive power lines to carry electricity from north to south.
Chukin said, "The new Zhanatas wind power plant is a big part of Kazakhstan's energy solution to the north-south imbalance and heavy dependence on coal use in power generation."
Chen Yan, director-general of SPIC's international business department, said the company would intensify its overseas renewable energy development efforts during the 14th Five-Year Plan (2021-25) period.
As of June, installed capacity at SPIC's overseas power plants that are operating reached more than 6 gigawatts, she said. Clean energy comprises 71 percent of the mix, and the company will strive to increase this proportion to 75 percent by 2025.
Meanwhile, in October, China Triumph International Engineering Co, a subsidiary of China National Building Material Group Co, overcame a series of challenges as general contractor to complete the largest unsubsidized solar project in Europe.
A total of 660,000 solar modules were installed for the Solara 4 project in Portugal. Capable of meeting demand from some 200,000 families, the project is expected to reduce carbon dioxide emissions by 330,000 tons a year, according to the company.
The pandemic, which has made international travel difficult, posed a series of problems for the company to complete the project on time.
For an extended period, Zhang Yuxuan, 26, who was in charge of coordinating work on the giant solar energy project, had to contend with the time difference between China and Portugal.
"Managing such a large project is never easy," she said, adding that working remotely made it even more challenging, as she had to coordinate with more than 20 suppliers and subcontractors-some of them outsourcing part of their business.
The large number of subcontractors, for example, made it hard to choose those responsible for some misconnections, she said.
To tackle problems that could emerge at any time, Zhang sometimes had to take part in up to five video meetings a day. The large number of emails she had to handle also meant she had to stay up to the small hours.
In September, China announced it would not build new coal-fired power projects overseas as it stepped up support for other developing countries to advance green and low-carbon energy.